What's new in iMazing 2?
If you're coming from iMazing 1, you'll find that quite a few things have changed besides the colorful interface refresh:

1. Automatic backups
iMazing now comes with iMazing Mini, a free menu bar application that backs up your iOS devices automatically and wirelessly!
To learn more about the Mini, see Getting Started with iMazing Mini.
2. New backup management features
Automatically archived backups
All backups you make with iMazing 2 are now automatically archived. Disk usage is optimized to enable archiving dozens of backups without swamping your hard drive or external drive. With automatic archival enabled, your data is safe, never overwritten, and you can keep more of it.
The first time you'll back up with iMazing 2, the backup wizard will present the following screen: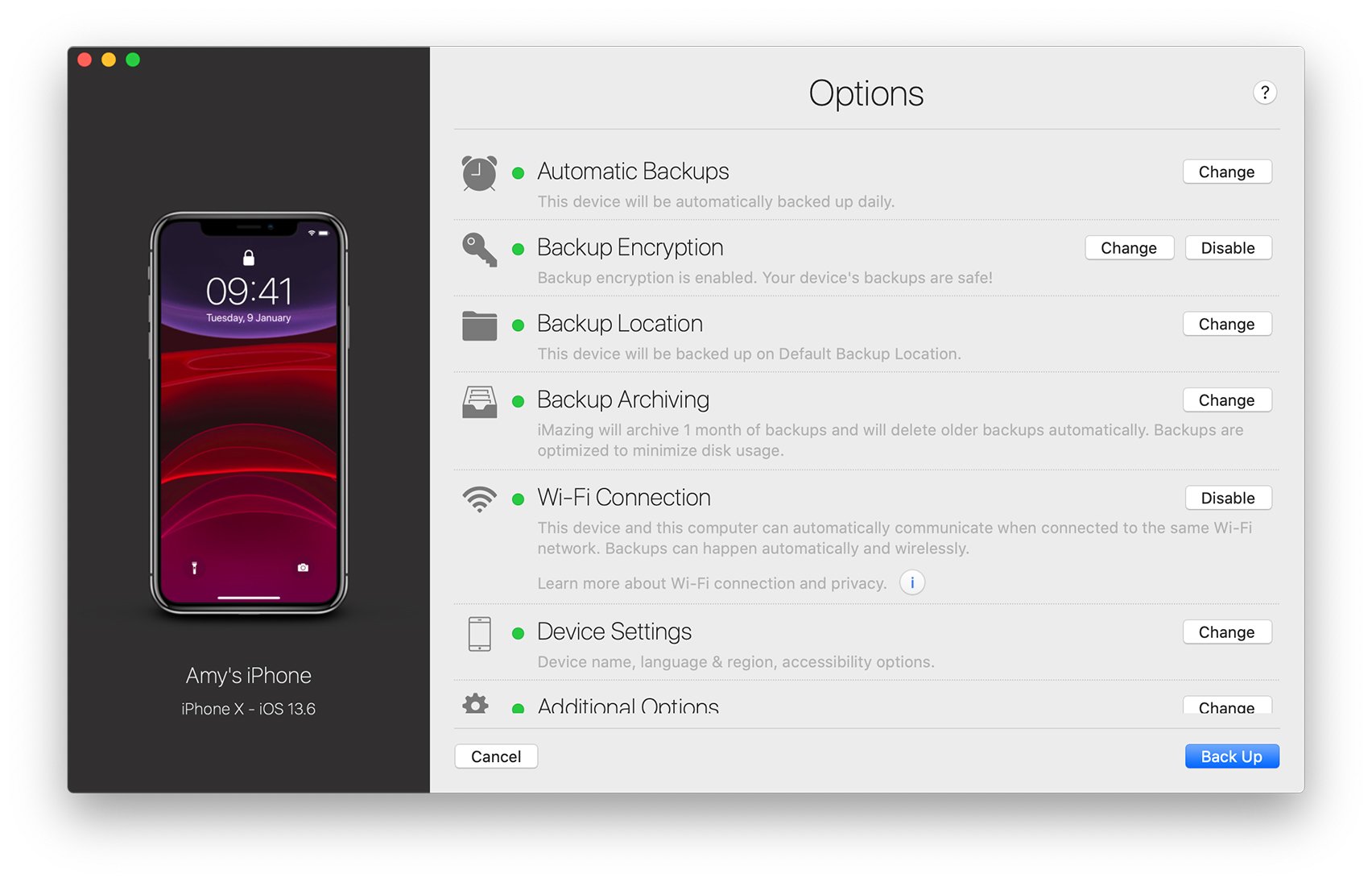 You can customize backup location and archival options there. Once you've made the initial iMazing 2 backup, backup options are accessible through the new device options: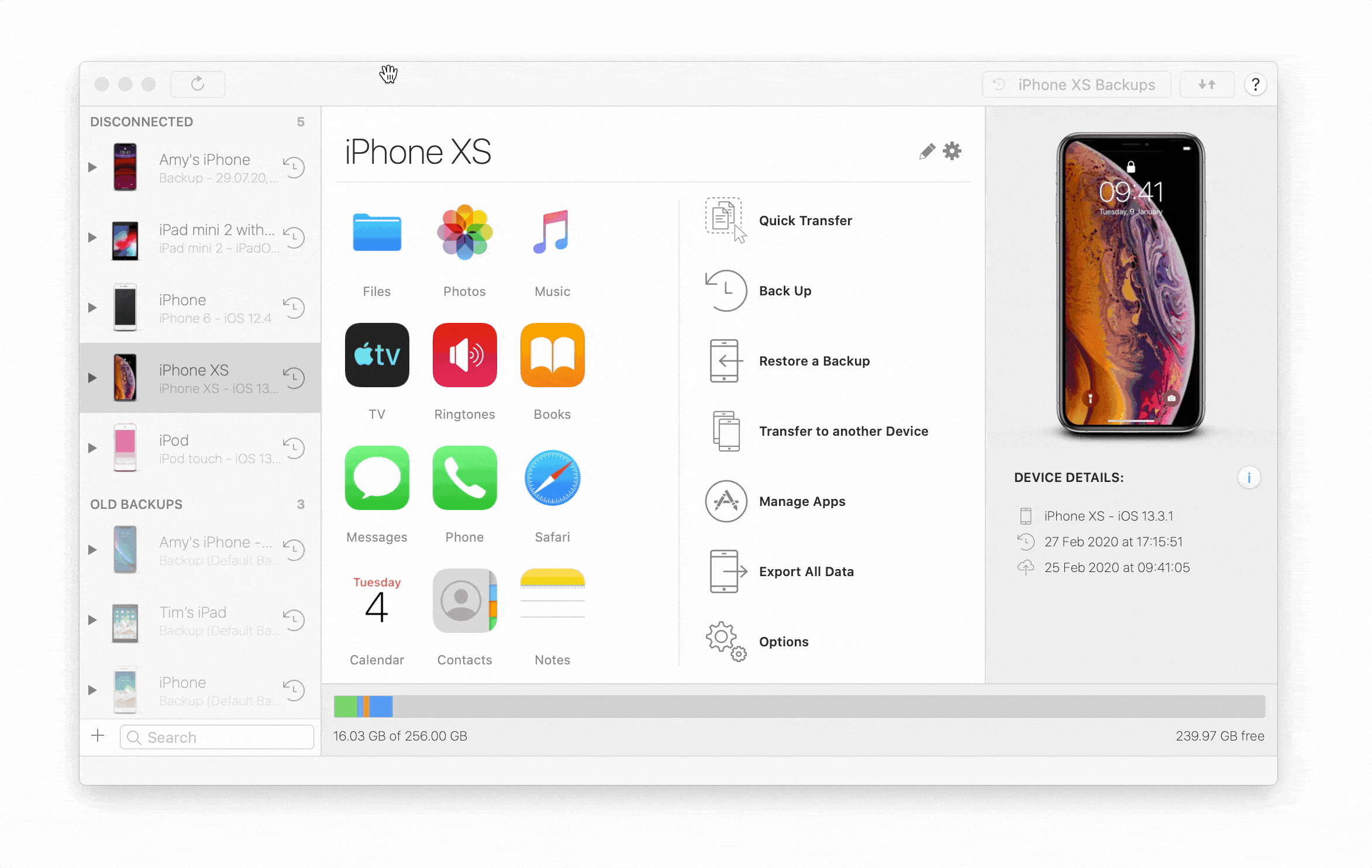 Your iMazing 2 backups for any given device are accessible from the Backup List: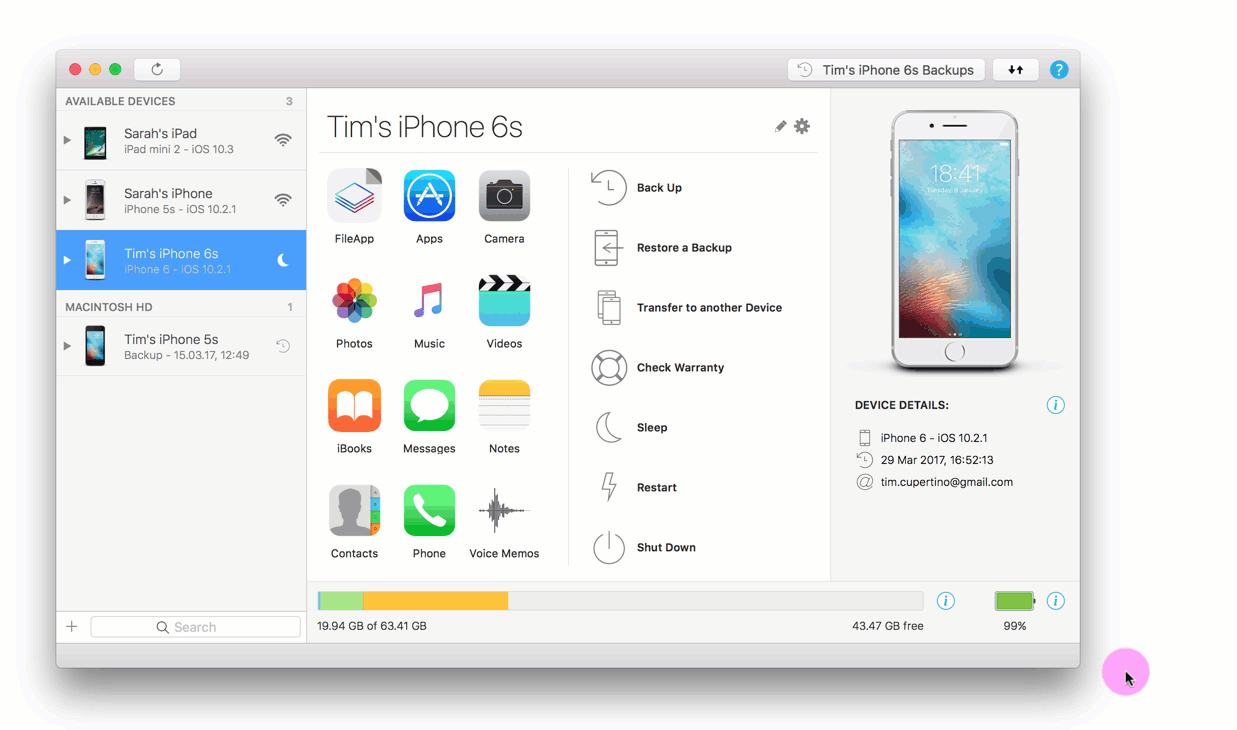 Other non-iMazing 2 backups appear in the sidebar as virtual devices, tagged with a backup icon.
Backup Scheduling (2.3)
Configure automatic backup schedule and locations for each of your devices.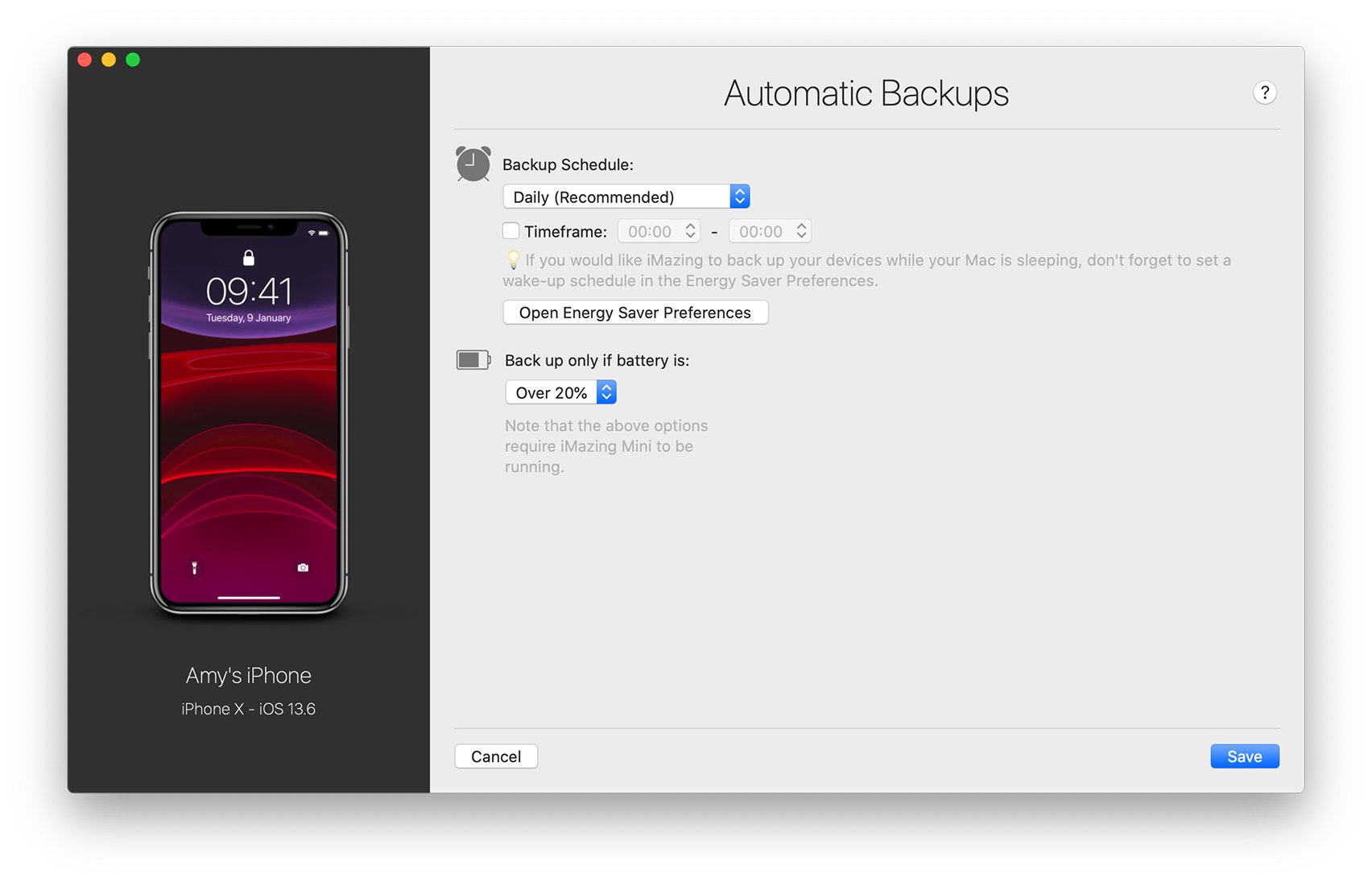 For more information, see Backup Options in iMazing.
Better backup location management
Backup locations are now set per device. You can back up your iPhone locally on your hard drive, and your iPad on an external drive or NAS. Backup location options are found in the new Device Options window: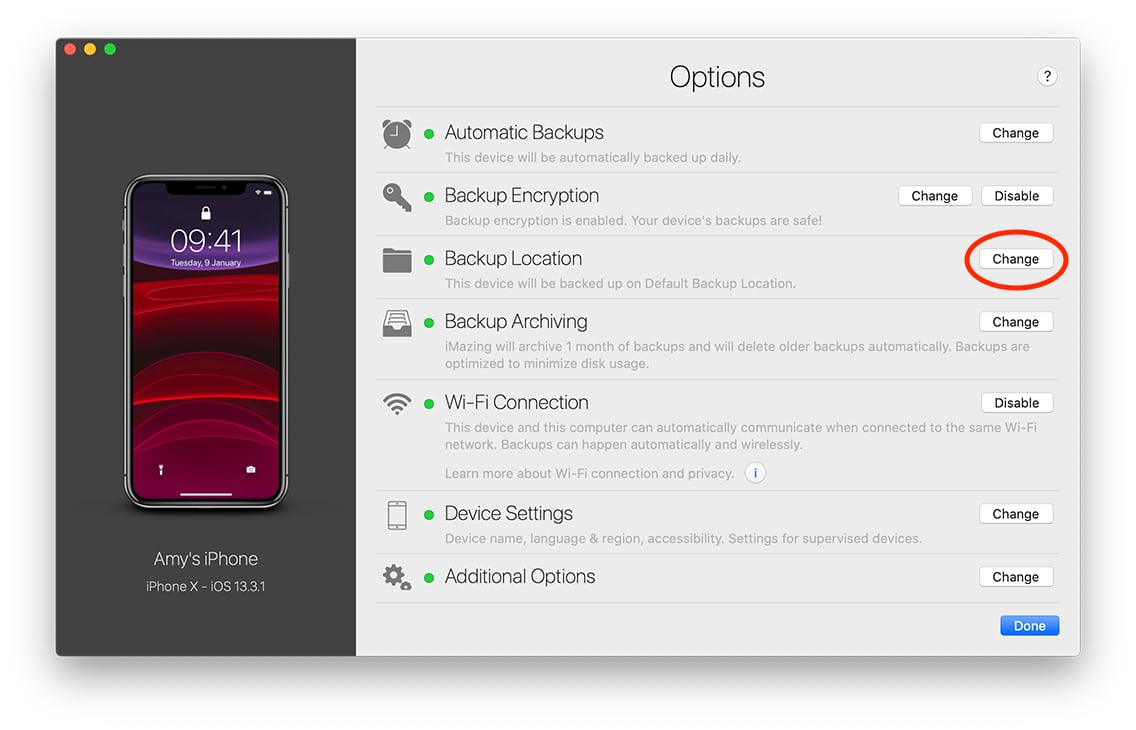 Changing the default backup location affects where iMazing backs up a device if you do not specify a custom backup location. Changing the default backup location no longer moves all your backups to a new location. You can access the default backup location from the Preferences Window: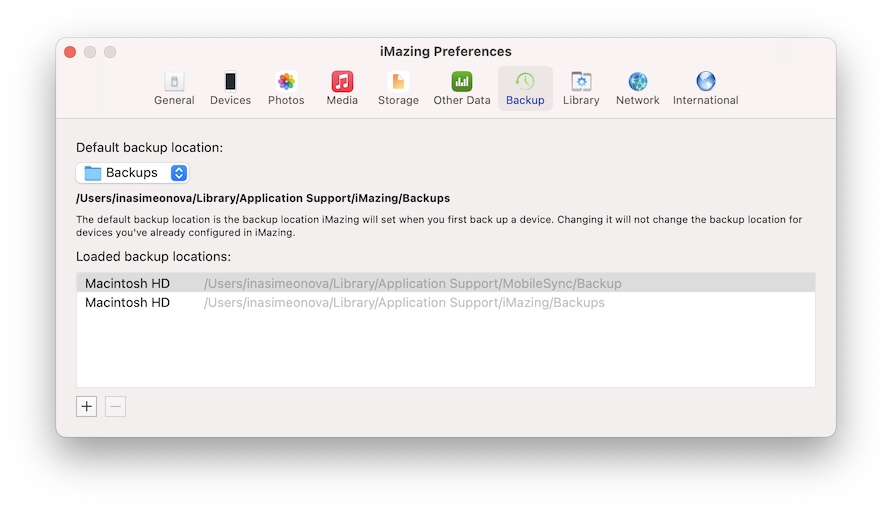 Safely edit backups
In iMazing 2, backups are by default read-only. If you try to edit one, you'll be prompted to make a copy instead. Fear not! The copy is a 'shallow' one which barely uses any disk space and keeps your original backup safe. Editable backups appear in the sidebar, tagged with the standard 'Edit' icon.
3. New datasets
'All Photos' album
The new All Photos album groups all of your photos by moments, including iCloud Photo Library photos. If you attempt to export a photo which isn't actually on the phone, but in the cloud, iMazing will now offer to export its thumbnail.
Copy photos to your device (2.2)
iMazing 2.2 introduces a simple yet effective way to get pictures from your Mac or PC straight to your iPhone, iPad or iPod touch.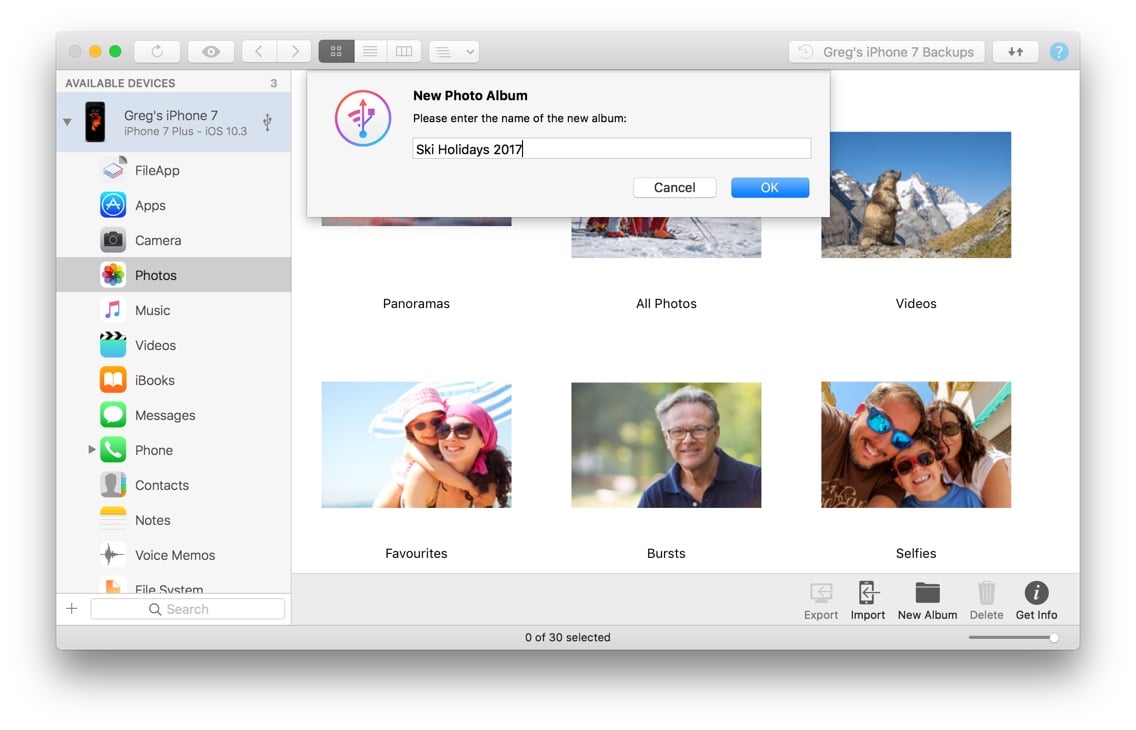 Learn more about this new feature from our blog article
iBooks support: copy e-books and PDFs (2.2)
You can now copy the contents of the iBooks app via the new iBooks View. Transfer e-books (.epub) and PDF documents, both ways.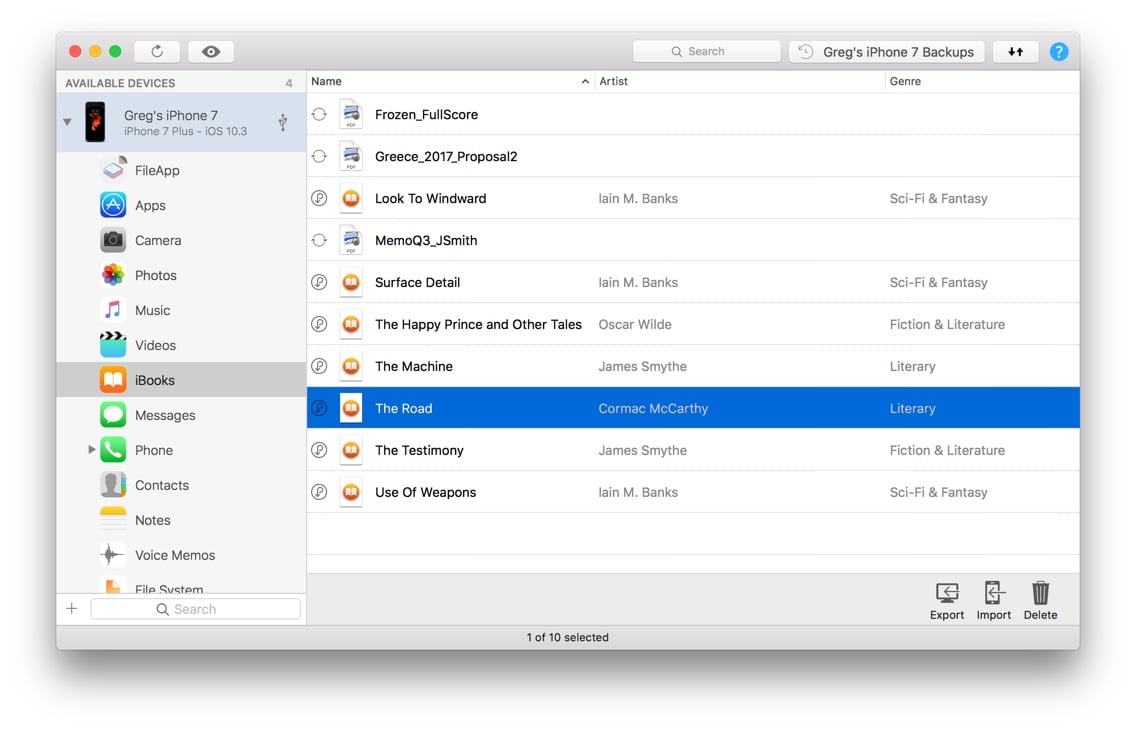 4. Better Backup Restore and Device to Device transfer
Customize apps in restore/transfer processes
When you restore a backup, or transfer your data to a new device, you can now choose which apps to include and which ones to leave out of the process. A great tool to help with spring cleaning when you finally get that next iPhone.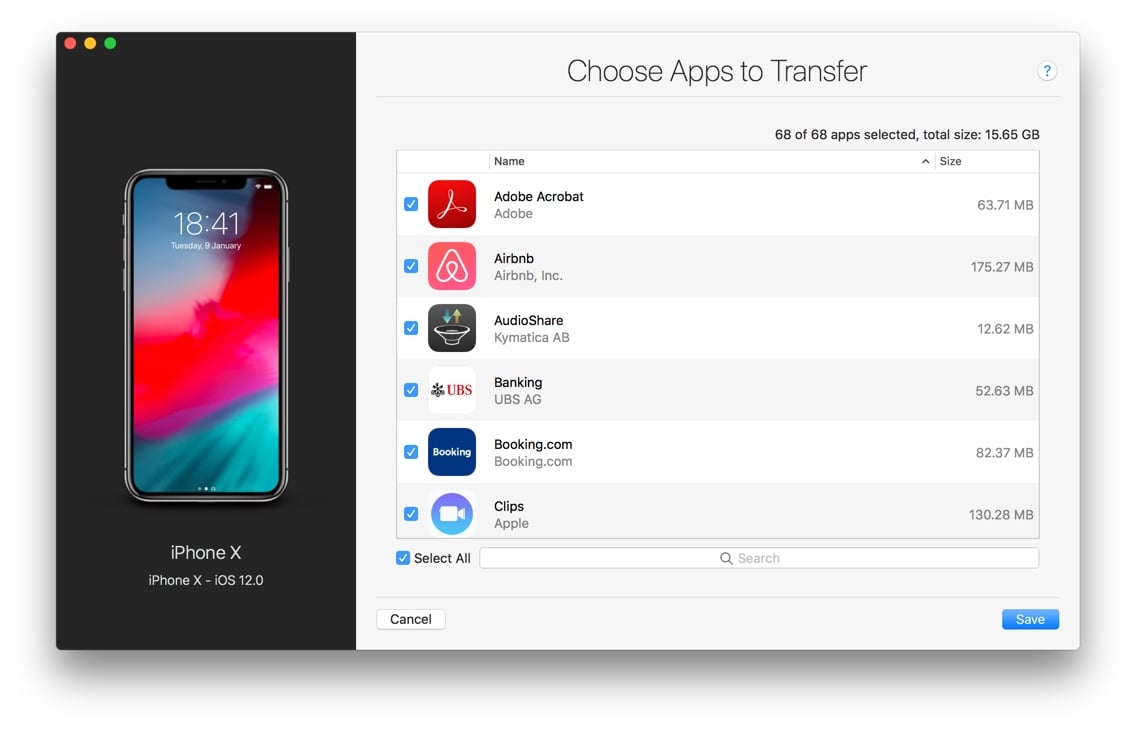 Improved Backup Restore and Device to Device Transfer
Automatic device activation through the computer's Internet access
Update of iOS if needed, from Apple servers or from an iOS image file (.ipsw)
5. Device management
Full iOS support
Apple completely changed the backup format in iOS 10 and 11. iMazing 2 fully supports the new format, encrypted backups included.
Battery health popover
Check out our nifty little battery health popover, cute eh?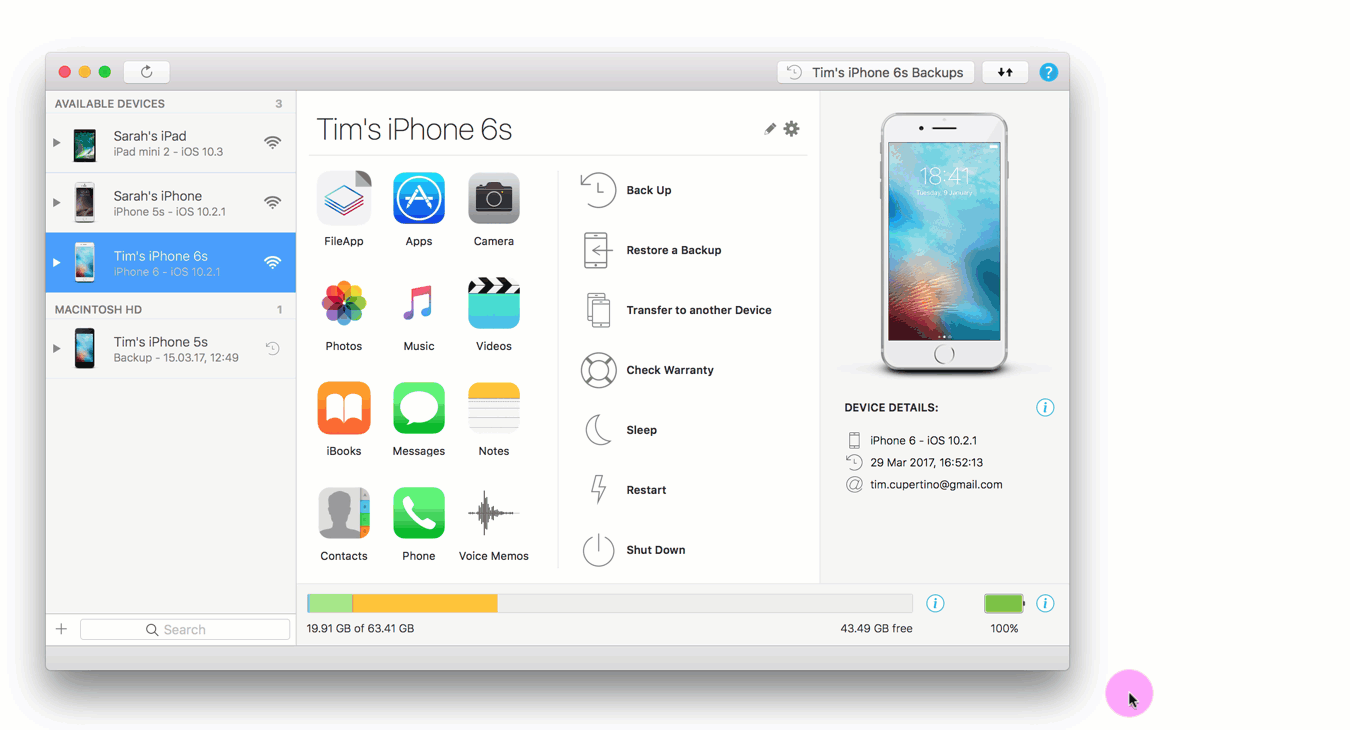 The percentage in the green bubble is your battery's health. A green bubble means a healthy battery. An orange, or red one indicates an issue. Don't wait for health to drop to abysmal levels before getting your battery checked!
Advanced shortcut management
It's now dead simple to add your favorite file sharing apps to your device's home screen in iMazing. Adding videos to VLC, or PDFs to FileApp has never been easier!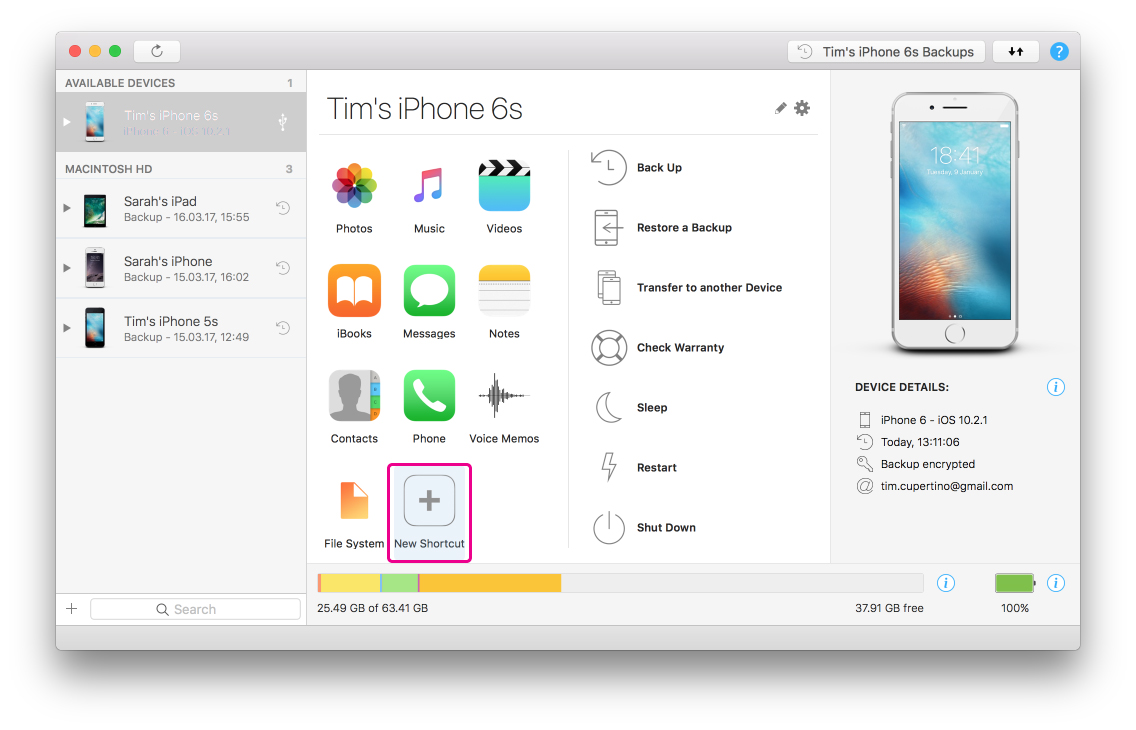 Check out our blog article to learn more about iMazing 2's new shortcut management.
Advanced device management
iMazing 2 features quite a few new tools and options which significantly expand it's iOS device management capabilities.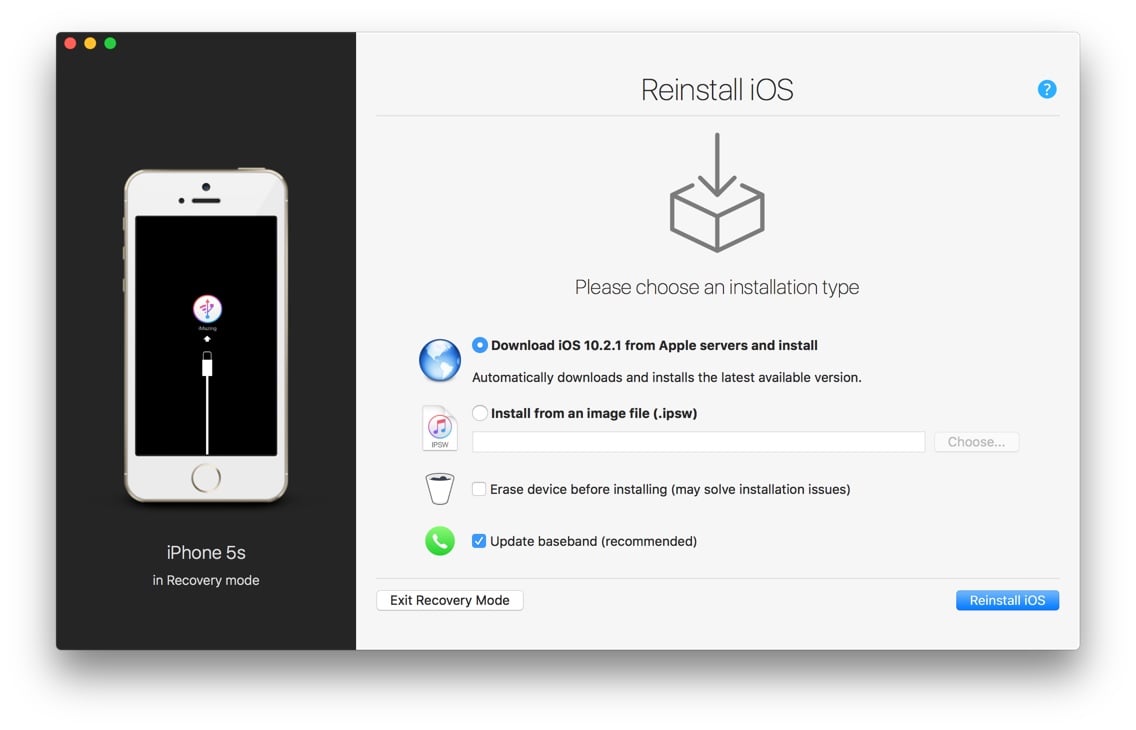 For a deeper dive into the new Device Management features introduced in iMazing 2.2, have a look at our blog article
6. Power user features
Dev Console and logs
In iMazing 2, we've added a fully fledged device console window, as well as access to system and 3rd party app log files.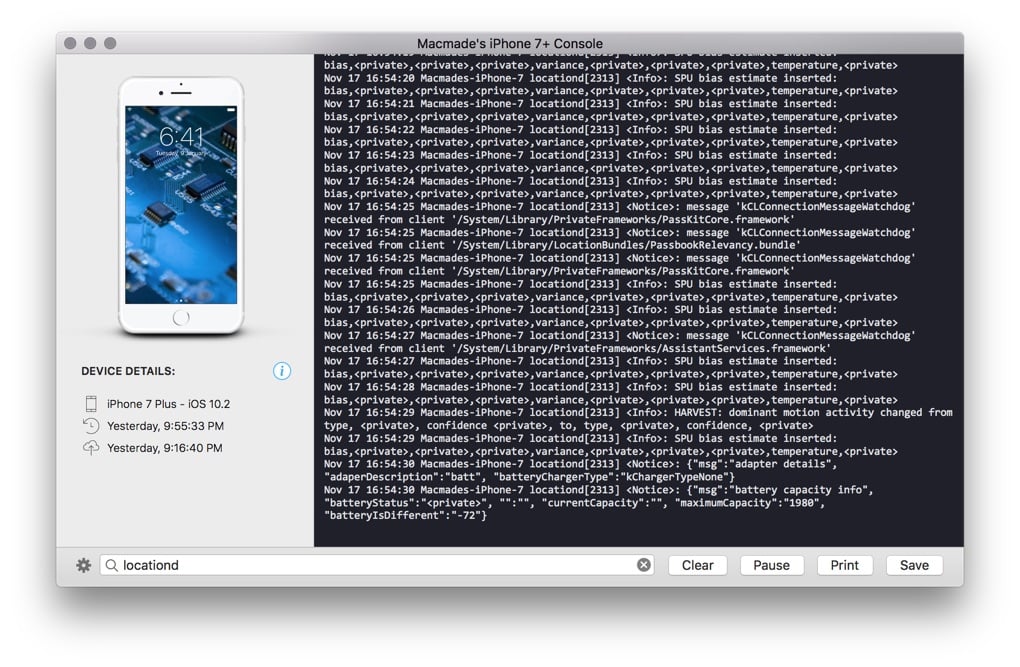 Read more about this powerful developer tool in our blog article.
Update/Reinstall iOS
You can now update, reinstall/restore iOS using IPSW files or by downloading directly from Apple servers. iMazing 2 handles Recovery and DFU modes.