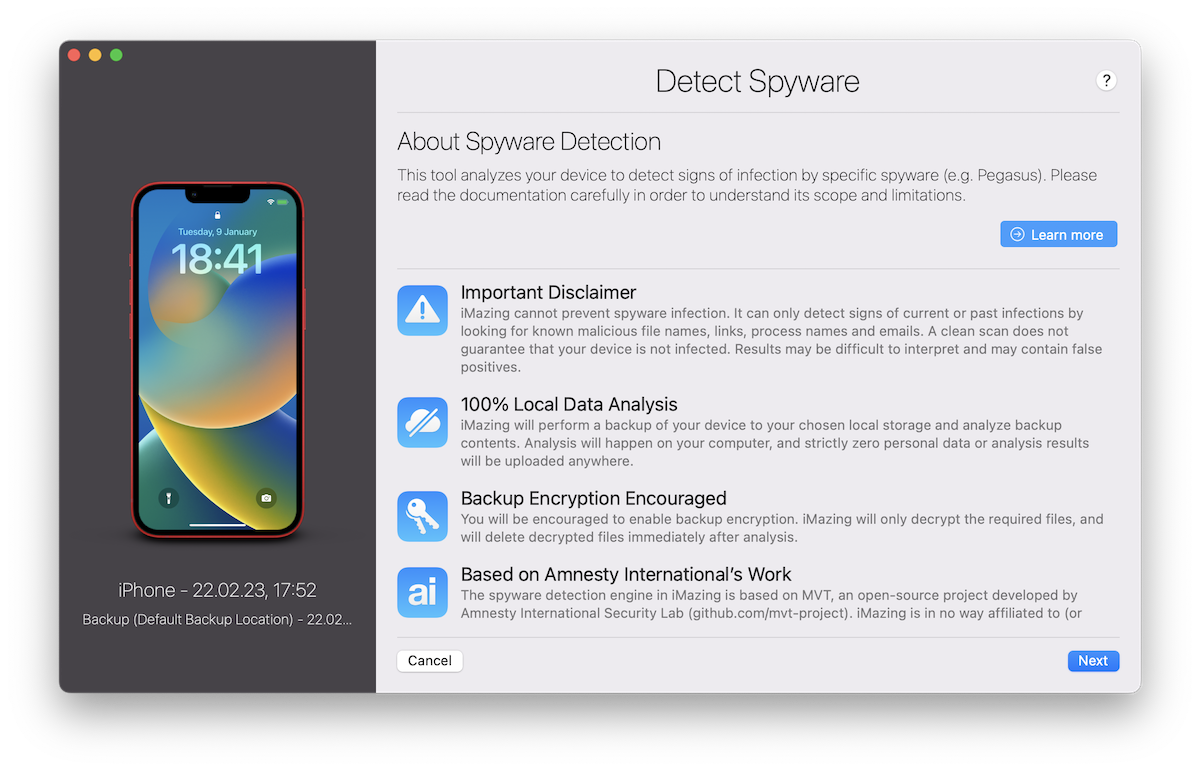 iPhone Spyware Analyzer
Easily scan your iPhone or iPad for possible spyware or stalkerware.
Spyware Detection
iMazing Spyware Analyzer can detect if an iPhone or iPad has potentially been compromised by:
Stalkerware/Watchware Detection
In addition, as of May 2023, iMazing Spyware Analyzer can detect dozens of different possible stalkerware and watchware instances that may be running on a device. The full list of such products and services is exhaustive, and can be read here.
Unlike spyware, which is often deployed clandestinely by government-affiliated groups against high-value targets, stalkerware and watchware are commercially developed and distributed. These products are usually positioned as tools for parents to monitor their children, but can potentially be used surreptitiously to monitor others without their knowledge or consent.
⚠ IMPORTANT DISCLAIMER:

iMazing Spyware Analyzer can trigger false-positives, so an indicator of compromise does not necessarily mean your device has been compromised. Learn more below in the FAQ.
---
Frequently Asked Questions
How does iMazing Spyware Analyzer work?
iMazing scans your entire device for indicators of compromise, which are "breadcrumbs" left behind by an app or action on the device that might indicate unknown activity is taking place.
iMazing leverages, in part, Amnesty International's open-source Mobile Verification Toolkit (MVT) and uses the same indicators of compromise (STIX files) that are maintained by Amnesty Tech. iMazing downloads these from GitHub.
iMazing also utilizes these indicators of compromise, many of which are supported by the community, as well as some of our own.
Why should I use iMazing to detect spyware?
MVT is provided as a command-line tool, and using it requires technical knowledge beyond the scope of most users.
The MVT project specifically includes this warning: MVT is a forensic research tool intended for technologists and investigators. Using it requires understanding the basics of forensic analysis and using command-line tools. This is not intended for end-user self-assessment. If you are concerned with the security of your device please seek expert assistance.
While we respect the position of the MVT team and hold their work in high regard, we believe less technical users should be empowered with a solution for using MVT themselves.
Is iMazing Spyware Analyzer free?
Yes, this feature is free of charge.
Has iMazing ever detected a compromised device?
iMazing has uncovered between 10 and 100 compromised devices, representing less than 0.005% of iMazing users. (We are deliberately providing such wide a range.)
With respect to our privacy policy and users, we will never disclose any further details.
For the purposes of this count: only devices with spyware are considered compromised, not stalkerware or watchware.
Am I at risk?
The vast majority of people and devices will never be at risk.
Only you can judge if your life, location, and activities might make you a target.
iMazing has found an indicator of compromise, what next?
Determine the level of risk: Spyware Analyzer can trigger false-positives.
For example, just visiting mspy.com in Safari (a benign interaction with a legitimate company, but one that develops watchware) will trigger an alert when iMazing's Spyware Analyzer scans your Safari data that your device might be associated with mSpy. If that is the only indicator of compromise iMazing reports, it's unlikely that your device actually has mSpy installed on it.
Examine the timing: if the indicator of compromise is many-years old, it is likely a false-positive or suggests a previous (but not active) compromise.
If Spyware Analyzer indicates compromise by spyware (Pegasus, Predator, KingsPawn), we advise you to contact:
If you are a human rights defender, journalist, or from a civil society organization: Amnesty Tech (Please note that their mandate does not cover providing assistance to ordinary individuals, governments, or companies.)
If a business or government device is compromised: the appropriate security liaison at your enterprise, department, or agency
Local law enforcement
Important: We are unable to directly help you beyond this. Although we are happy to discuss your specific situation or circumstances and review your results, it is unlikely that we'll be able to assist you beyond what is written on this page.
My iPhone or iPad has been compromised, how can I remove the spyware?
Spyware Analyzer is only capable of detecting indicators of compromise, not removing them.
If the indication is many-years old, the chances are high that it is either a false-positive or that the exploit used to compromise your device has already been patched by Apple with an iOS or iPadOS update.
Please note: Apple shares limited information about patched exploits; determining whether an exploit that may have compromised your device has been fixed is practically impossible.
If you are concerned about having been compromised, we advise you to:

Consider replacing the device completely.
Not restore from a backup, since the backup may be compromised.
Consider changing your SIM/eSIM number.
---
Learn more: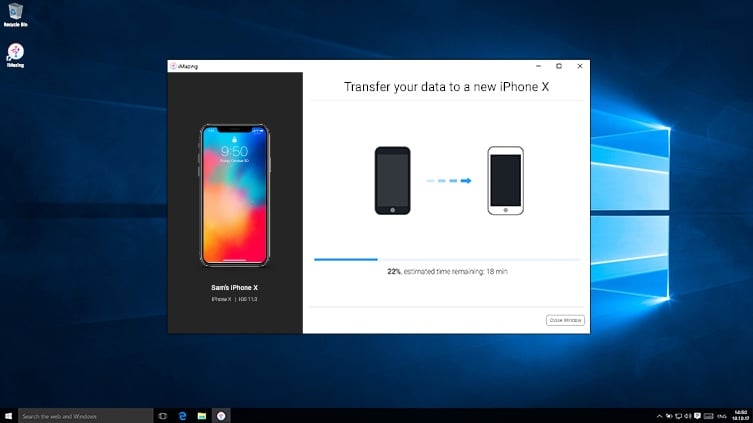 iMazing
Get advanced backup and file system solutions for your iPhone and iPad. iMazing is simply the best iOS manager for Mac and PC.
Supports every iPhone, iPad & iPod.
Compatible with Mac & Windows PC.
Latest Version: 2.17.14. Updated on Nov 13, 2023 Latest Version: 2.17.14. Updated on Nov 13, 2023 Latest Version: 2.17.15. Updated on Nov 14, 2023
I love iMazing!
by Clark Morgan
You really don't have control of your Apple Device till you have iMazing. The features and options and it exposes are remarkable. I initially purchased iMazing to generate a clean, detailed log of text messages for a court battle I was in. It would not be unfair to say that it saved the day in this regard and should be in the arsenal of every attorney. But as time has passed, I have found so much more use for it and now it's an indispensable convenience.
Excellent product and top notch customer service.
by Kimberly Carpenter
I have used this product for years and it has been a fantastic resource to save to my computer the texts and voicemail messages from my phone that were important to me. The customer service experience I have had has been great- my emails are responded to quickly and you work with the same person during the entire process which helps immensely if you have additional questions. Overall, very satisfied with the product and service! Highly recommend!
iMazing is by far the best software program and people I have been blessed with during chaos. iMazing blows it's competitors away in every aspect from what you can do, get access to, and store from your own iPhone that you didn't even know existed or was capable, including the service from real human beings that are kind, respond to emails, and want to help.
Before using iTunes and any other apple software you MUST do a backup with this software. It is fast, simple, inexpensive and easy to use. Following your imazing backup no matter how hard iTunes tries to destroy your iphone or ipad you will always have a full backup of everything. Also make SURE you get a backup using imazing BEFORE EVER upgrading your iOS.
Truly a great software!
by Mike
Truly a great software with rugged capabilities. I have been using it for years alongside with others that do the same thing, but iMazing is the only one that stood the test of time! It is just what anyone needs for the next level in Apple products backup versatility.
Software that works.
by Steve Peck
I needed to print my text from my iPhone. I installed the software, attached my phone and 2 clicks later I had my printout. Easy peasy!!!
iMazing ... Amazing.
by Guillaume Morissette
This software is just fire 🔥🔥🔥 Takes the headache out of iPhone backups and backup transfers. Stunning.
Best sync utility for an iPhone.
by Michael
The interface is well thought through with attention to detail. It grabs everything off your iPhone including stuff you probably didn't realize was there like voice memos, voicemail, etc. You can sync via lightning cable or WiFi. Well worth the price. You can export everything to multiple formats with one click which is very useful.
This product works without issues.
by Christopher Murphy
I have been a lawyer 44 years. Need reliability in software. This product has been perfect for downloading text messages for use in litigation. It works quickly and is far superior to Apple software and its messing around. Wouldn't be without it.
Export Notes directly from iPhone.
by Eric
I found the notes export functionality very useful in transitioning to a new iPhone. The notes were quickly converted to text files, no muss, no fuss. And no iTunes! I see other potentially useful exporters and tools that I look forward to trying in the future.
Excellent software.
by Lora Westberg
iMazing has so many awesome features. It makes transferring data between my iPhone and my Mac fast and easy, as well as transferring data between iPhones. I am able to backup and manage multiple devices which makes it much simpler to manage my families files.
I wouldn't own and iPhone without iMazing!
by Laurie
I don't know about everyone else but I wouldn't own and iPhone without iMazing Manager, you just plug your iPhone in to the computer and let iMazing do the rest for you. All I have to do is pick and choose what I want, you can't beat that.
Life saver program.
by Ellen Zaroff
I bought this to back up some texts I had which I needed for a legal reference but this program has just saved me when all my photos were erased in an Apple glitch...they had all been stored on iMazing. Am so happy with this product! Thoroughly recommend it for all the variety of access it gives you to your devices, which Apple makes such a pain.
Trustworthy software.
by PB
iMazing is an excellent, well-thought out, improved alternative to iTunes backups. I rely on it every day and totally trust it with the most important tool I use daily..my mobile phone. I've been part of development teams for hardware and software and I can tell you without question, iMazing is a seriously well executed piece of software. Thanks to the fine team who put this together. You have made my life easier and my work safer.
Useful, Elegant and Effective.
by Dewey M
iMazing takes the basic connectivity between my Mac and iPhone and brings it to a level which makes computer and phone practically one unit. Moving music, messages, web pages and more rom one to the other is simple and reliable. I can't think of another application I've tried which does as much as iMazing as well.
Read all users' reviews...
---