DiskAid is well presented in this article in the Apple section of the great Italian HDBlog. While hoping for new features in iTunes 11 the author shortly oversees the principal components and interests of DiskAid 5, emphasising on the facilitated iPhone music copy feature and capabilities.
…And this "sounds" so good to us, in italiano!
DiskAid può offrire un metodo alternativo più intuitivo: un semplice drag and drop manuale per trasferire brani musicali (meta data compresi) da PC/Mac a iPhone/iPad/iPod touch.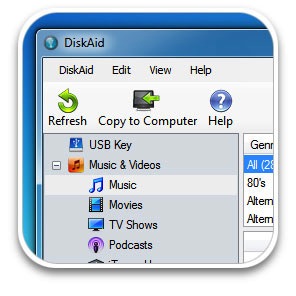 The original article, if you read in Italian: DiskAid 5, utilizzare iPhone 5 e iDevice iOS 6 come "pennette USB"
Download DiskAid 5 now and enjoy free file transfer to iPad, iPhone and iPod touch Apps, including for the all new iPhone 5 and any other device running iOS6!