We're excited to announce the release of DiskAid 6.7, which adds one of the most requested features to DiskAid: powerful iOS app management capabilities!
Manage Your iPhone Apps
With version 6.7 you can now backup individual iOS apps along with their saved data and custom settings to your Mac or PC, remedying one of the most glaring shortcomings of iOS and iTunes.
Deleting an app from your iPhone or iPad normally deletes all of the app's data alongside it, meaning even if you re-install the app later your custom data won't be restored with it. For example, if you spent dozens of hours playing Infinity Blade 2 but no longer play it regularly, you're faced with a dilemma: keep the game on your iOS device (and lose more than 1GB of storage!) or remove it and lose all the progress and achievements you obtained during that time.
Armed with DiskAid 6.7, you'll never encounter this problem again: DiskAid can save your app, associated data, and saved state as a single .ipa file. When you need the app again, use DiskAid 6.7 to restore it to your iOS device and you'll be able to pick up exactly where you last left off.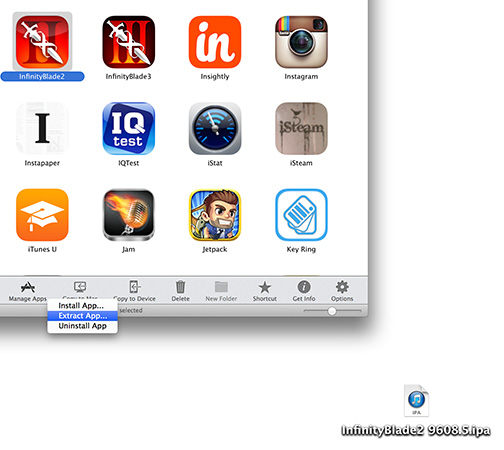 Clone Your iOS Devices
DiskAid 6.7 adds another highly requested feature: cloning your existing iOS device to another one, copying absolutely everything so the experience on the new device is seamless, complete, and identical to the original device.
When you're ready for a new iPhone or iPad, don't even hassle with iTunes' clumsy and confusing Backup & Restore feature: take advantage of DiskAid's powerful new cloning capability for the quickest, easiest, and best experience possible.
We're still working hard on the next major release of DiskAid, stay tuned for a big announcement later this year!
DiskAid Version 6.7 Full Release Notes:
App Management: Install, Uninstall, or Export Apps, with or without associated app data.
App Backup: Backup apps and restore them to a different iDevice, with or without your custom app data, settings and documents.
Improved: Apps are now included with your iOS backup
Improved: Wi-Fi connection stability
Improved: Reorganized sidebar, new File System section
Improved: Shutdown, restart, or sleep an iOS device from DiskAid
Many other minor bug fixes and improvements
DiskAid 6.7 is a free update for all DiskAid 6.x users. Download it today.