FileApp and FileApp Pro versions 3.2 have just been released in 10 different languages, packed with new awesome features; this is one of the most important changes in FileApp's history and a big move for both apps.
What we did with this update is to bump FileApp – the iPhone and iPad file system's base version – to a full-featured file manager. FileApp the free version has inherited form all the file management capabilities that have been in FileApp Pro until now: copy, paste, move and rename files and folders, including text file creation and edition and sound recording.
FileApp the Pro version is now dedicated to productivity and creativity and boasts an all new set of essential features for serious work (and play) with PDF and image documents and offers enhanced security with file encryption.
Both versions introduce for the very first time a System-Wide Pasteboard. This means that you can create new documents instantly with any picture or text clip of your liking from any other app on the iPhone or the iPad, from Mail, Safari … That's the easiest way to transfer data from anywhere and create files from any other app with text or image clips.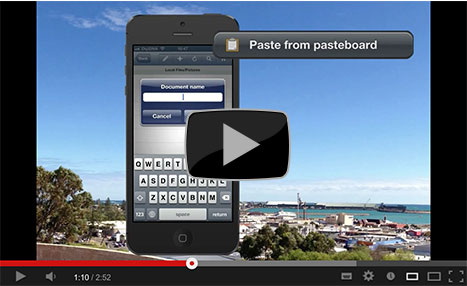 Here is the list of all new features in 3.2:
FileApp and FileApp Pro are now regionalised in Chinese (Simplified), Japanese, Korean, Russian, Portuguese, Spanish, German, Italian.
FileApp and FileApp Pro add instant image sharing to Twitter & Facebook
FileApp and FileApp Pro introduce system-wide Pasteboard – copy text and images, paste them to FileApp to create a file automatically!
What's New in FileApp 3.2:
Added all file managment actions, documents and folders can now be renamed, copied, moved individually or in batches, text files can be created and edited right from FileApp!
Upgraded to an all new awesome PDF reader with bookmarks support
What's New in FileApp Pro 3.2:
Upgraded to an all new awesome PDF reader with bookmarks and annotation support
Added built-in PDF file conversion for MSOffice, OpenOffice, iWork, HTML, RTF files
Enhanced security with file encryption – iOS Data Protection now enabled in FileApp Pro
Upgraded to all new image editor with many filters and enhancements