After 6 long month of hard work and great progress we are proud to announce the new generation of FileApp.
Keeping the same intuitive logic and simple interface FileApp 3 is a whole new App, with a redesigned interface, regrouped controls and fully rewritten engine.
FileApp 3 greatly improves stability and performance and brings a wealth of new features, enhancement and fixes.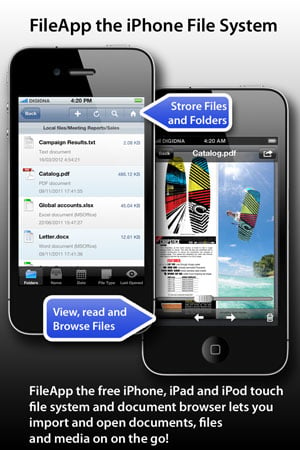 Great new stuff available in the free version:
New enhanced custom PDF reader
Text files font resizing with word wrapping
Camera Roll and Photo library can be accessed from the App
Redesigned media player allows shuffle and repeat for audio, plus continuous play for video
All new set of preferences for custom file display and management
Plus exclusive to FileApp Pro:
New voice memo capture right from within the App
Redesigned text editor works with variable font size, encoding and extensions (txt, html, xml …)
The Pro version additional features (multiple file and folder copy, move, rename and ZIP) stand out from the redesigned contextual menu, marking its great potential to power users and professionals needing serious documents management on the go.
And this is just the beginning, the version 3 is going to rapidly evolve with the addition of new features and services due within next couple of months, so install a copy of FileApp now and get all free updates as they come soon!