FileApp gets more than a redesign with the version 4, it is a new app with a brand new iOS 7 look and feel as well as many new features. The new app interface is cleaner, uncluttered and geared toward productivity.
Completely redesigned interface with iOS 7 look and a simplified home screen
Added new file sharing through Internet browsers: drag and drop multiple files from your desktop directly into FileApp
All sharing options can now be accessed through the File Sharing button of the Home Screen
New photo picker: can now select and import multiple pictures and videos in one go
Username and Password for http and ftp file sharing
Added "swipe to reveal" functionality to files: swipe left on any file to access "more" and "delete" buttons
Restored user's choice between built in PDF Reader and Custom PDF Editor
Memory management optimisation
Increased stability
Many bug fixes
Add-Ons to enrich your FileApp experience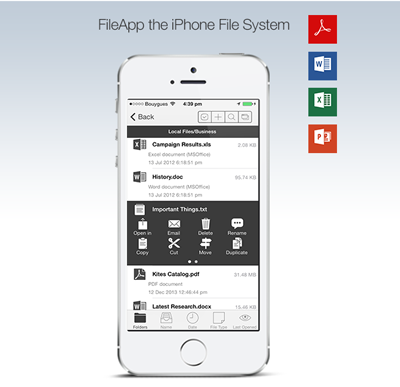 FileApp 4 is Free and Offers Add-Ons
FileApp remains a free app, with scalability on top. Instead of offering a free and a paying version (FileApp Pro), the free/In App model allows for easier app trial, simplified upgrade and fair pricing. The premium features are offered through a choice of Add-On packs available in the following In-App purchases:
PDF & Text Editing
Powerful PDF annotations on the go: highlight, underline or cross out text, add notes and much more! Also includes a simple text file editor.
Data Protection
Keep your files safe with the Data Protection Add-On. Files placed in the Secure folder are automatically encrypted when your device is locked.
Camera & Microphone
Take pictures, shoot videos and record audio directly from FileApp. Keep media files organized within your folders' hierarchy.
We will no longer maintain FileApp Pro and keep our focus on FileApp. FileApp Pro users will get all features they previously owned* for free when installing or updating to the latest FileApp (simply upgrade FileApp Pro to the very latest version, open it and follow the instructions provided within the App).
Merging with Easy Migration Tools
Following our users' advice we designed two new and easy ways to copy files from one app to the other:
Using a computer – with DiskAid (free download and no license purchase or registration needed) in which we added an automated migration tool that duplicates FileApp Pro's content in FileApp 4.
Without a computer – using FileApp Pro Zip archive creation and Open-In feature, it's all in great details in this article.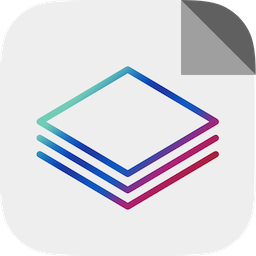 The Best FileApp Yet
Lastly and very importantly we wish to thank for their patience and support all of our users that have experienced crashes with the initial release. We actually went all out on the performance. After having ironed out initial bugs we can claim we deliver the most stable and reliable FileApp ever. Moreover thanks to this merge between FileApp Pro and FileApp we now have a single app that will gather all our attention. This will allow us to release new exciting features in the upcoming months. Stay tuned!
For our tech readers and iOS developer friends, see how we did to allow to preserve user purchases while moving to a new app in our latest blog post.
The new FileApp (4) is a universal iPhone, iPad and iPod touch, it is a free download and a free update on the Apple App Store. FileApp Pro users are invited to get FileApp 4 as a separate download and get all existing Add-Ons for free.