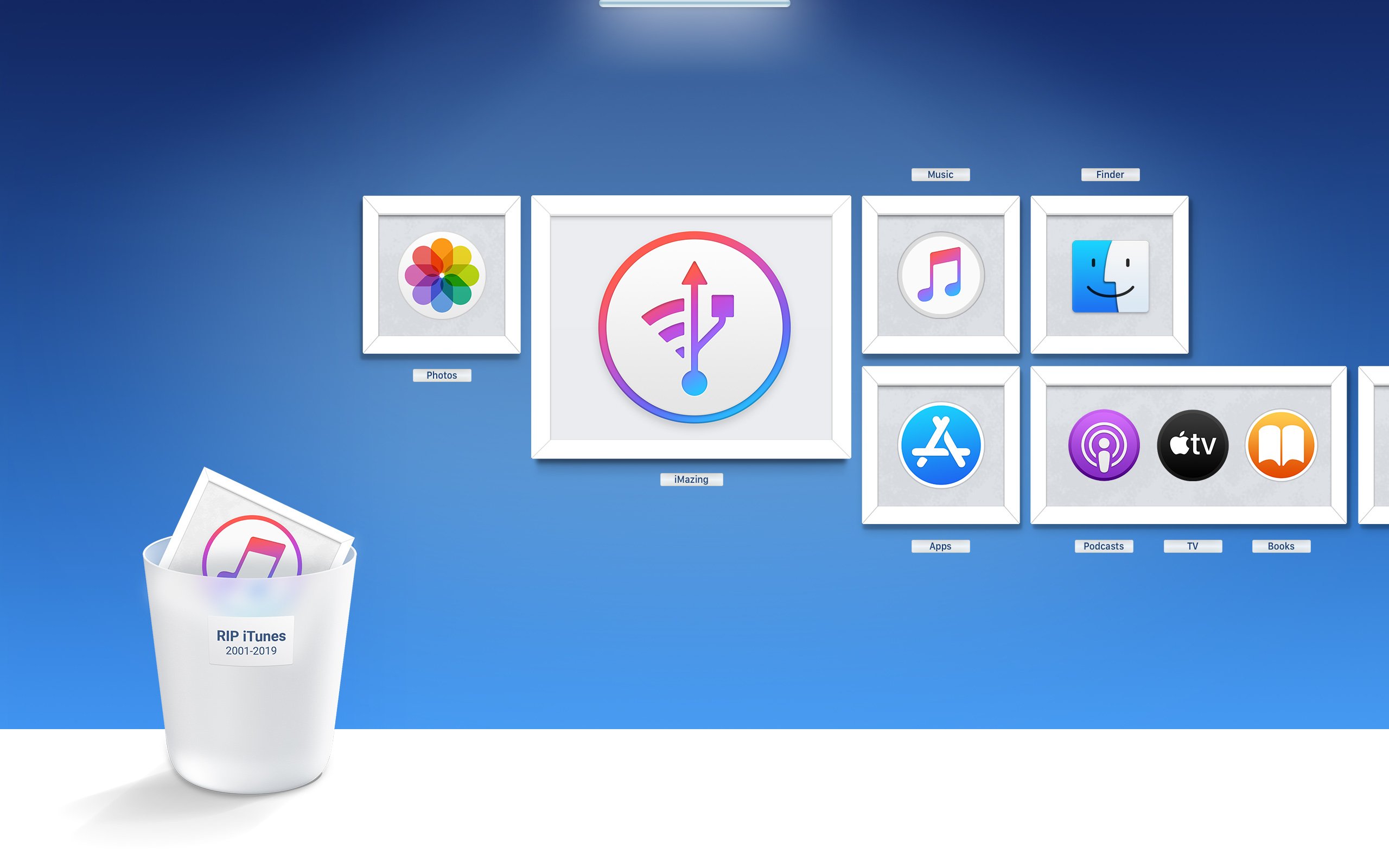 According to our estimates, every year sees more than 10 million new iPhone or iPad users turning to third party software to help them manage their iOS data from their Mac or PC. The software solutions they end up using are often labelled, somewhat confusingly, "iTunes alternatives" – an inappropriate but convenient way to concisely convey that the solution has something to do with syncing or transferring data between an iOS device and a macOS or Windows computer.
This year, Apple began phasing out iTunes. In macOS 10.15 Catalina, its large feature set has been split into separate apps:

Music, TV and Podcasts offer storefronts and library management for these specific media types.
Finder inherits local sync and backup/restore.
The split makes it much easier to understand what is usually meant by iTunes alternative: these are not media library managers or alternative storefronts, but iOS device managers which cover (and extend) the data transfer and backup/restore capabilities now found in Catalina's Finder.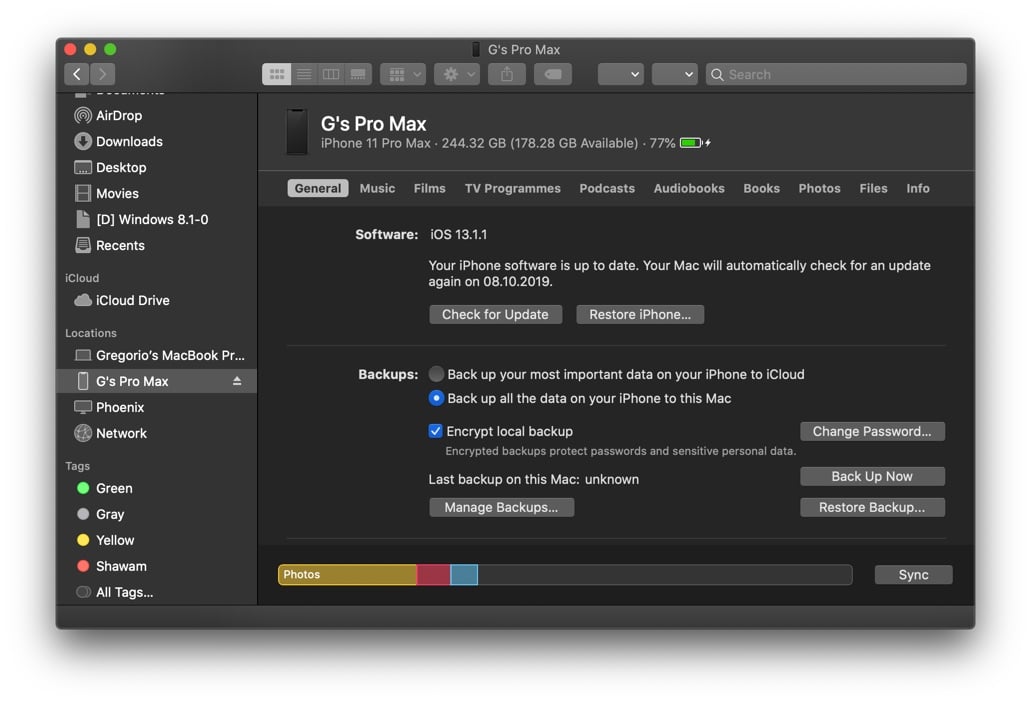 Catalina's Finder is the new home for local sync and backup/restore...
This split also highlights Apple's shift towards cloud services and away from local data management. The new Music and TV apps are cloud-centric and get beautiful UI, whilst the legacy local data management features moved to the Finder look uninvitingly geeky and are explicitly incompatible with certain iCloud services: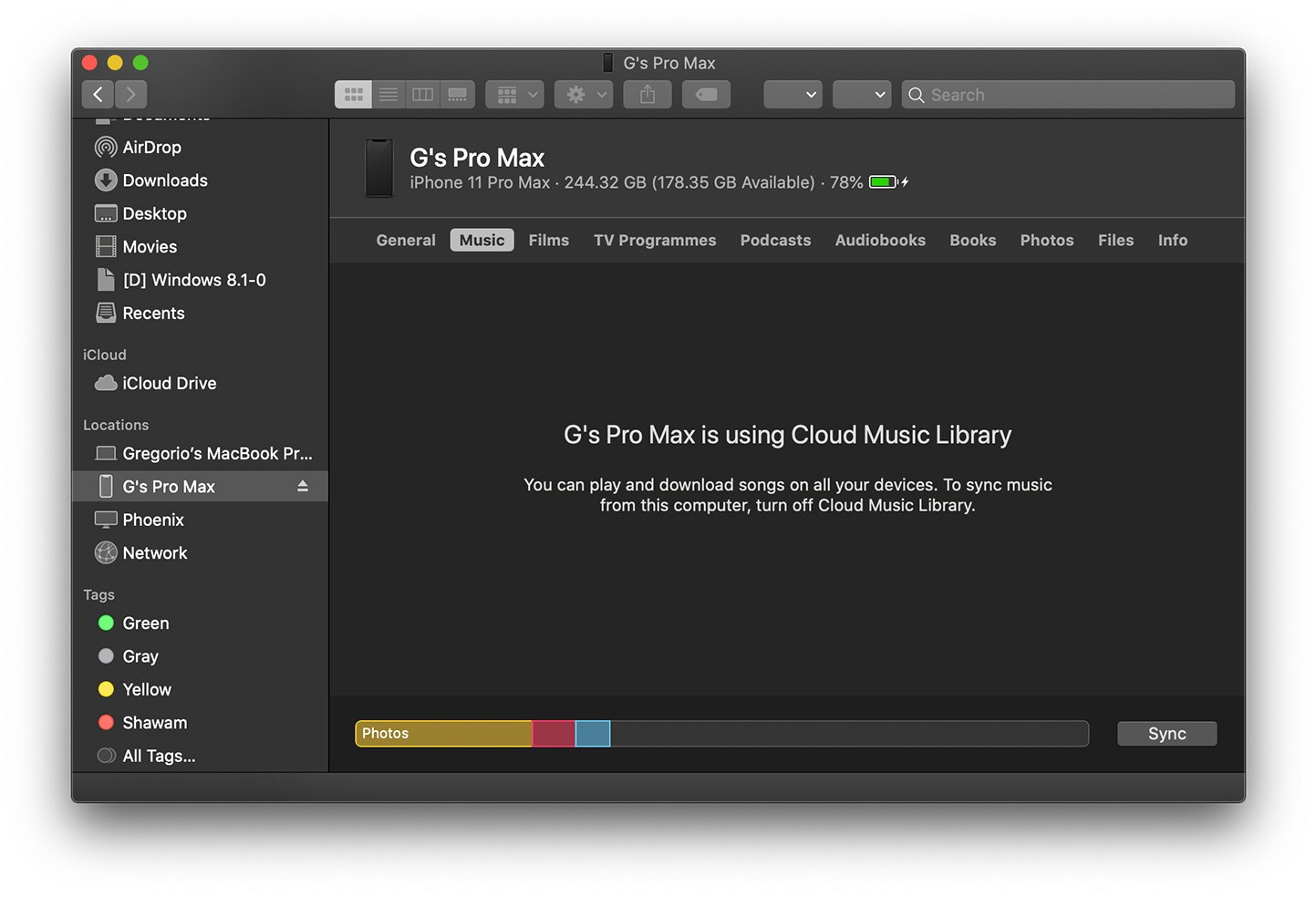 ...but the same restrictions still apply.
At DigiDNA, we've been developing alternative iOS data management solutions since the release of the first iPhone in 2007. Our DNA is inextricably tied with iTunes' – our first successful app, TuneAid, helped users rebuild a lost or corrupted iTunes library, from the one on their iPod or iPhone.
The current context is an opportunity for us to take a step back to review the role that we and our competitors play in Apple's ecosystem. Why does a significant percentage of iOS device users turn to third party data transfer solutions? What are the problems they are trying to solve, or the frustrations they wish to sidestep? And who are the actors, both good and bad, in this market?
Why do iOS users turn to 3rd party iOS device managers?
There is no single answer to that question, but a wide variety of use cases which fall within four broad categories.
To accomplish a specific task which cannot be achieved within Apple's vanilla ecosystem. Exporting text messages in bulk to split PDF files or backing up to an external drive for example.
To transfer files and media locally, without the restrictions associated with Apple's syncing workflows. Third party iOS data managers usually let you transfer files and media both ways, outside of the context of an iTunes library.
To gain a more direct access to their data. Most iOS data is only accessible via a backup, not directly. The format of these iOS backups isn't human readable, but 3rd party tools will let users browse the backup's file system and extract data from it, providing that the user has the password if backup encryption is enabled, of course.
To troubleshoot issues with iOS or iOS backups. The success rate really depends on the case, but the finer grained control offered by third party solutions on processes such as restoring a backup or reinstalling iOS can really save the day.
What specific features within these categories draw users in? Let's take a look at the number of times iMazing's video tutorials were viewed in the last two months, grouped by broad subject: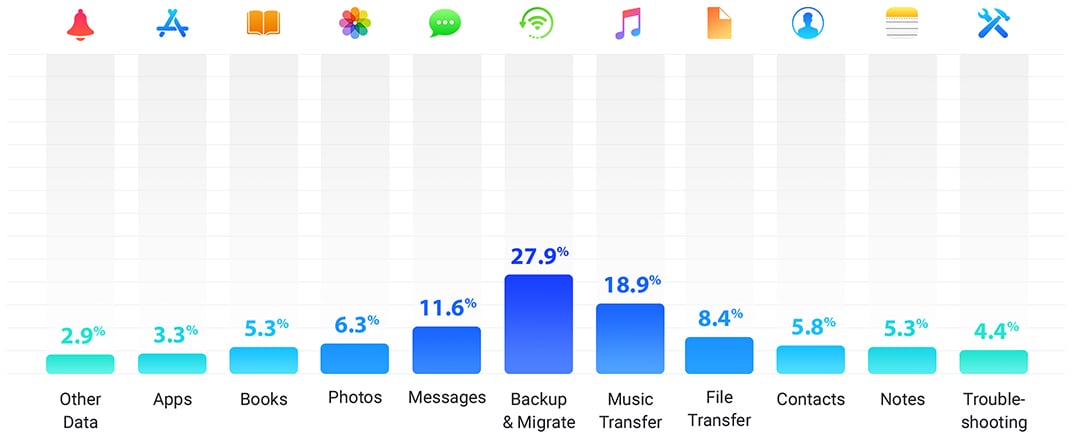 Most popular feature: Backup & Migrate
In pole position, we have backing up and migrating data to a new iOS device. This doesn't come as a surprise: iTunes and the Finder only support backups to the main hard drive of the computer. Because the size of iOS backups tends to be quite large (anywhere from 5GB to 150GB and more), many users find themselves unable to back up for lack of space and end up googling "backup iPhone to external drive".
Among those users, many don't have an iCloud backup – they depend on the local backup to migrate their data to a new device via local backup/restore. We expect the migration use case to diminish over the next year because the new device to device migration option Apple introduced in iOS 12.4 largely solves this particular problem.
That said, we believe that local iOS backups still are and will remain relevant, for reasons ranging from privacy to data ownership concerns which we detail in the following Medium article: Why Backing Up iPhone Still Matters
Runner-up: Music Transfer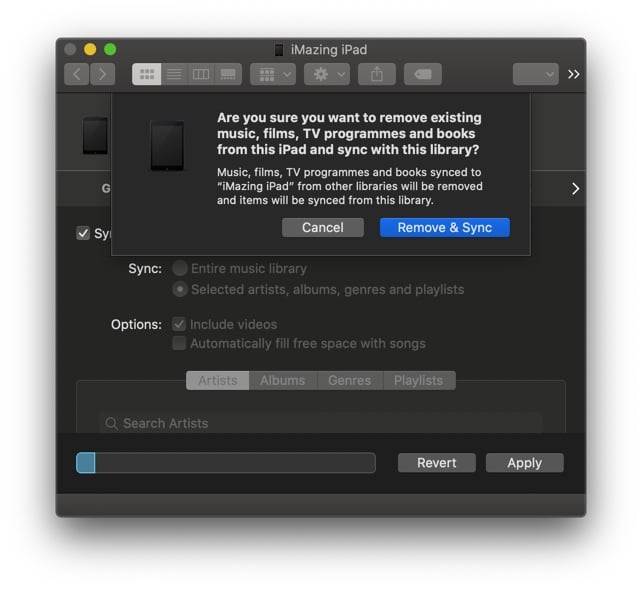 The dreaded "selfish iTunes library" dialog, here in its most recent Finder incarnation.
Does the dialog box above ring a bell? It has been around in one form or another since the very beginning of iTunes, and has carried over to Catalina's Finder. It exemplifies the master-slave media library paradigm iTunes enforces, often at the cost of user convenience. Googling "transfer music without iTunes" usually follows within a few minutes.
When Apple Music started to gain traction, we anticipated a severe drop in music-related use of iMazing. Four years later, it appears that we were wrong: whether it is to recover tracks stuck on an old iPod, or to quickly drag and drop a mix to an iPhone, local music transfer remains as popular a use case as ever.
Third position: Export or Print Messages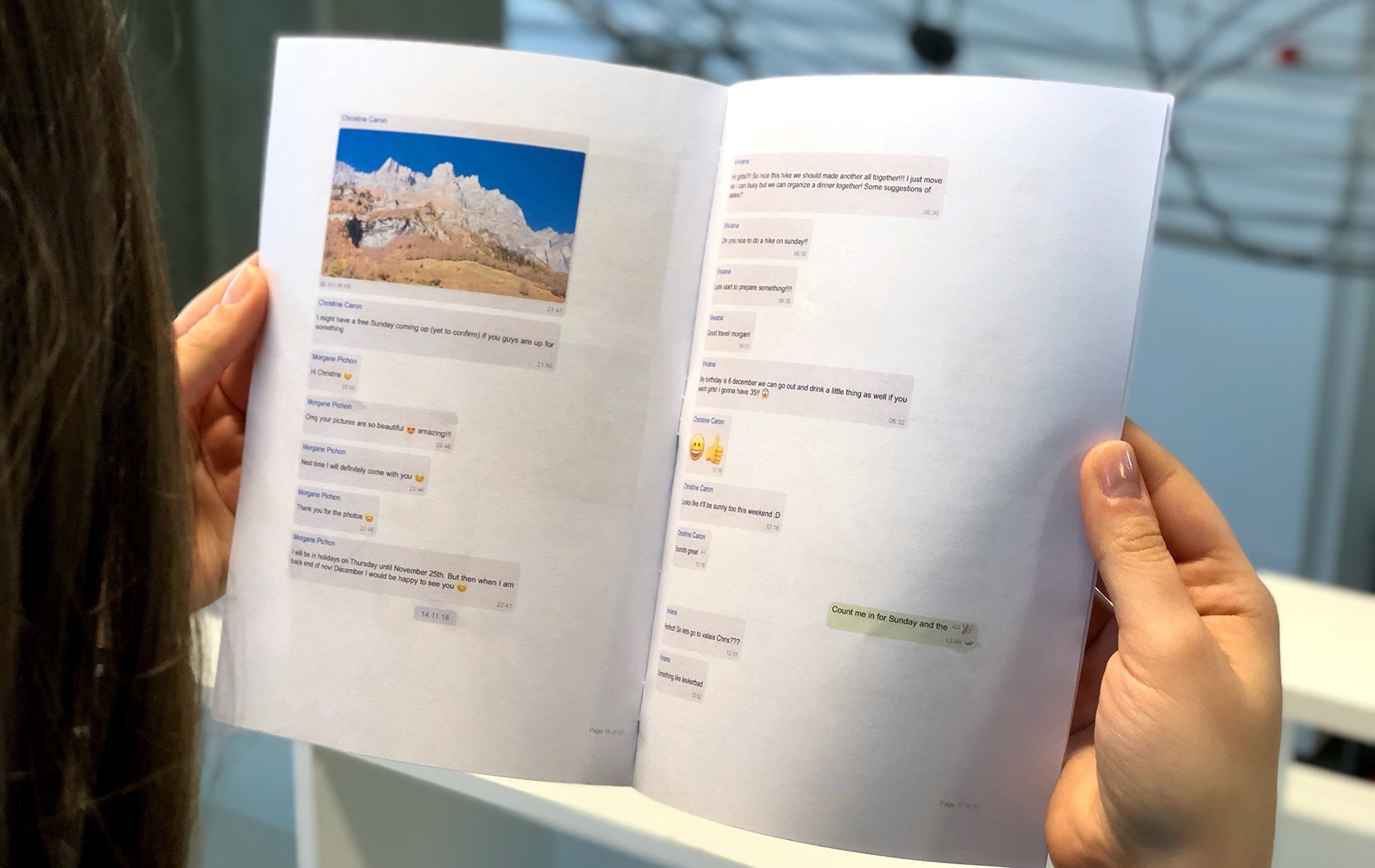 We're not talking about sending or receiving messages here, but about extracting them to actionable formats in order to archive or print them. This is particularly useful in the following scenarios:
Archive messages to PDF before starting clean or migrating to Android.
Print a booklet of a romantic thread. Often seen as an anniversary gift. Tech can be sweet too!
Export or print messages for legal reasons. Our Medium article on the subject covers that particular use case extensively: Legal Use of iPhone Messages and WhatsApp Chats
The pack: File Transfer and other data
In 4th position, we have File Transfer. This feature covers transferring documents and media to and from iTunes File Sharing compatible iOS apps. In most cases, files are transferred to video player apps such as VLC or Infuse, comic book readers like Comic Flow or iComics, or general purpose file managers like GoodReader or Documents by Readdle. Our guide on iMazing's Quick Transfer tool features an extensive list of supported apps and formats covering a wide array of media types: Quick Transfer guide, best apps section.
The remaining features are more niche, but quite evenly spread. Apple's Photos, Books and Notes apps do not have a Windows equivalent, which leads PC users to naturally turn to third parties if the need arises. Calendars, Contacts and Safari data are usually synced via email accounts or iCloud, but it may be useful to export them to various formats, and indeed, we do see a small but steady proportion of users making use of these features.
Special category: Troubleshooting
Finally, the small but vital Troubleshooting category includes an array of smaller tools:
Bypass Setup Assistant neatly solves a fair proportion of Setup Assistant freezes.
Exit Recovery Mode often reveals that no, your iPhone doesn't really need to be "Restored" to factory settings.
Battery Diagnostics, Device Console, Access to Logs and Advanced Device Info let developers and geeks dig into the nitty gritty.
What are the most popular iOS device managers?
There are more than a dozen actors on the stage. Here are the top four most popular consumer grade general purpose iOS device managers: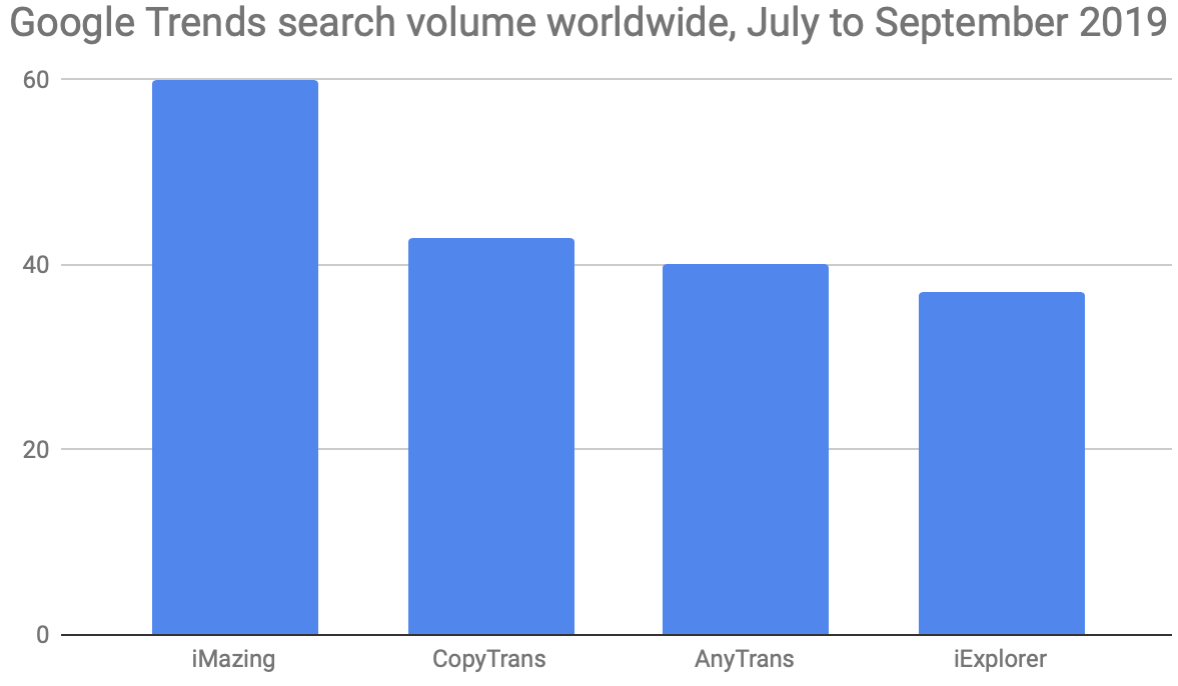 iMazing wasn't always in the lead. For many years, Macroplant's iExplorer was on top, then iMobie's AnyTrans became all the rage in 2018. iMazing's popularity hasn't experienced dramatic swings, just a slow and steady increase.
Smaller developers have done high quality work too, notably Ecamm who's iOS data archiving tool PhoneView still counts many fans today, and Softorino with Waltr 2, which is all about offering a simplified media transfer experience. Each of these solutions has a different focus and varying strengths and weaknesses: AnyTrans also does Android to iPhone transfers; CopyTrans is Windows only but sturdy and popular in Japan; iExplorer boasts an integrated media player, etc.
Bad apples leave a sour taste...
Unfortunately, many smaller players which we won't name here are little more than scams. They may advertise features such as 3 pass secure erasing of data or Undelete iOS files, which are at best exaggerations, and often straight up lies: because iOS does not allow direct access to its file system, claims of "multi-pass" erasing, "system junk" cleaning or "deleted files recovery" mask much simpler operations. These actors often sell dozens of single purpose solutions to try to maximize profit:

They often rely on ruthless marketing, hijacking their competitor's trademarks on Google Ads being a favorite: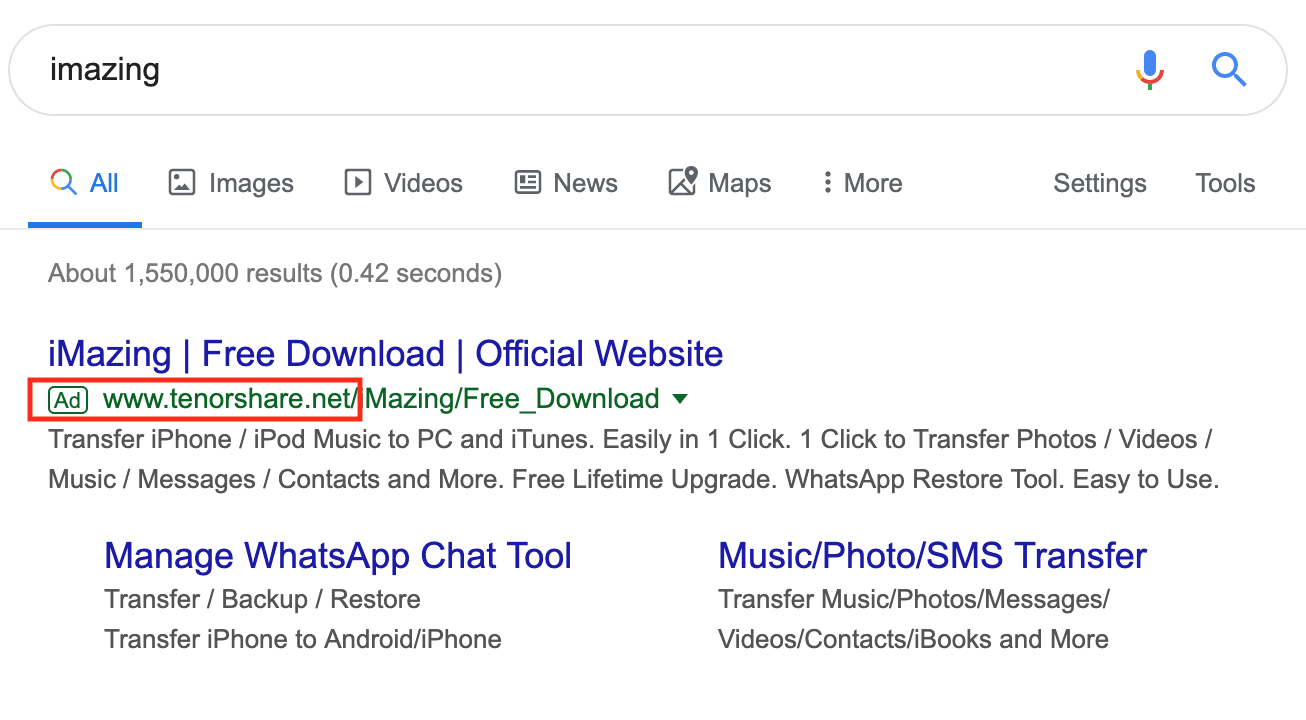 They also engage in the deceptive practice of publishing terribly written reviews which always reach the same inevitable conclusion: their solution is the better choice. Whilst appearing completely ridiculous to a tech savvy human reader, these articles pollute search results and deceive consumers.
The widespread adoption of these doubtful practices unfortunately taints the reputation of the entire sector. In consequence, we, along with other serious minded developers, must double down on our efforts to gain the community's trust. We gladly accept the challenge: our mission is to promote data ownership within the iOS ecosystem, and to help Apple users securely and privately manage their mobile devices the way they see fit. We look forward to the challenges ahead. Whatever changes the future brings, these goals will remain relevant, and our solutions will keep evolving to meet them.
Gregorio Zanon