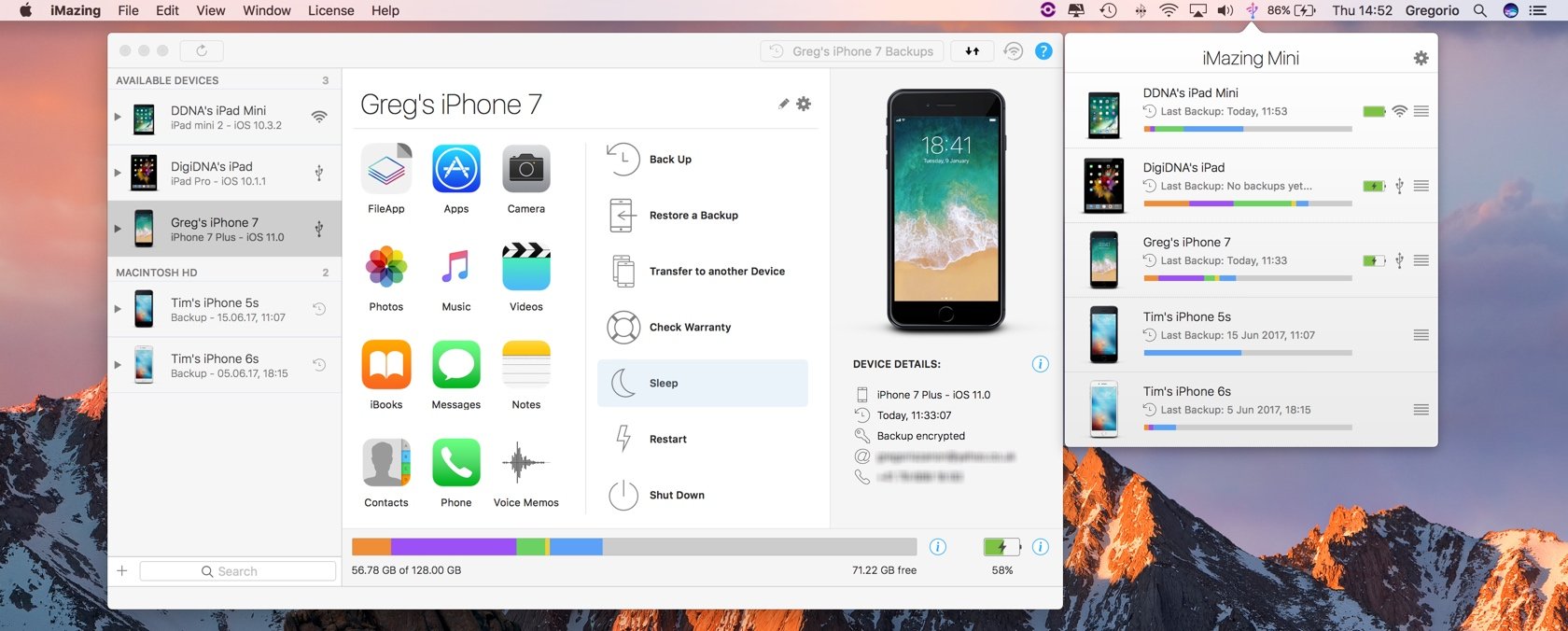 iMazing 2.3 Mac is live, and it's another huge update!
New features include:
'Time Machine' like backups of iOS devices via Wi-Fi.
iOS 11 compatibility, macOS High Sierra compatibility (APFS)
A revamped device options screen.
A new backup archives format compatible with all kinds of portable storage, including NAS drives.
The Windows version will become available at a later date. We're doing our best to deliver it by the end of Summer.
Automatic Backups: iMazing Mini
Backups should be automatic, period. It's the only way to make sure that your data is truly safe - configure and forget.
In order to make automatic backups possible, we needed a light menu bar app which runs in the background even when iMazing is not. We named it iMazing Mini, and it truly is iMazing's cute little sibling!
iMazing Mini comes packaged within iMazing and will be installed when you update.
When you do launch iMazing Mini, you'll see the following screen: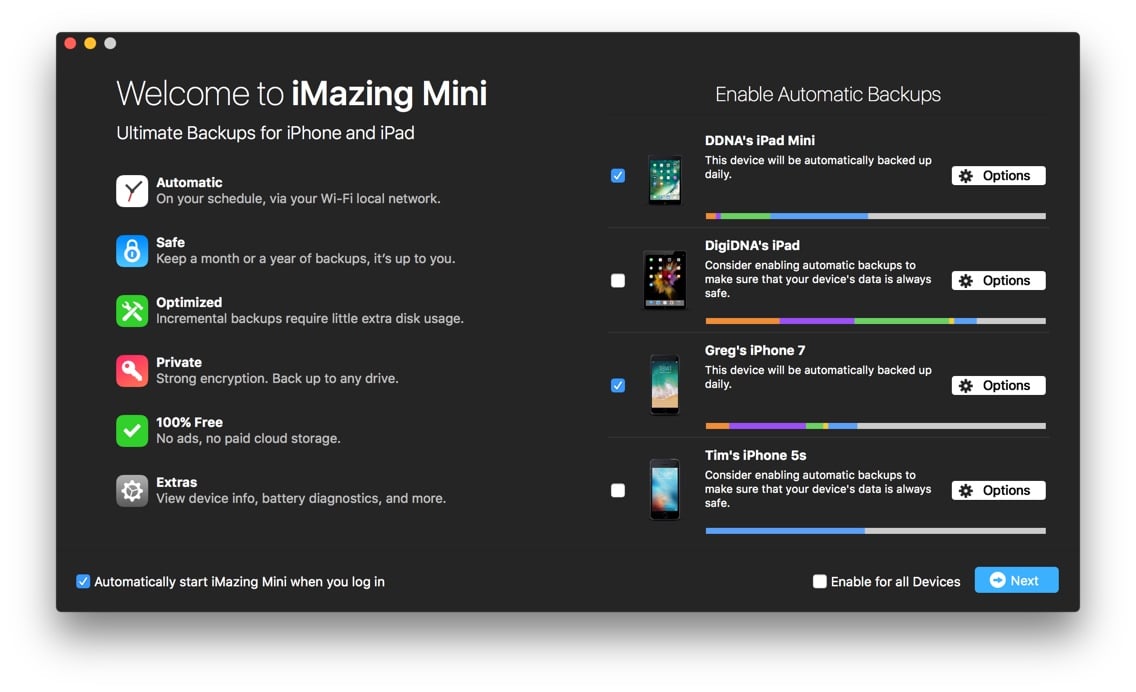 From there, you can enable automatic backups, or dive deeper in each device's backup options: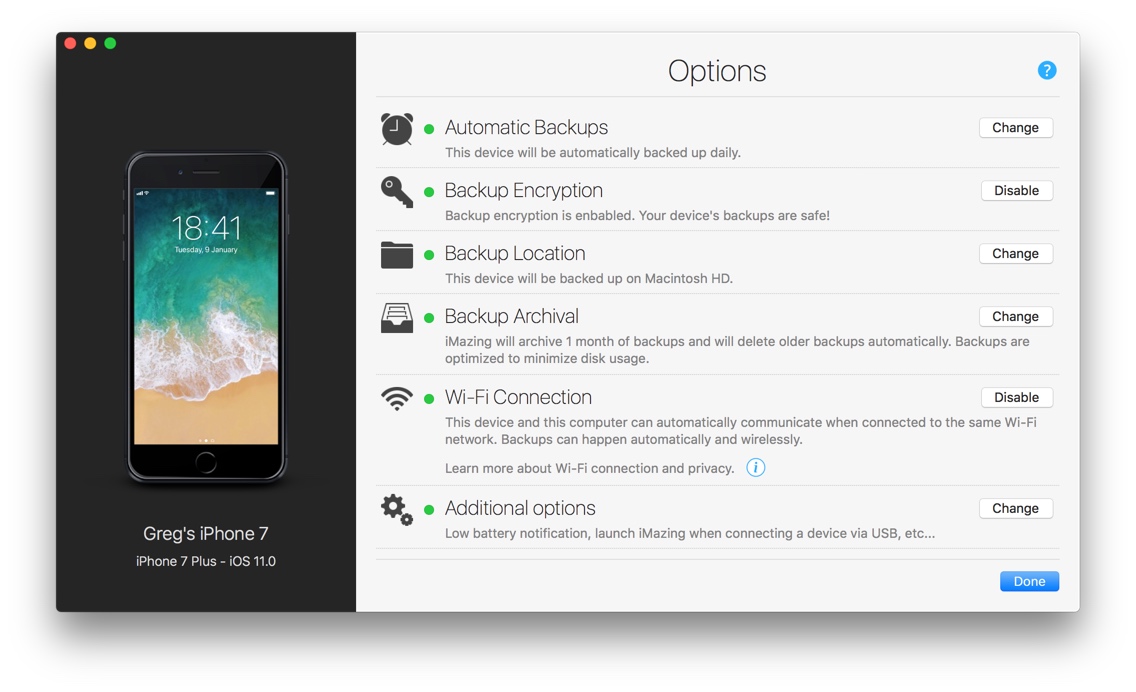 This new screen replaces our previous device options screen. It's your go to place to manage automatic backup frequency and schedule, backup location, encryption settings, and more.
To learn more about all that iMazing Mini has to offer, have a look at our Getting Started With iMazing Mini article.
iOS 11 Compatibility
iOS 11 won't be officially released before September, but it's already been in beta for a month. We're pleased to announce that iMazing is iOS 11 ready, and that all our features should be fully functional with iOS 11.
One important change for users will be the new file format of photos and videos shot with iOS 11 devices, HEIF and HEVC (High Efficiency Image Format and High Efficiency Video Codec). Users who export images and videos from their iOS devices to their computer will need the latest macOS updates to open these files on their macs.
We may introduce optional conversion of image files in iMazing at a later stage, depending on user feedback.
New Backup Format
Since iMazing 2.0, backups have been automatically archived to prevent data loss by overwrite, and to enable Time Machine-like backup browsing and data recovery.
The new format for backup archives introduced in iMazing 2.3 and iMazing Mini is:
Compatible with just about any storage and file system, NAS and FAT formatted USB drives included
Time Machine friendly
Faster, more efficient and portable
When you first back up a device with iMazing 2.3, existing iMazing 2 archives of this backup will be migrated to the new format. Migration should only take a minute or so per archive, in some cases much less than that.
The main backup (the latest) is not affected, and remains 100% compatible with iTunes backups.
Important! If you use iMazing on both Mac and PC, and back up your devices to a shared backup location, you should wait until iMazing 2.3 Windows is released before you update.
Extras
Low battery Notification: pick a threshold below which iMazing will remind you to charge your device. Available from the battery window.
Auto-launch iMazing: when a device connects via USB, iMazing can be set to automatically launch.
Both options are available from the Device Options screen's Additional options section: