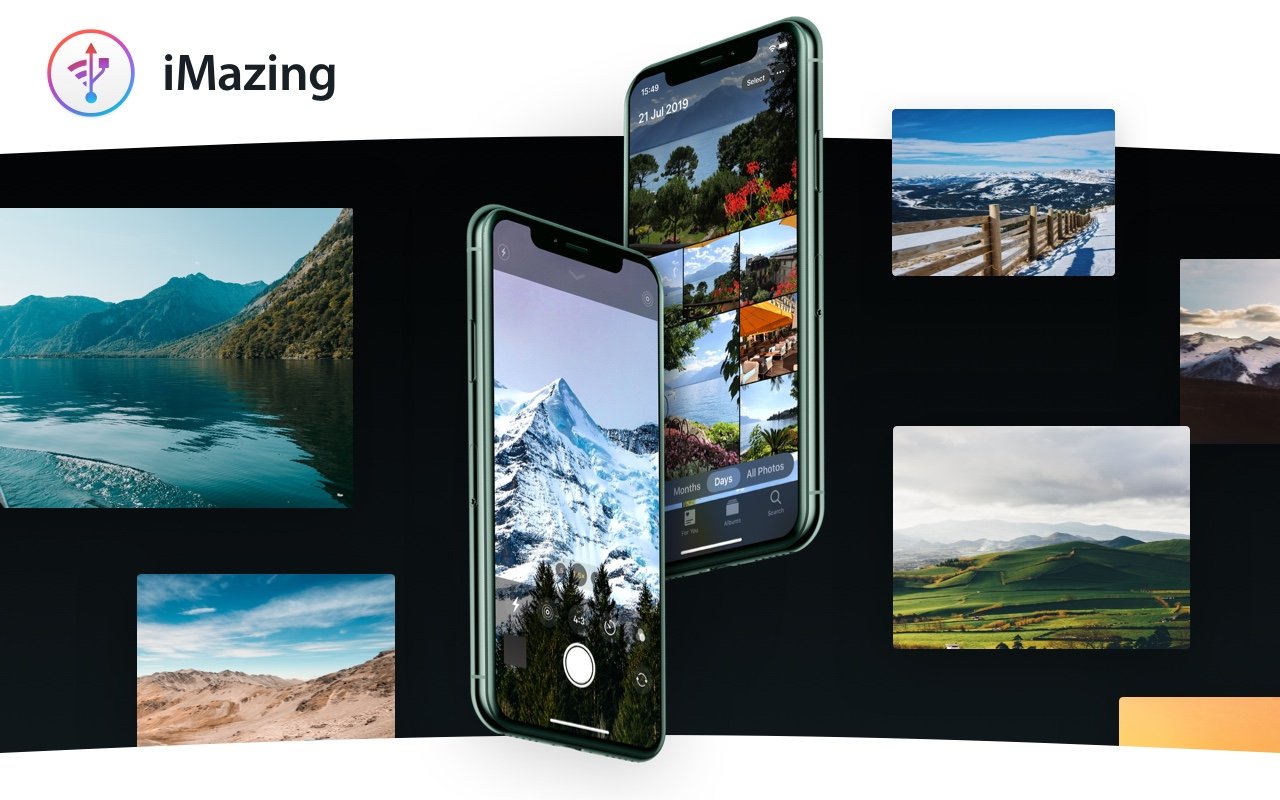 In the 2.11 update of iMazing for Mac, we introduced a completely new tool to browse and transfer iPhone photos in truly amazing fashion: you connect your iPhone to your computer, and within seconds the entire photo library can be browsed straight from the phone, including detailed metadata for each photo and video. Today, we're delighted to announce that the Windows version of iMazing has been updated with the same powerful and intuitive photo management tools: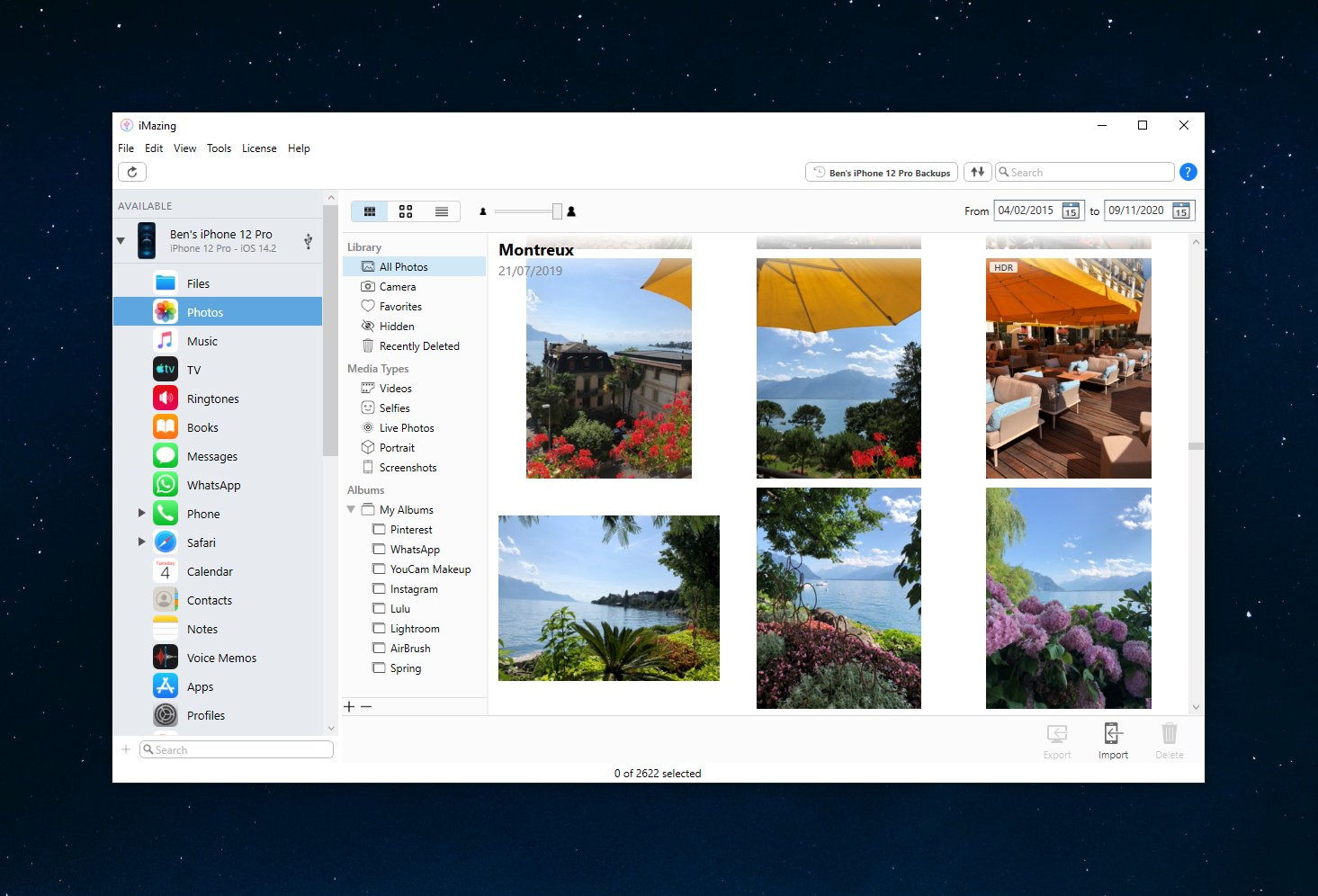 Update iMazing to version 2.13 on your PC and discover what the fuss is all about. Browse your phone's photo library wirelessly, display images and play videos in a gorgeous full screen mode, and enjoy powerful export functions which put you in total control of available assets. Let's dig in!
Introduction Video - Windows
Introduction Video - macOS
Test Drive
We're incredibly excited by this release because of how natural it feels. It's fast and seamless, and that's hard to communicate by just listing technical capabilities.
Let's start from the moment you click on the Photos icon in iMazing: on my 2018 MacBook Pro, I count less than ten seconds of loading before I can start browsing my iPhone's library. On our office Asus i7 laptop from 2012, eleven seconds. Once the library is displayed, I start browsing and five seconds later stumble on this memorable indoor skydiving outing: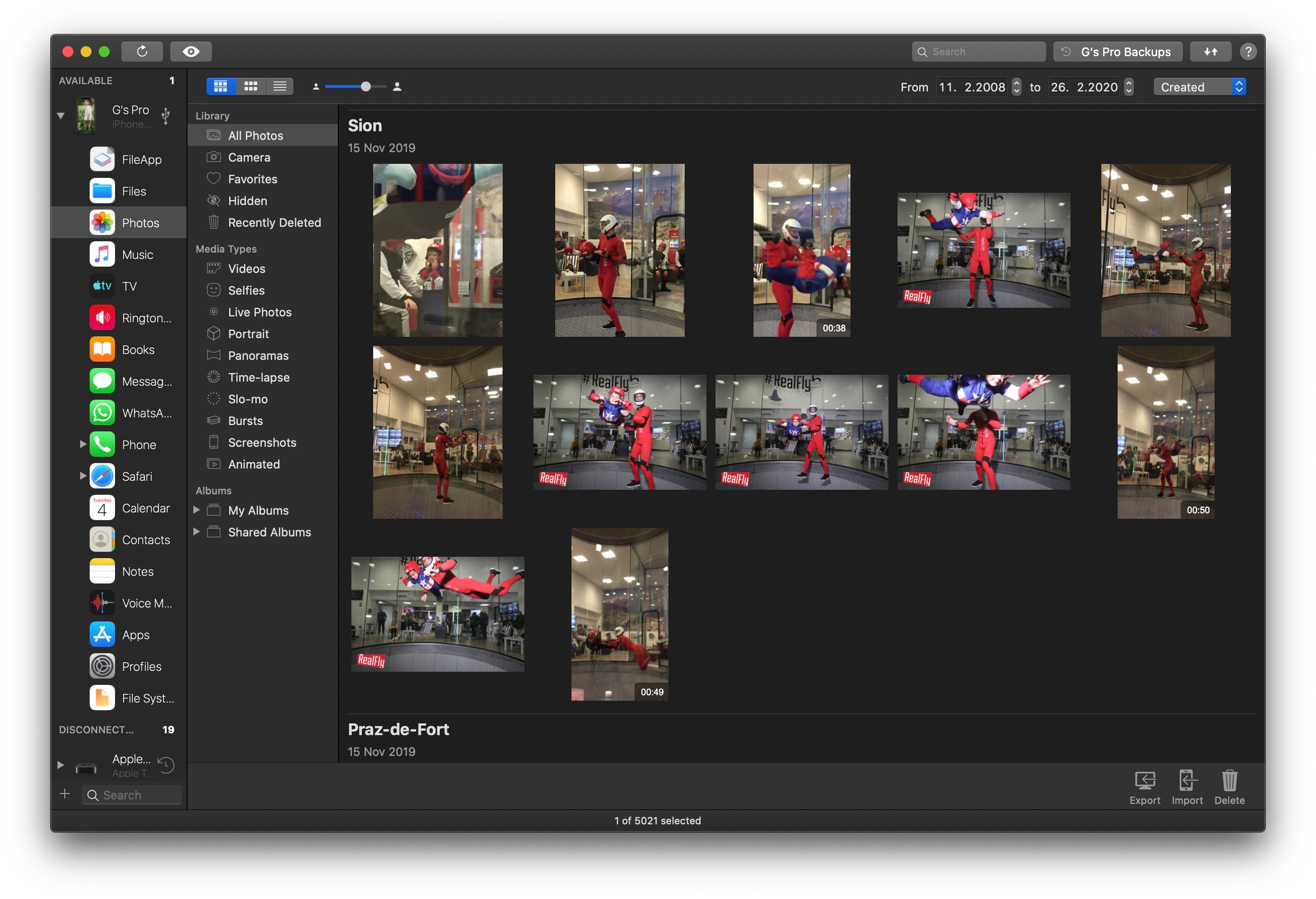 I can drag any of these thumbnails to my desktop, or double click them to see the photo in more detail: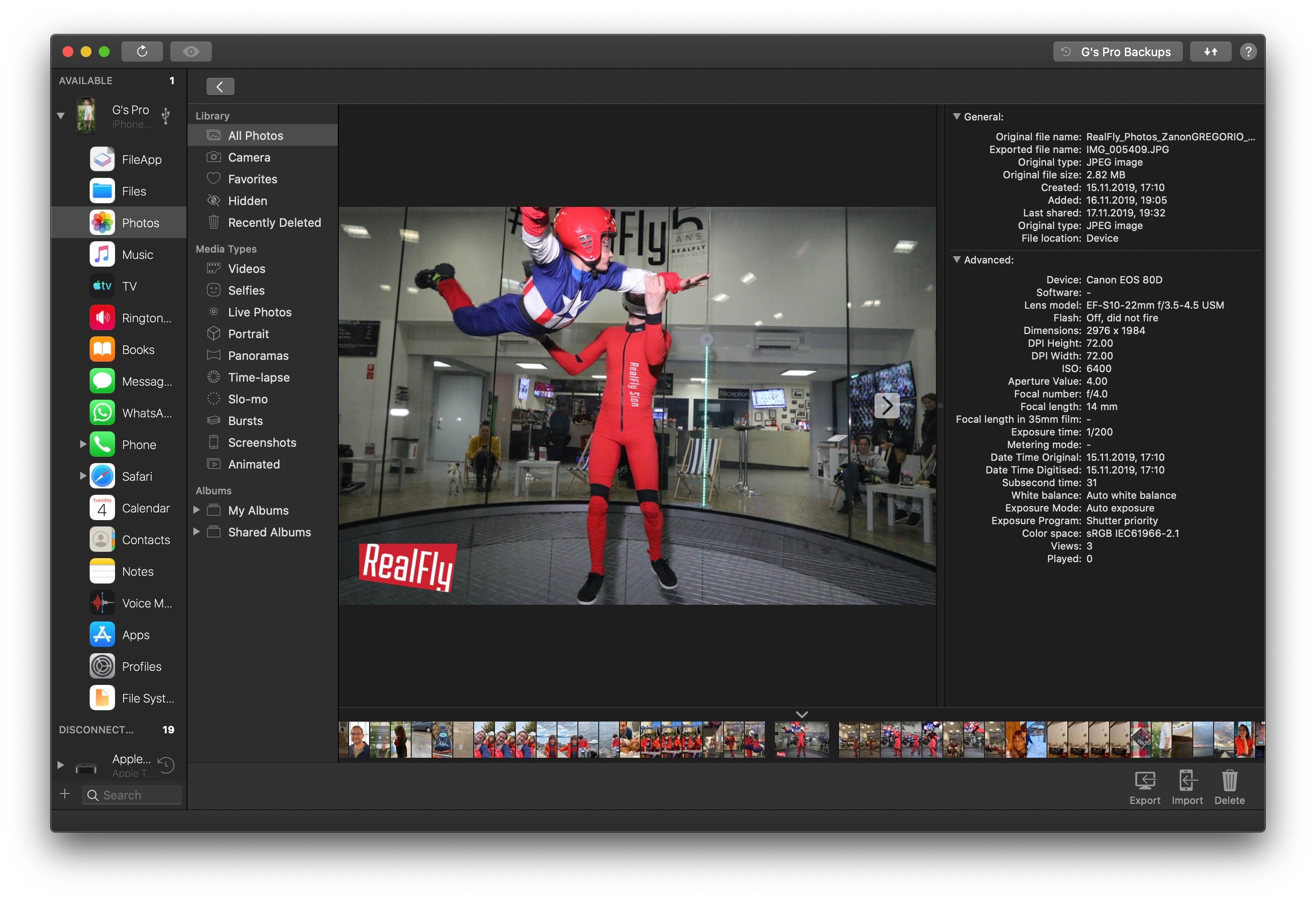 The RealFly badge gives it away, that's not a pic I took. A glance to the right, and I learn that RealFly's camera is a Canon EOS 80D, here shot at very high shutter speed and rather shallow depth of field. Let's take a look at something snapped with the iPhone's camera now – a few swipes on the carrousel at the bottom of the window take me to my most recent image, a Live Photo of the wireframe whale hanging over the common space below our office: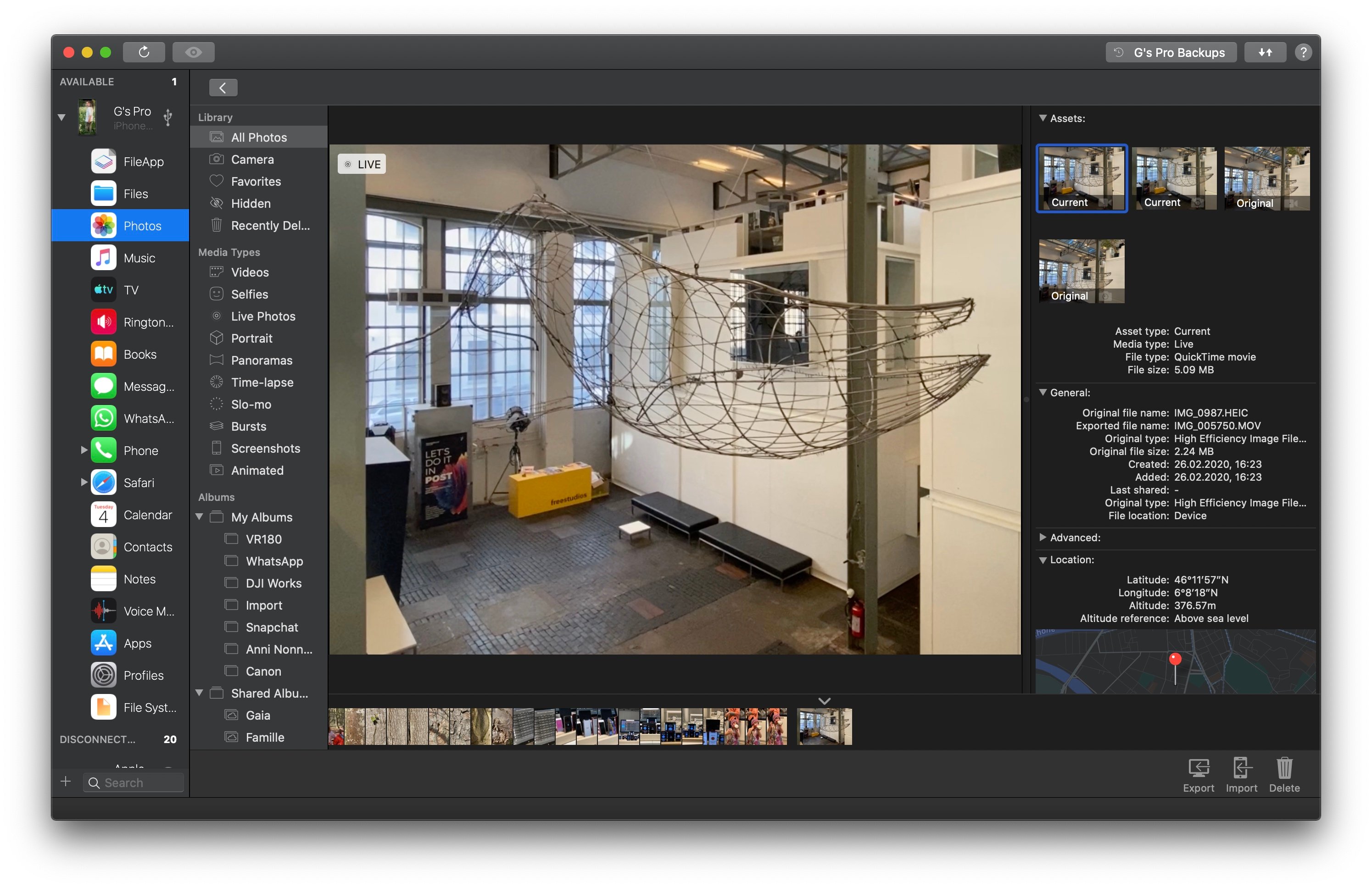 Notice the four thumbnails at the top of the detail view in the Assets section? I would expect to see just two there, the image and video components of a Live Photo. I select the four in turn to preview them and – aha! Looks like the iPhone 11's Smart Frame feature automatically kicked in to re-frame my shot. That explains the four assets available: the original photo and video components of the picture I actually took, and the automatically re-framed ones. Here's the break down:
| Asset Type | File Type | Size |
| --- | --- | --- |
| Re-framed video | .MOV | 5.09 MB |
| Re-framed photo | .JPG | 3.10 MB |
| Original video | .MOV | 4.53 MB |
| Original photo | .HEIC | 2.24 MB |
That's a total of 15 MB, instead of just 2.24 MB had I disabled Live Photo and auto Smart Frame. Interestingly, the re-framed photo is encoded in JPEG and not HEIF, resulting in a 40% larger file.
Let's move on and test the export function. I select all 5'000+ photos and videos with ⌘+A or Edit->Select All and click the Export button in the bottom toolbar. Here's the export options window: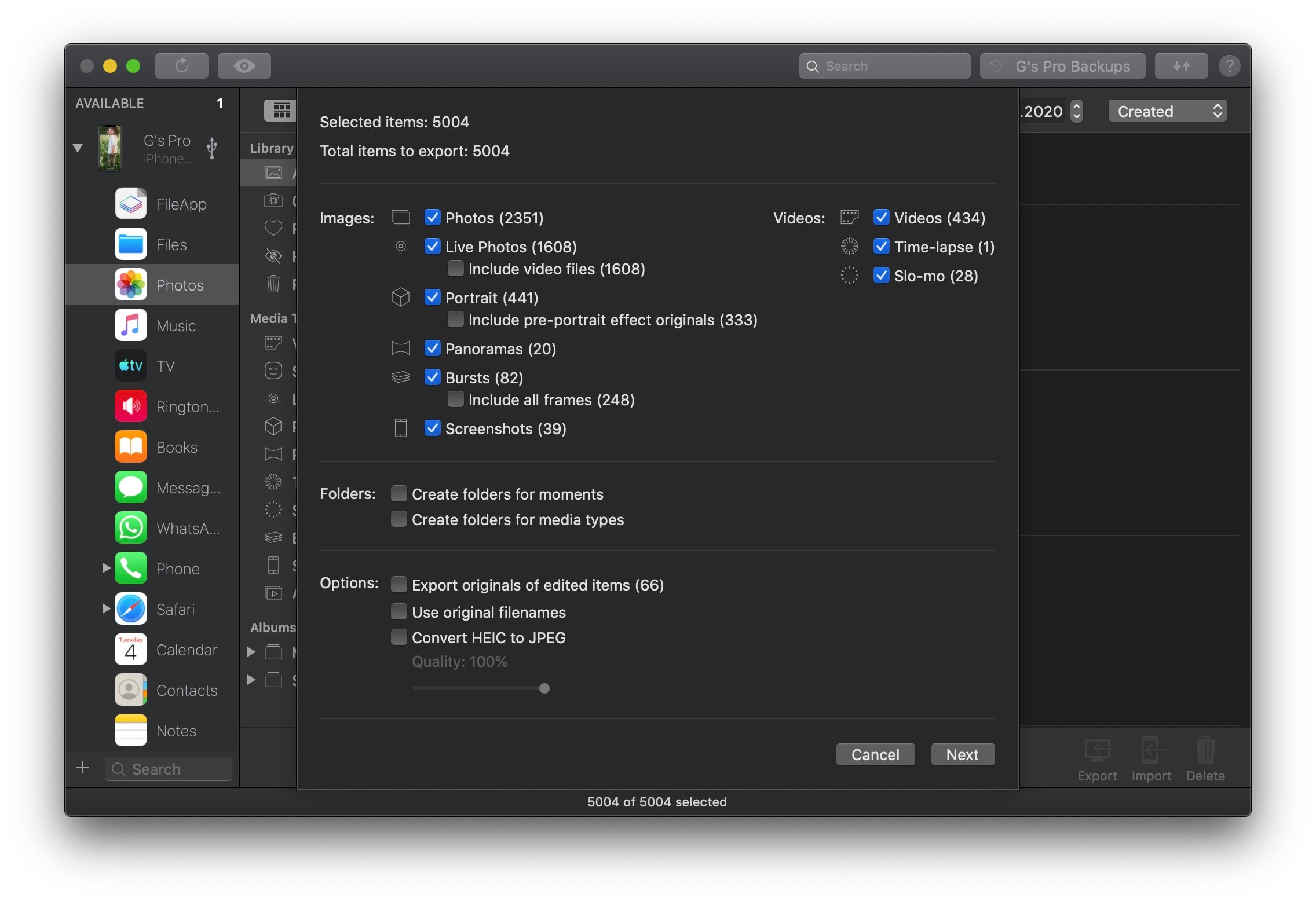 From here, I can choose exactly which types of media and assets I want to transfer to the computer. I could copy just the video component of all my live photos, choose whether or not to include original versions of edited items, or focus on my portraits and export these exclusively.
Last, I'll dig into my backups and see if there are deleted photos I'd like to recover. I click on the Backups button at the right of the toolbar, and double click an encrypted backup snapshot from ninety days ago: iMazing reloads my iPhone's photo library, now from that specific snapshot, and lets me browse and recover any asset just as if I'd jumped back in time. Here's a photo of a beautiful Turkish rug from the Deleted Photos section, it's since been completely removed from my iPhone and from iCloud but it's still there in that backup: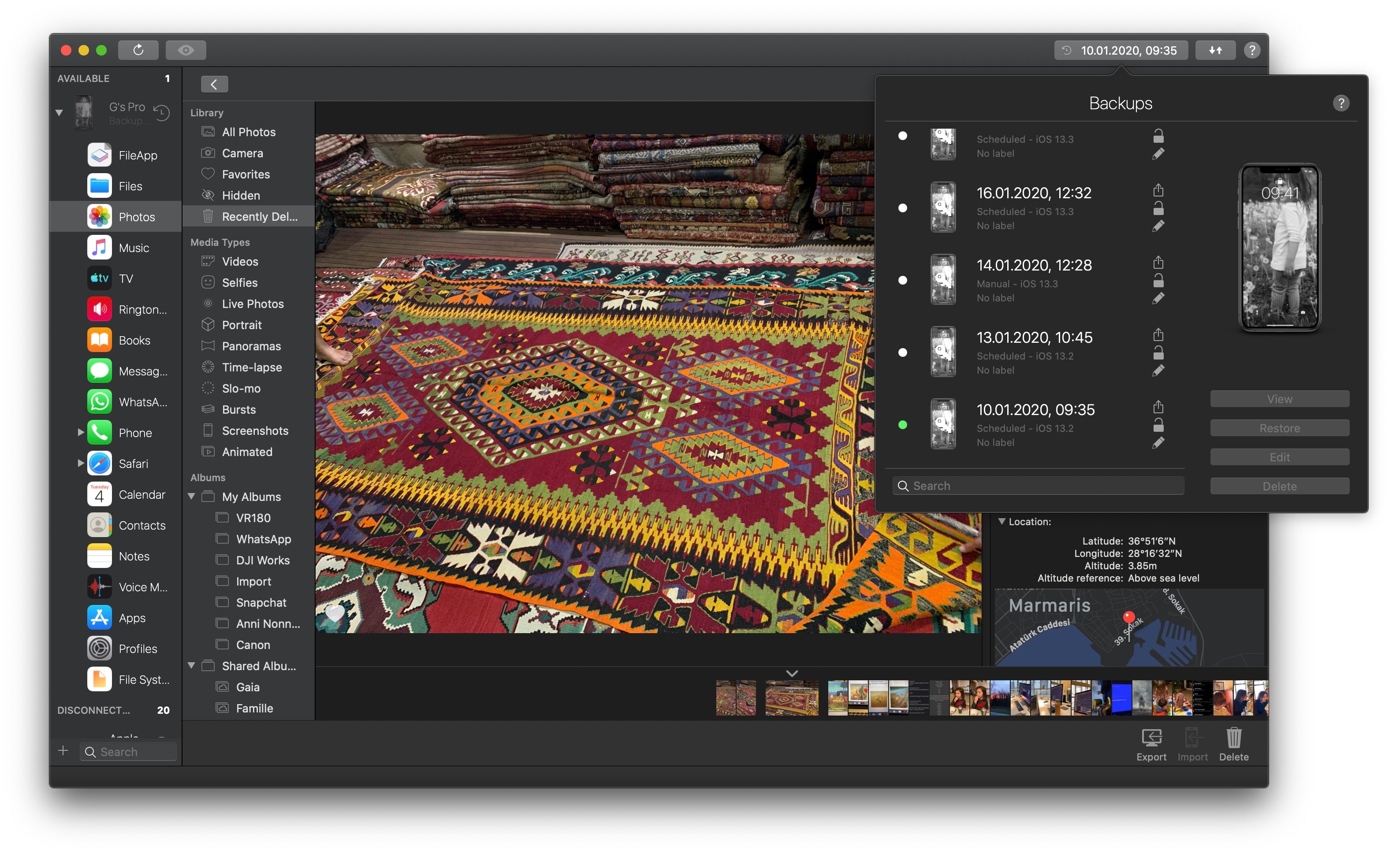 I can extract it to my Mac, access all it's metadata, and even double click the map to open Google Maps with a pin right where that shop was in the seaside town of Marmaris. Amazing.
I'll stop here for now, but there's a lot more to discover:
Browsing & Filtering

3 different views: Moments, Grid and List
Browse by media type, album or smart album
Date filters, text search, sort by any field
All available metadata displayed
Browse hidden assets like originals of edited photos
Full screen mode (double click the image, esc to exit)
Open location in Google Maps (double-click the map)

Export Options

Include pre-portrait effect versions of Portrait mode photos
Include all frames of bursts
Include originals of edited items
Include video component of Live Photos
Recover photos from albums synced with iTunes or the Finder
Automatically organize exports in a folder hierarchy, by moment and media type
HEIC to JPEG conversion, adjustable quality

Import from Mac

Create From my Mac albums on iPhone or iPad
Add photos to albums via drag and drop (no sync)

Delete

Bulk delete photos from the Camera Roll (not available if iCloud Photo Library is enabled)
Remove photos or entire albums from synced albums

Backup

Browse and recover from any iMazing backup snapshot
Browse and recover from iTunes or Finder backups
Encrypted backups fully supported, providing that the backup password is known
Learn more about how each feature works in our in-depth guide about iMazing Photos.
Availability and Trial
The new Photos tool is available as a free update for all iMazing 2 license holders.
macOS – iMazing 2.11
For performance reasons, the Moments and Grid views are only available on macOS 10.12 and above.
Windows – iMazing 2.13
Windows 7 and above.
Trial
Not an iMazing user yet? Download and install iMazing now and take our app for a test drive of your own. No registration needed.
What's Next?
Our first priority has been to bring the feature to our Windows users – this is now done. We're still collecting user feedback and ironing out the last wrinkles. As always, every opinion counts so don't hesitate to get in touch and share your suggestions.
Happy updating,
Gregorio
⚡ This article was originally posted in March 2020. We're reposting an edited version for the release of the Windows version of iMazing's new Photos tool.