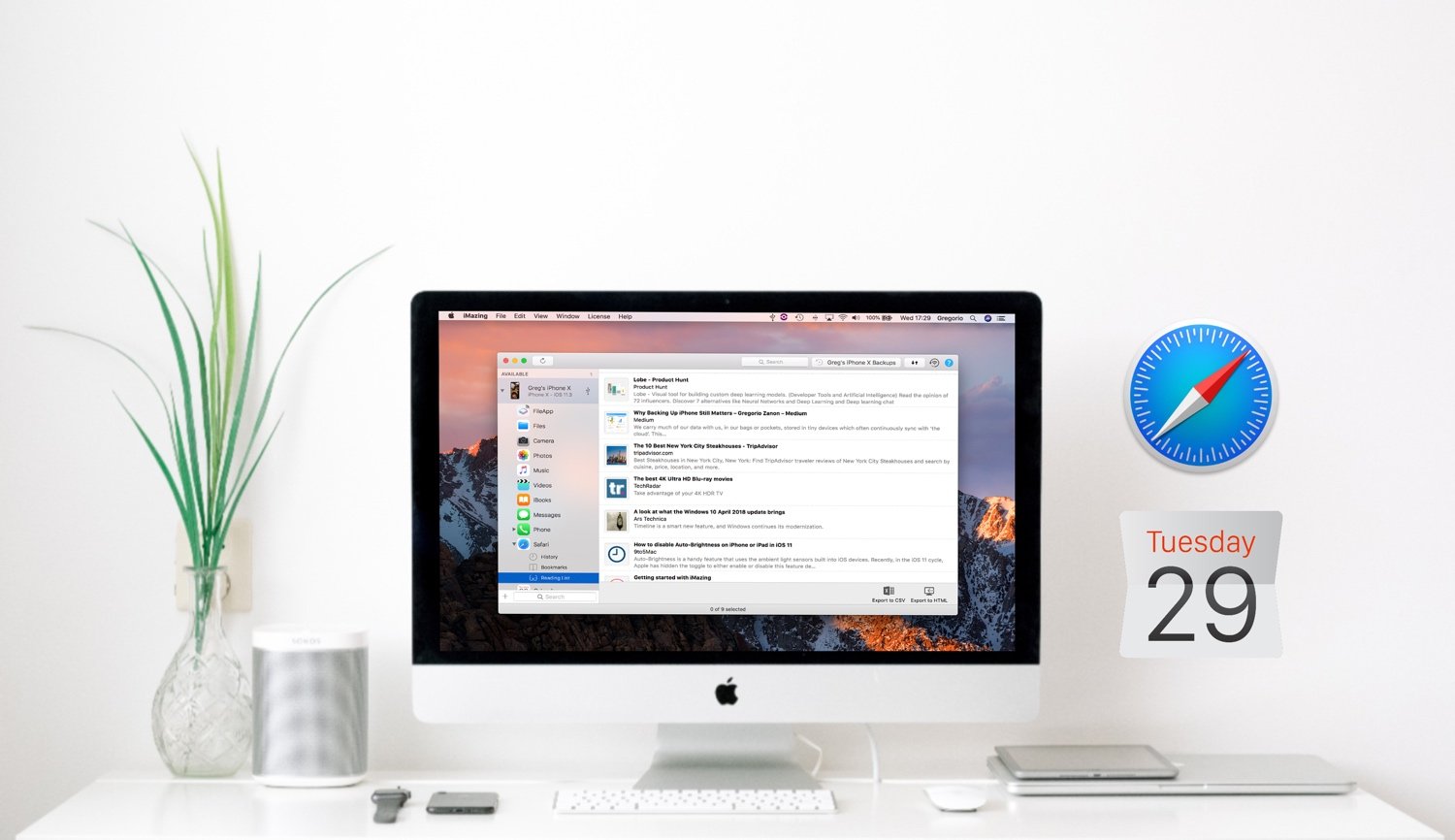 Our latest update is now live! It features 3 brand new data types, lots of small improvements (including full iOS 11.4 and iOS 12 Beta compatibility), and some major under-the-hood changes to help us better prepare for the future. Let's dig in and find out what iMazing 2.6 (macOS) and 2.5 (Windows) have in store for you:
Ringtones
Ringtone management has been at the top of our user requests sheet for quite a while. We're happy to announce that iMazing now features ringtones management:
Extract existing ringtones to Mac or PC.
Add ringtones to iPhone from your Mac or PC. Just drag and drop audio files to the Ringtones view and... that's it!
Supported file types: m4a, m4r, mp3, alac (Apple lossless), flac, wav, aiff.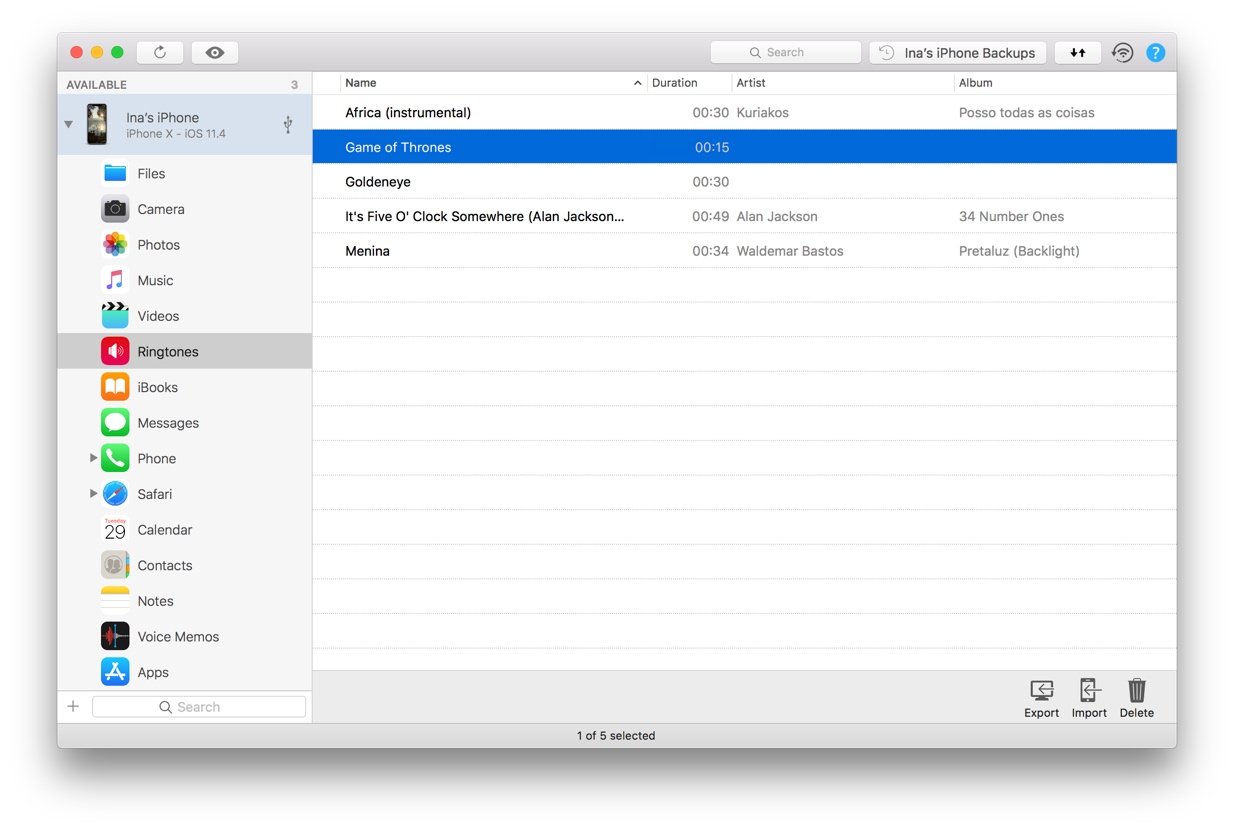 💡Tip: Don't forget ringtones can be used in Alarms too!
You can check our "Ringtone Management" guides for more ideas on how to customize your iPhone notification sounds:
Safari Data
iMazing now lets you browse and extract your iPhone or iPad's Safari data:
Bookmarks
Reading Lists
Browsing History
Each of these datasets have a separate view. Click the Safari icon in the left sidebar to reveal the 3 sections: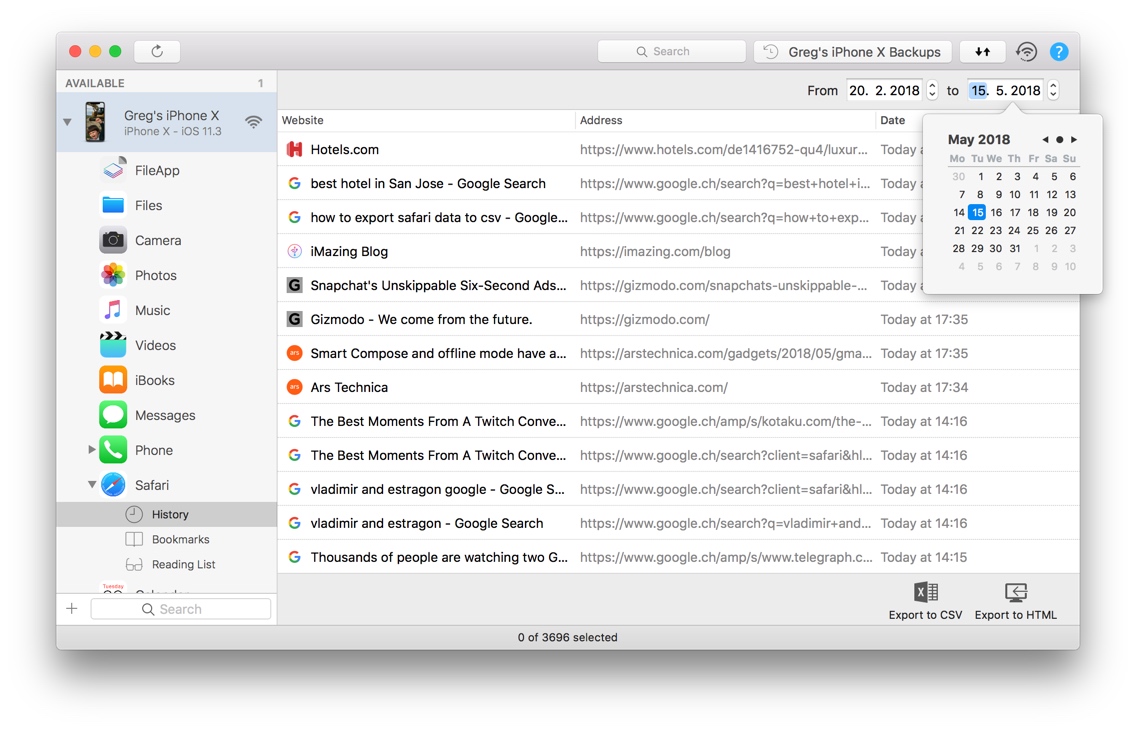 In every view, you can export all or selected data to CSV or HTML. CSV is great for analysis in an Excel or Google Sheets spreadsheet, while HTML works wonders to import data in any modern internet browser.

Calendars
Another feature which has been regularly requested, calendars can now be browsed and searched in a user friendly view inspired by both the macOS and iOS Calendar apps: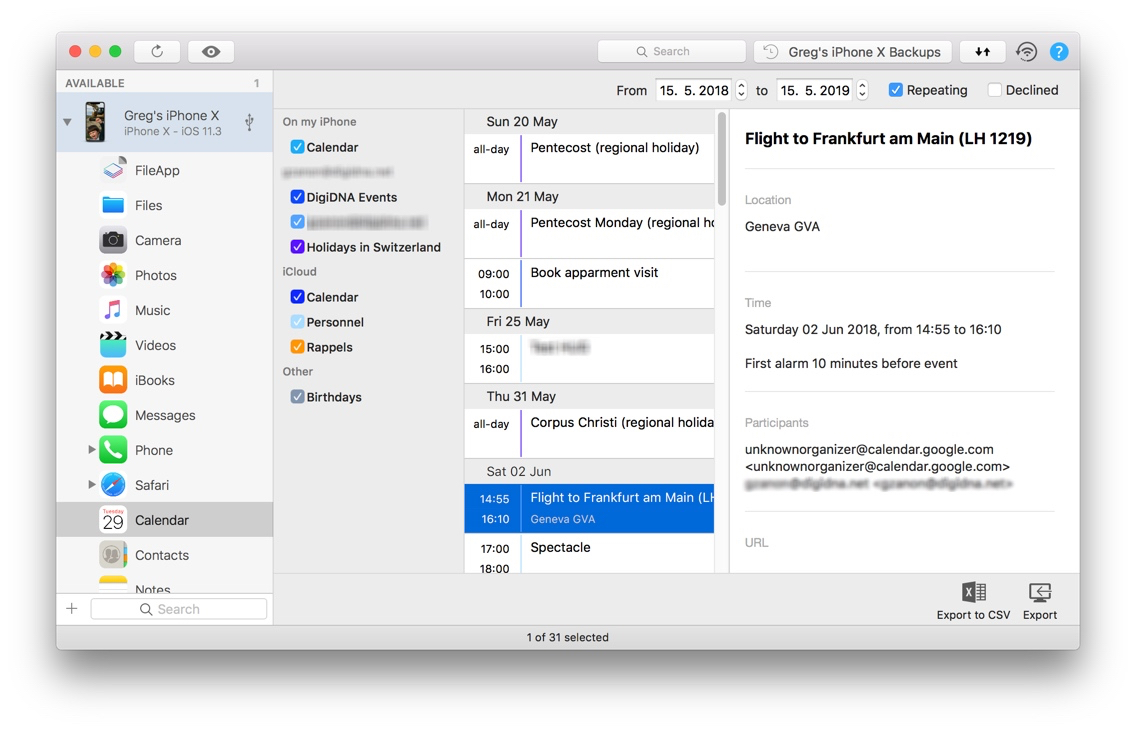 You can easily select a date range, filter out specific calendars from any account, and export events to iCal format (.ics extension) or CSV.

Revamped CSV Exports
We greatly improved our other CSV exports too, adding column headers and standardising them for greater ease of use:
Contacts
Call Logs
Messages
Our new Contacts CSV format is designed to be easily imported in both Outlook and Google Contacts. Here's what the first fields look like:

Resizable wizards
Our wizards were built to guide you through complex actions with simple step by step screens. They were meant to display non resizable content, fixed instructions or options. For some of our new features, like the app download wizard, that didn't make sense and quite a few of you rightfully complained about it - see how it looked like before: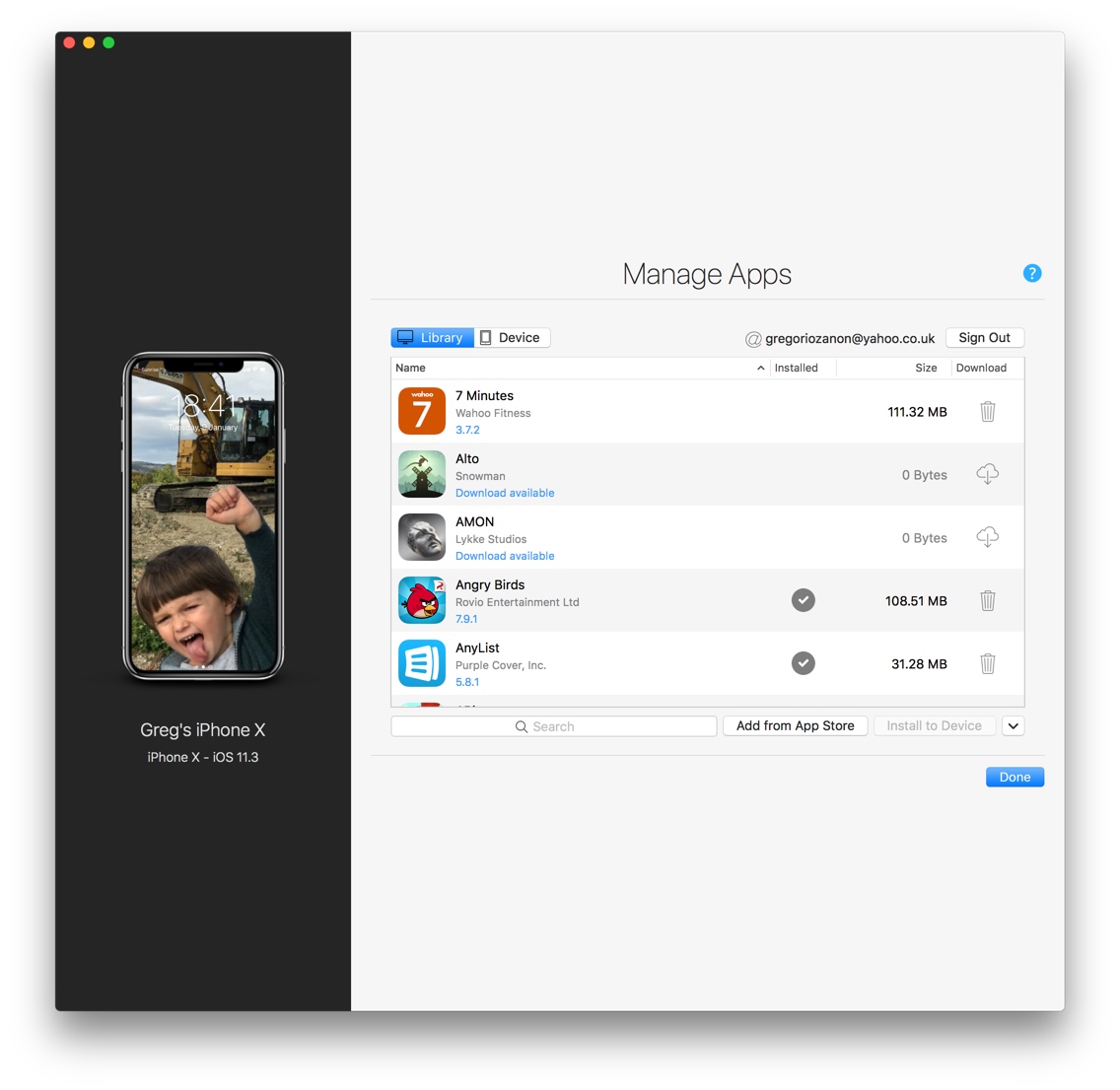 The apps list is centred and doesn't take advantage of the extra space. In the new update, we overhauled all our wizards to be fully resizable - here's what it looks like in the new version: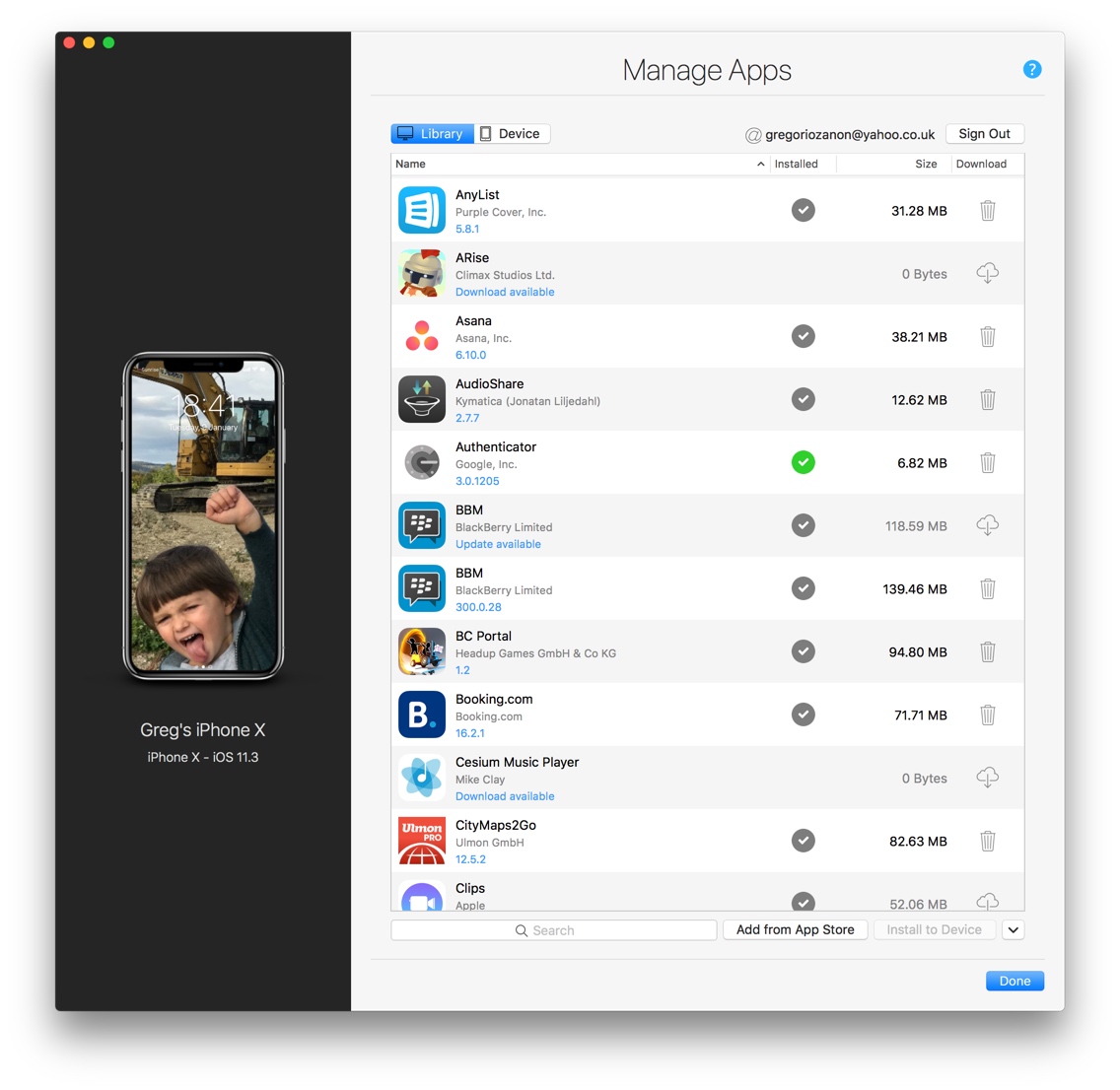 That's better!
Performance Optimisations
We completely re-architected our C++ code base to be more resilient and future proof. The most important user-facing benefit of that work is much improved memory management:
Parsed backups occupy 2 times less space in RAM (Windows and macOS)
Loaded data is released faster and more efficiently (Windows)
iOS 11.4 Compatibility - Messages
This version is fully compatible with iOS 11.4. In previous versions of iMazing, attachments to messages sent or received on iOS 11.4 devices were not displayed.
iCloud Messages: the biggest new feature in iOS 11.4 is the ability to sync all of your text messages and attachments via iCloud. If you enable iCloud Messages, iMazing will still be able to display and extract your messages like before, but some older attachments may be removed by iOS from your device and kept in the cloud. Text content is not affected.
Default Backup Location Change
Earlier this month, Apple announced a series of security enhancements coming to macOS in September. These welcome changes aim to better protect against malware, and to provide increased privacy. In order to comply well in advance, iMazing's default backup folder has been changed and is no longer the same as iTunes' backup folder.
iMazing's new default backup paths are:

AppData\Roaming\iMazing\Backups (Windows)

Library/Application Support/iMazing/Backups (macOS)
This change does not require any action on your part.
---

As always, keep the feedback coming. We cannot always act upon it immediately or treat every request as urgently, but we sure do our best!
iMazing Team