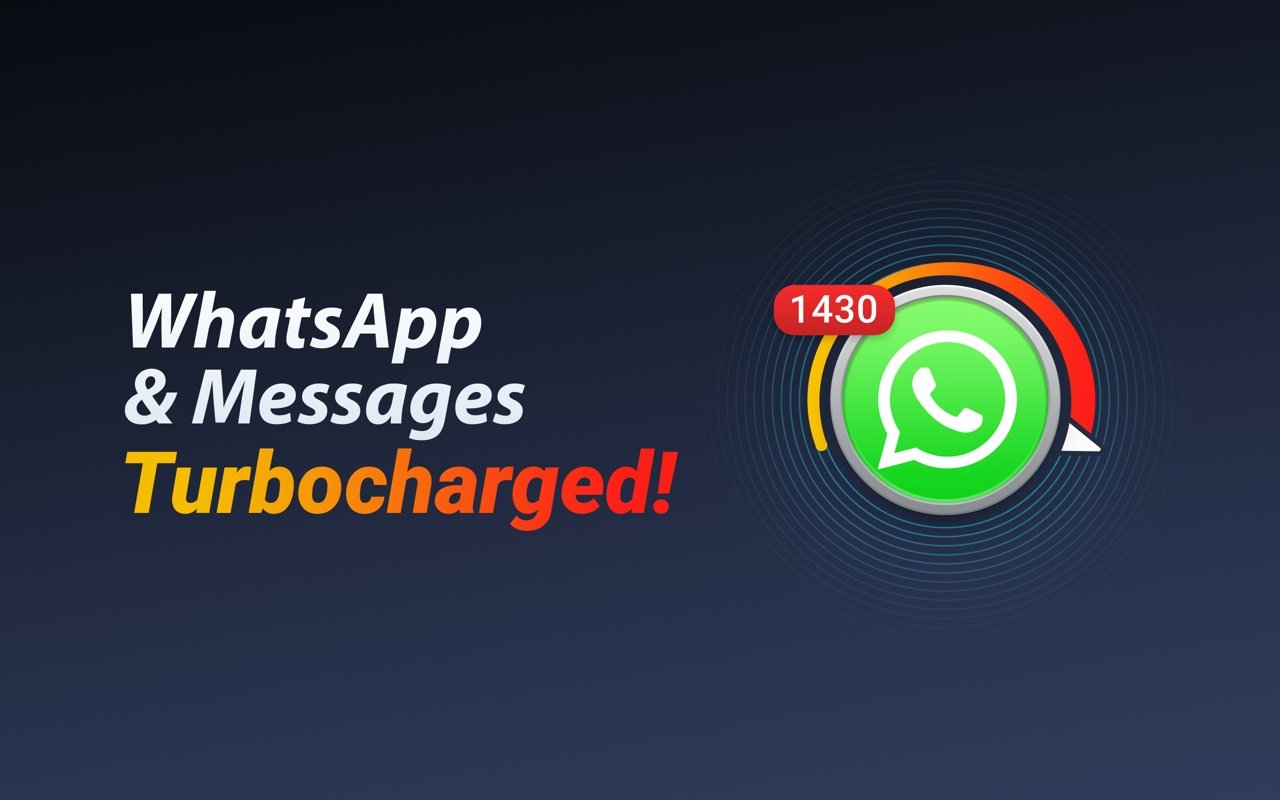 iMazing has always featured simple yet powerful tools to print and export data from the iPhone Messages app. In iMazing 2.9 (macOS) and 2.8 (Windows), we're introducing support for WhatsApp chats, as well as a completely overhauled engine which can now display, print and export both Messages and WhatsApp conversations faster and in more detail than ever before.
We've taken great care to ensure that what iMazing displays is as close as possible to what the iPhone displays, including attachments, colorful emojis, shared locations and links, and even group chat events and precise message status. All these accurately presented conversations and group chats can be directly printed, and exported in bulk or in part as PDF, CSV or TXT files.
[Your Feedback] + [Us] = [iMazing]
All the features we've added in this update are the direct result of your feedback. We've listened to your suggestions, heard your complaints, and delved into each specific use case before redesigning iMazing's message extraction features accordingly. Here's what you've been asking for, and how this update delivers on each front:
A WhatsApp view in iMazing
Definitely one of your number one requests since we released iMazing 2. Our dedicated WhatsApp view is extremely detailed, displaying much more than just texts:
Photos and videos, shared contacts, links and locations, other attachments
Accurately represented message status (sent, delivered, read)
40+ specific group events displayed (who joined, who left, who changed the group name and to what, etc...)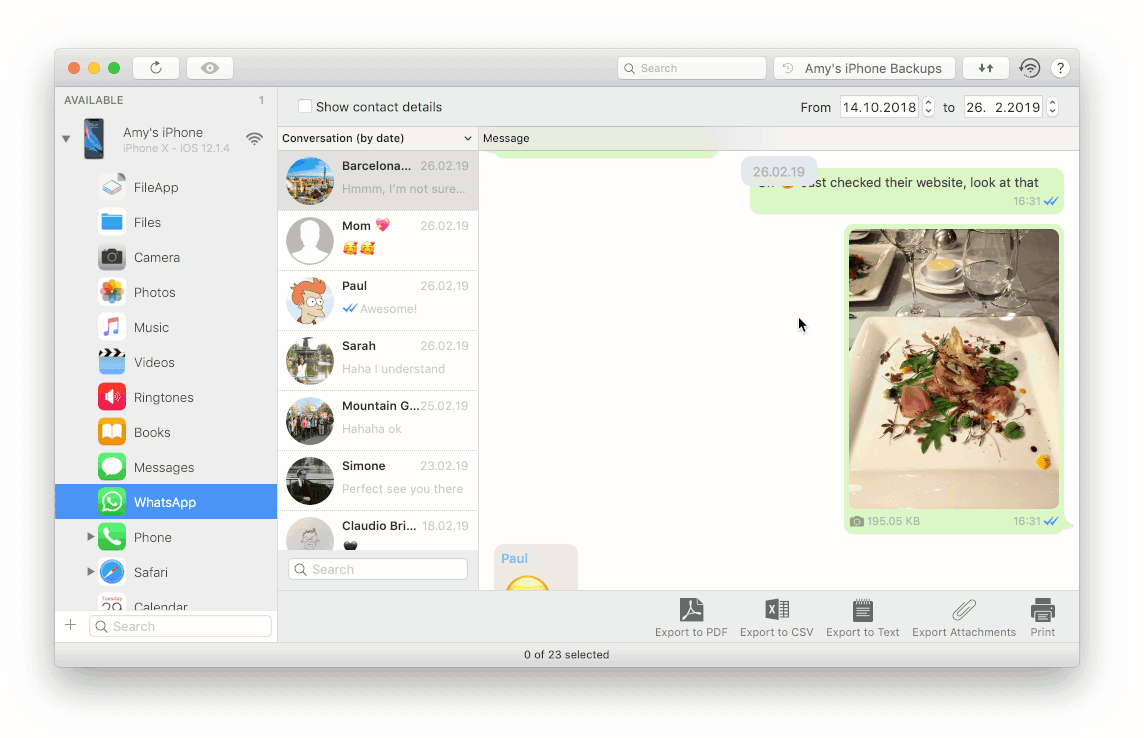 Learn more about iMazing's WhatsApp export features
Export multiple threads to PDF
Sounds trivial, right? Well, this seemingly small request is anything but. We had to roll out native PDF generation, a time consuming project but one which paid off far beyond bulk exports.
Thanks to native PDF generation, iMazing can now:
Export multiple WhatsApp chats or Messages threads to split PDF files
Offer customization options such as scale, margins and orientation
Include colorful emojis on both macOS and Windows
Support all languages, including Arabic, Hebrew, Chinese, Japanese and Korean
Definitely worth it.
More Reliable and Refined Printing
Printing iPhone messages is often required to provide critical supporting evidence for court. In the last couple of years, we've interacted many times with users for who printing emotionally heavy conversations was both crucial and urgent: parents in delicate custody battles, victims of harassment fighting back with digital evidence, so many of you have gotten in touch in a state of genuine distress. Today, we finally offer a robust solution to print messages quickly and easily, including important data that will give more weight to your printouts in court.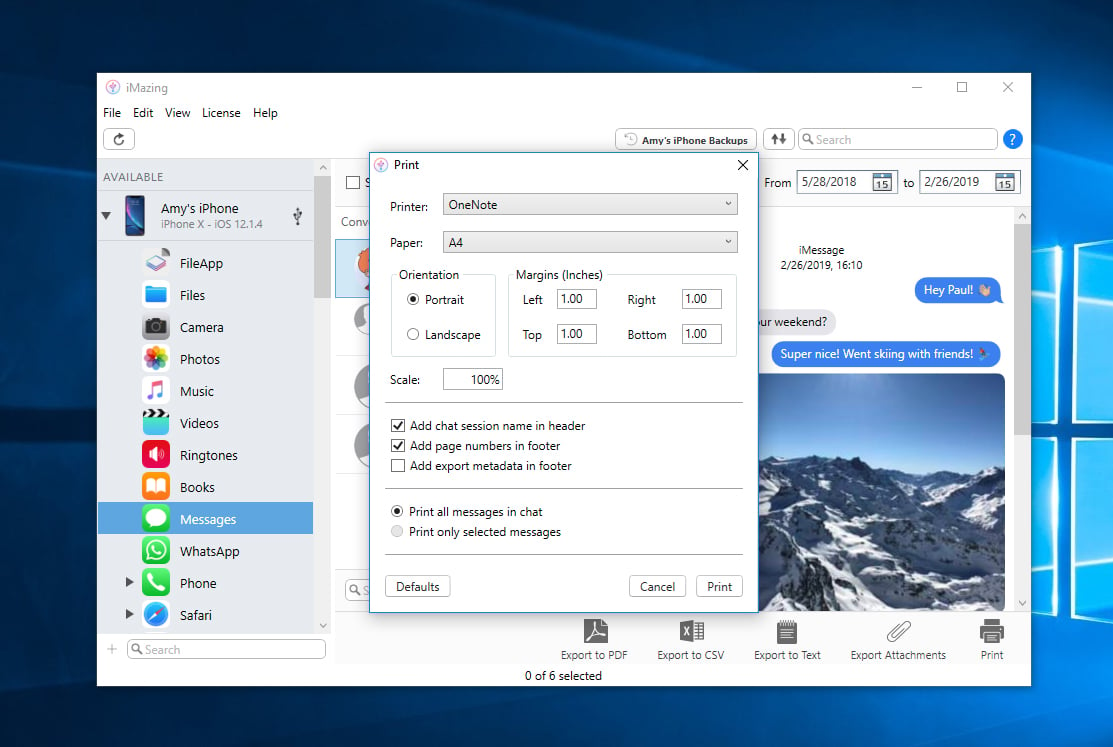 Learn more about printing Messages with iMazing
Here are the options available:
Print a selection of messages or entire threads
Adjust content scale and margins
Choose paper size (Letter, Legal...)
Include page numbering
Include contact details of each participant (phone number or account name)
Include metadata in the footer: name and serial number of the phone, date of export
At the other extreme of the emotional spectrum sits a much lighter and delightful use case: printing messages to make a booklet commemorating courtship. Yes, it's super love 2.0, and we can't help but coo when users contact us to help them achieve that cutest of gifts.
Better Search
iMazing previously featured a single search field which would search text contents of all messages at once. In some cases, this caused confusion for users who entered a contact name and expected to see all messages from that contact. To remedy this, we've added a second search field specifically for searching chats and contacts. In addition, we've also included a date range filter to help narrow down results.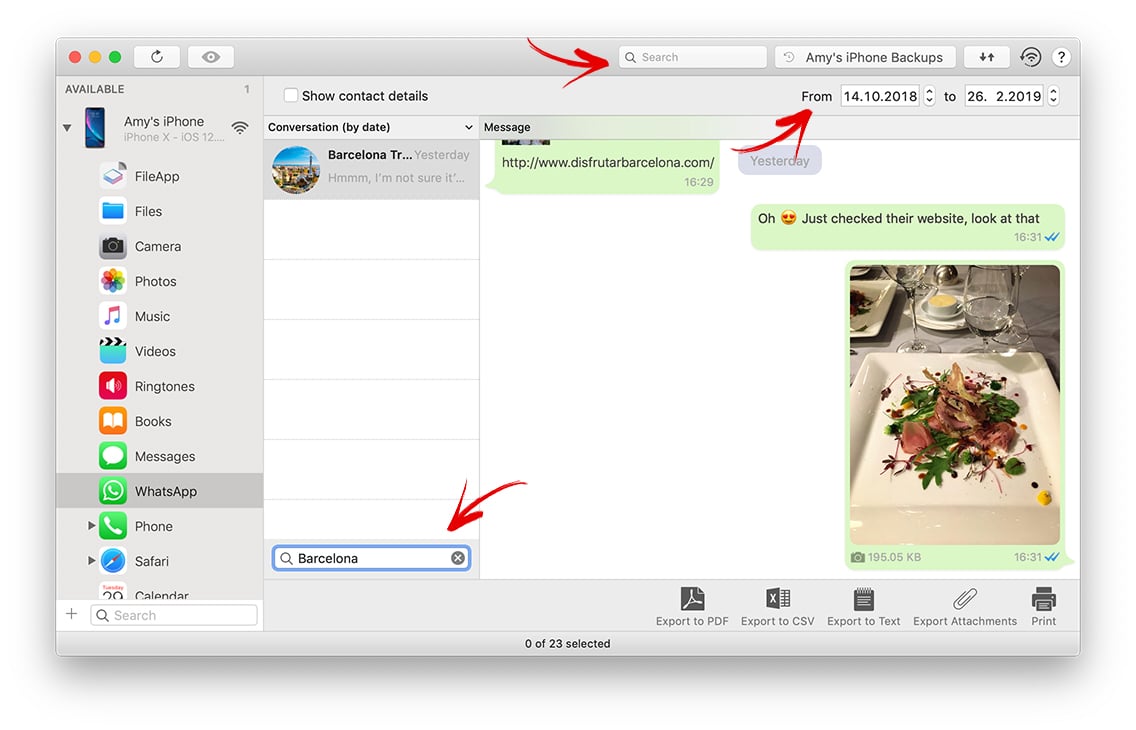 These new search features are available in both the WhatsApp and the Messages views.
More Data in CSV Exports
Who needs to export messages to a spreadsheet? Turns out it's a great way to simplify time tracking and document communications with clients at the same time. Quite a few lawyers contacted us with that precise use case: especially used in conjunction with iMazing's CSV export of call history data, professionals can easily bill e-coms and phone calls with clients, as well as refer to past communications if a conflict arises.
In addition to data seen in iMazing's interface, CSV exports feature:
Delivered date, read date (available in Messages data only)
Conversation or group chat participant details
Service type (iMessage, SMS, MMS)
Attachment file name and type
Performance and Scalability
In recent years, it has become more and more common to see users with a staggering amount of messages, containing sometimes thousands of photos. In some cases, this would end up freezing iMazing entirely, especially on older hardware. We opted to completely rewrite our load and display routines, and the result is pretty great:
Load, display and export an arbitrarily large amount of messages
Vastly improved loading speeds
Low memory footprint means that even older PCs can handle huge collections
---
In this update, we hope we've covered a fair chunk of our users messages-related requests. A lot more is coming this year, and your opinion always matters. Send your suggestions, ideas and gripes at imazing.com/contact, we always love engaging with our community!
iMazing Team