Manage your iMazing license
1. Trial
iMazing is free to download and install without registration. Many features are available without a license, other features, dubbed Premium features, require a license.
For more information on the trial limitations visit our FAQ page.
2. Activate iMazing
Activation refers to the process of entering a valid license code in iMazing. Once your license is validated, iMazing is activated and features are unlocked according to your license type.
To activate iMazing:
In the upper toolbar, click iMazing License
The Welcome window will be displayed. Click Enter License Code
Copy and paste or type your license code and click Submit
iMazing should now be activated on that computer, and the iMazing License button will disappear. License management from then on takes place in the License menu.
⚡ Cannot activate? Please refer to this activation troubleshooting article.
3. Manage Your Device License
The Device License grants unlimited use of iMazing's premium features with specific Apple mobile devices. You can activate iMazing with the same Device License on any Mac or PC.
💡 If your license code starts with id or if you have an iMazing Unlimited Devices / Business / Configurator subscription, you can jump straight to Manage Your Computer-Based License.
Link Devices to Your License
Whenever you use a premium feature with a device that hasn't yet been linked to your license, iMazing will offer to link it. In the screenshot below, we are exporting photos from Amy's iPhone, a device which hasn't been linked to the license yet: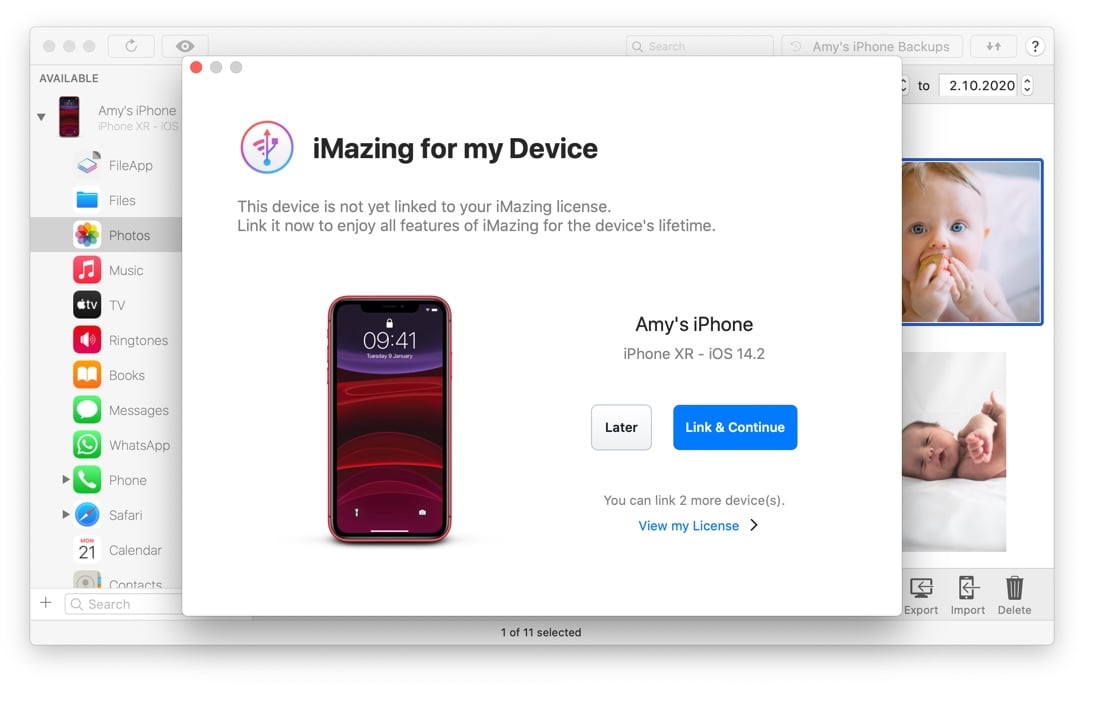 From here, you can either:
Click the Later button and keep using iMazing's free features with Amy's iPhone.
Click Link and Continue to permanently associate Amy's iPhone to your iMazing license and unlock unlimited use of all premium features with that device.
View Licensed Devices

The License menu's View License option opens the Licensed Devices window: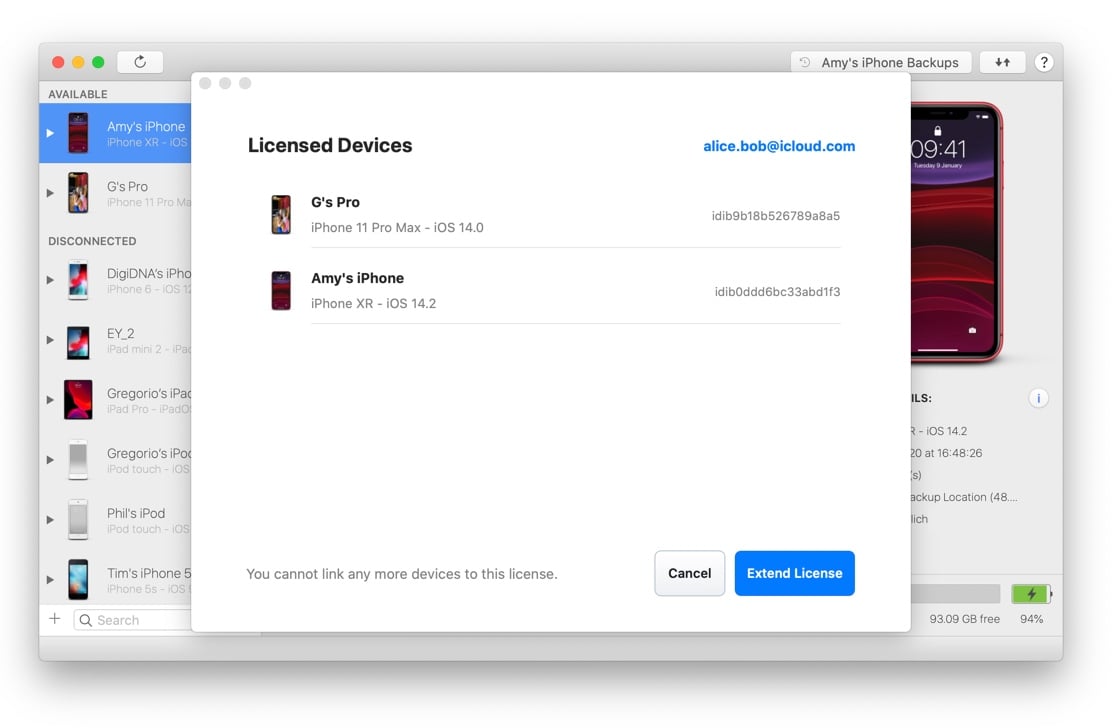 From here, you can review which devices have already been linked to your license. The device identifier listed here is a unique identifier that you can communicate to our support team if needed.
Extend Your License
Your iMazing Device License supports a limited number of Apple mobile devices. If your license is already fully used, accessing a premium iMazing feature with a new device will display the following screen:
Click the Extend License button to open the license store and extend your license so that it can support more devices.
Remove Your License from iMazing
You can remove your license from iMazing using the License menu's Remove License option:


After removing the license, iMazing will return to trial mode. Note that you do not need to remove your Device License from one computer before you activate iMazing on another – the Device License is only tied to your licensed mobile devices, and can be used on any number of macOS or Windows computers.
Remove a Device from Your License
Linking a specific iPhone, iPad or iPod device to your license is permanent and cannot be undone. Licensed devices can be used with all iMazing updates (including major versions), for their entire lifetime, on any Mac or PC computer.
💡 Did you mistakenly link a device to your license, or did iMazing fail to perform the expected task with a specific device? Please contact us immediately with the details. We trust our users and will quickly handle legitimate requests.
Upgrade to the Unlimited Devices Plan
If you use iMazing's premium features with more than 4 new devices per year, the Unlimited Devices plan may be more advantageous. Get in touch with our support team for upgrade conditions.
4. Manage Your Computer-Based License
Computer-based licenses enable activation of iMazing on a limited number of Mac or PC computers. The number of Apple mobile devices managed with iMazing is not limited.
Licenses of the that type include:
iMazing Unlimited Devices License
iMazing Business License
iMazing Configurator
iMazing 2 Legacy License (id***** license code format)
Remove Your License from iMazing
You can remove your license from iMazing using the License menu's Remove License option. This will free up a seat so that you can activate iMazing with the same license code on another macOS or Windows computer.
⚡ If you forget to remove your license from a computer to which you don't have access anymore, please contact our support team with your license code.
View, Update or Cancel Your iMazing Plan
If you've opted for a subscription plan, the License menu's Plan sub menu is where you can easily manage it:

From here, you can easily view and manage your plan.
View Plan
Click the View Plan option to review your plan's type, number of seats and billing information: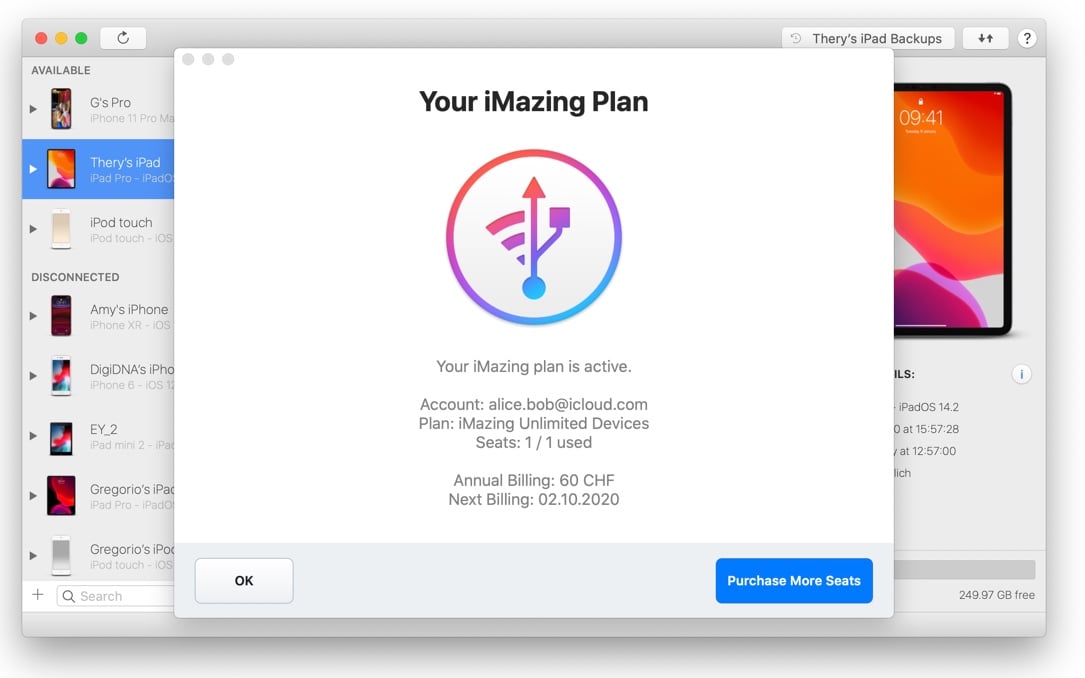 Manage Plan
Click the Manage Plan option and iMazing will send you an email containing links to update your payment method, add more seats to your license, or cancel your subscription. Here is what the email looks like: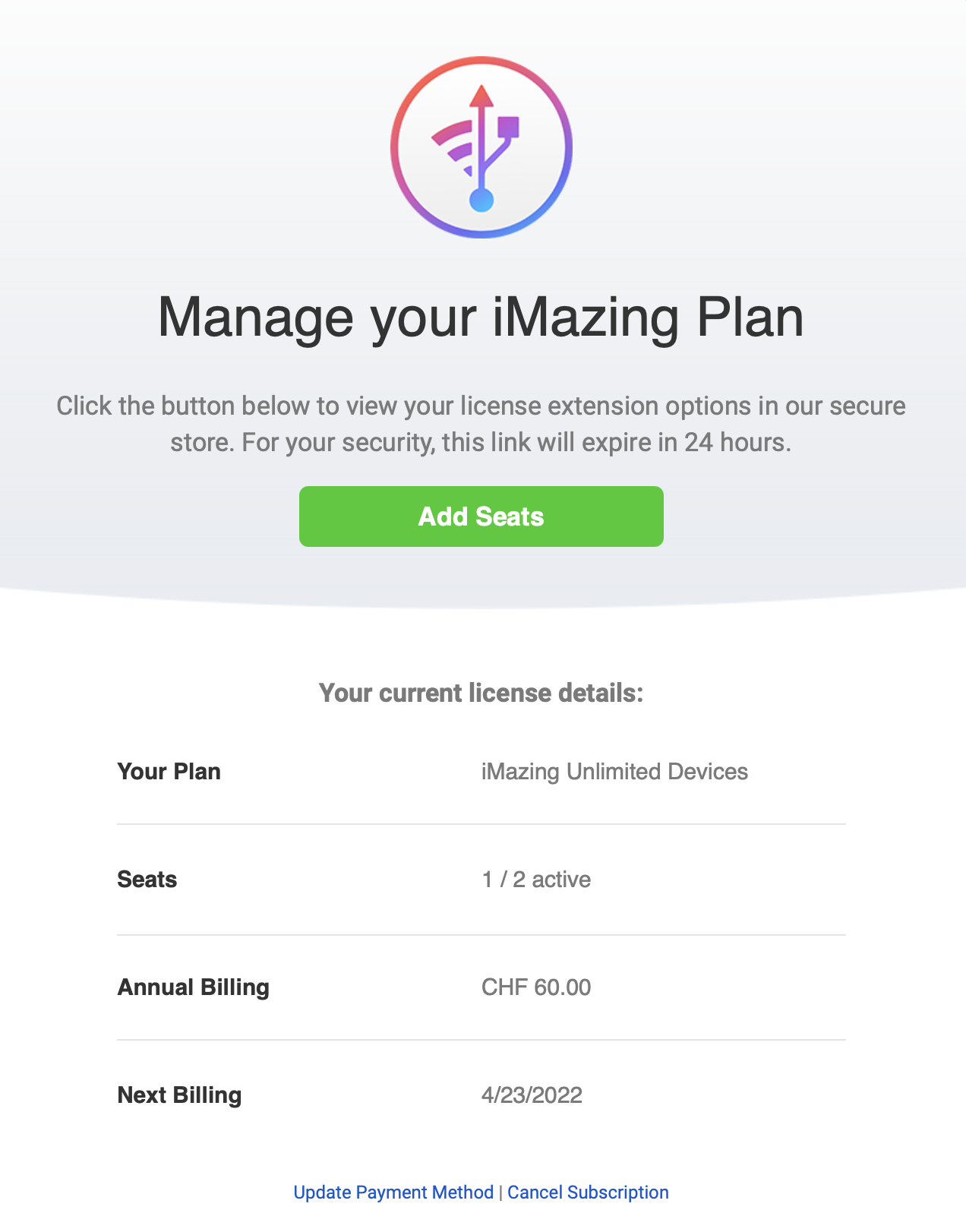 From this email, you can:
Add additional seats to your existing plan at a prorated price, keeping billing clean under one single subscription.
Update your payment method in case of failed billing.
Cancel your subscription. Your license will remain fully active until the end of the subscription period.
Note that we do not store any credit card information: you'll be redirected to our payment platform Paddle for billing related tasks.
Retrieve Your License Code
Misplaced or lost your license code? You can retrieve it at any time from iMazing's License menu, or from our website's license code retrieval page. You will need to provide the same email address used to purchase the license.
If you do not remember that email address, please contact Support with your full name and/or order number.