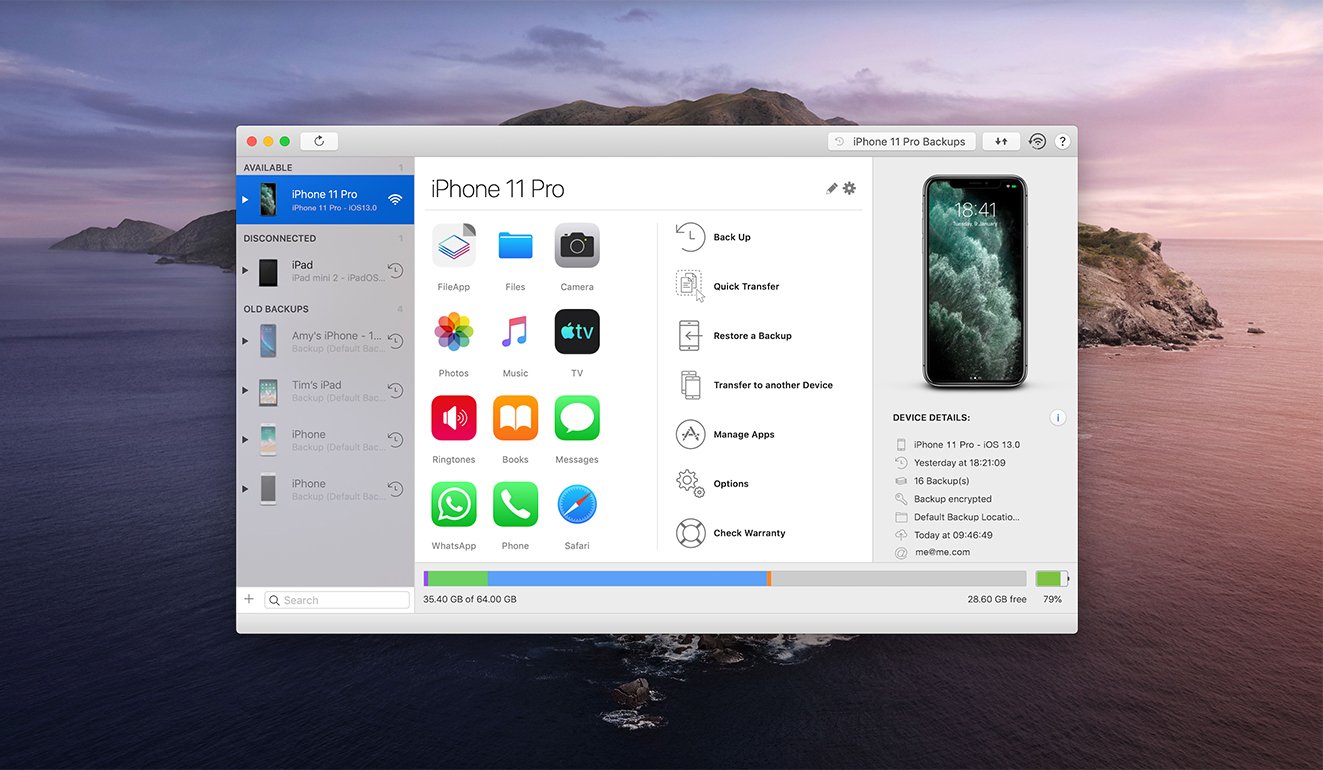 iOS 13 will soon become available and it's a beautiful, feature packed update. The new Photos app is truly gorgeous, especially in dark mode. Find My, which replaces Find my Friends, is also a welcome addition, adding much versatility to what used to be a barebones little app. Find My will become even more useful when Apple releases their much rumored Apple Tag accessory, hi-tech tags which will enable precise tracking of your most important items.
The team here has been testing iOS 13 since the very first beta early last June. Throughout the Summer, we've been releasing steady updates to ensure that fellow developers and early adopters can keep using iMazing during the iOS 13 and macOS Catalina beta cycles.
Our latest update, iMazing 2.10, is 100% compatible with iOS 13. Make sure you are up to date, and if needed, download and install it from our website to ensure a perfectly seamless transition. As all minor updates, 2.10 for Mac and PC is free for all iMazing 2 license holders, of course.
Before you update to iOS 13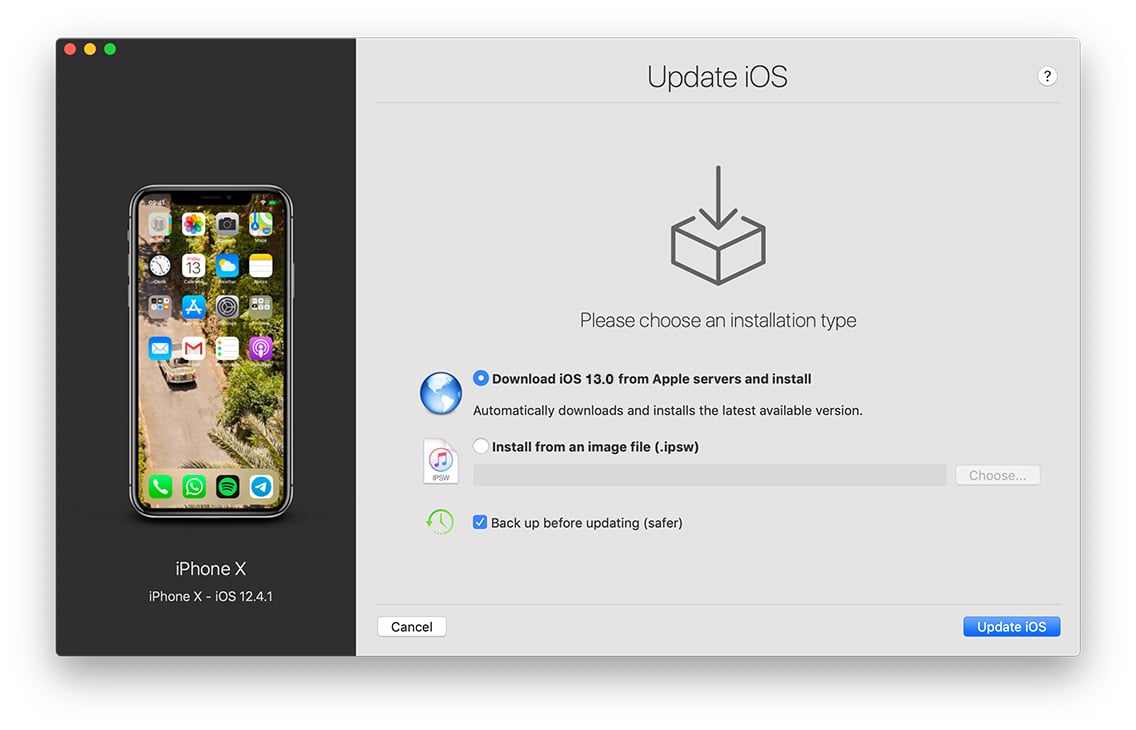 Whether you choose to update to iOS 13 directly over the air, or with iMazing, make sure you have a full backup of your iOS device first. Updates sometimes fail, and local backups don't cost anything, so why take the risk?
Even if you have an iCloud backup, which may be out of date or incomplete for lack of cloud storage, backing up locally with iMazing before updating iOS is strongly advised. And if you choose to update iOS with iMazing, simply check the Backup before updating checkbox, it's that simple.
Need help backing up? Read our general backup guide here.
Not enough space on your Mac or PC? Here's how to backup to an external drive.
Feeling lazy and risk averse? Learn how to schedule automatic backups.
Besides compatibility with the latest operating systems and iOS devices, iMazing 2.10 focuses on important under the hood improvements.
Improvements in WhatsApp and Messages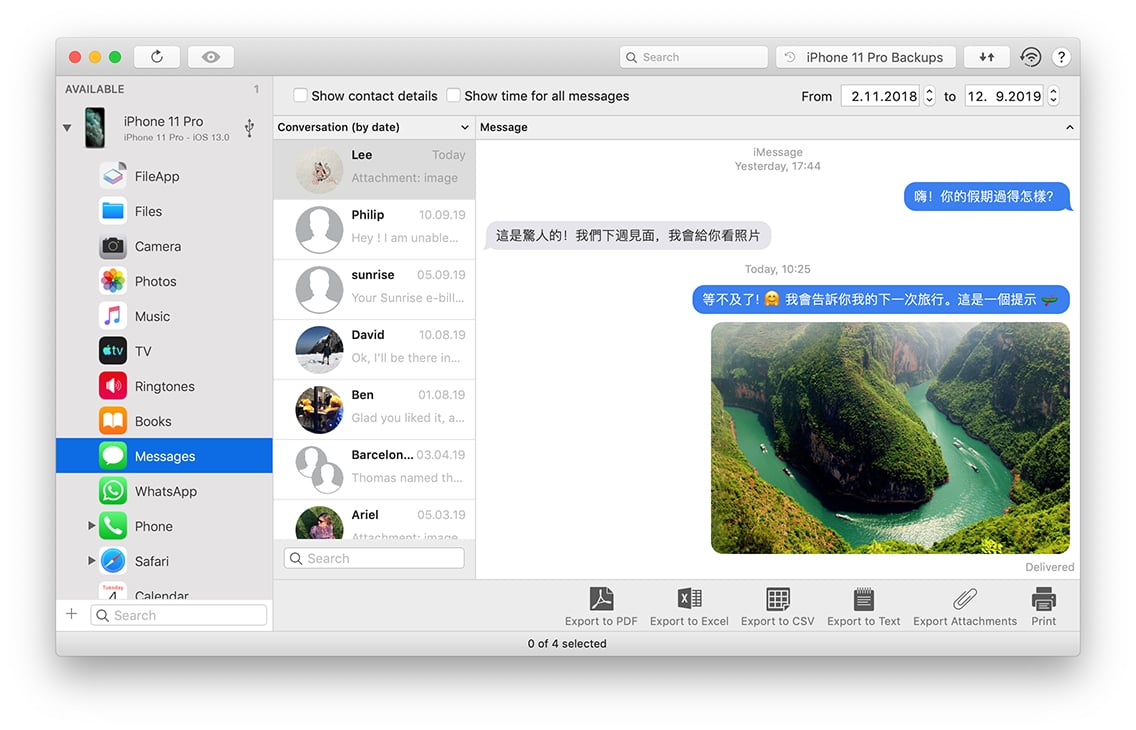 Since releasing our new WhatsApp and Messages views in iMazing 2.8 a few months ago, we've gotten plenty of feedback and have kept improving them. In 2.10, we've improved PDF exports of traditional Chinese, and have added support for many Asian and Indian scripts: conversations and chats in Thai, Hindi, Bengali, Marathi, Telugu Tamil, Gujarati, Urdu, Kannada, Odia, Malayalam, Punjabi and Sanskrit should now produce beautifully rendered PDFs too.
New backup engine
iOS backups are a complex and delicate affair over which no software has full control. By design, iOS does not let computers mirror its file system - it builds the backup itself, upon request, and works in tandem with an Apple process running on the Mac or PC to upload it to the computer and verify it.
Starting from iMazing 2.10, iMazing is now directly interacting with iOS to build the backup. This enables much finer error reporting, letting us help more users than ever before in cases where iOS fails to build the backup. Where iMazing (and iTunes!) used to fail with an unhelpful generic error, iMazing now will display a much more detailed message which may contain information about the specific app or file which is corrupted and blocking the process.
iMazing's versioning engine, which lets you store dozens of snapshots of your backups without eating up too much space, remains unchanged.
---
We hope iMazing will help you make the most of iOS 13 throughout this year and the next, and can't wait to show you what new features we have in store.
Happy updating,
iMazing Team