How to...
There are several ways to automatically back up your iOS device. You can back it up to iCloud, but there are many constraints to this. You must have enough free space in your iCloud account, you don't really see what gets backed up and you cannot browse your backups. And many people don't want their data to be stored in a cloud that they do not control. If someone manages to get into your iCloud account, they can access a great deal of personal data.
You can also backup your iOS device to iTunes. You can do this when you connect your iPhone or iPad to your computer, or you can use Wi-Fi syncing. This latter method is unreliable, and only works when the phone is charging.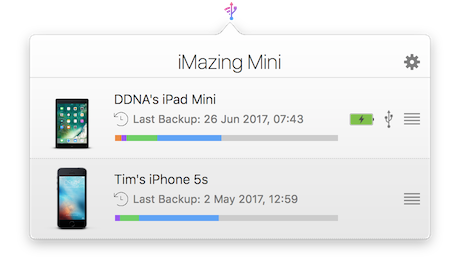 iMazing Mini is iMazing's menu bar app, available in both the Windows and macOS versions of iMazing. It is packaged inside iMazing, so if you already have iMazing 2, simply make sure you are up to date and you should have iMazing Mini already.
It offers the best way to back up your iPhone or iPad. It is transparent, fully configurable, and 100% free. It can automatically back up your iOS device over Wi-Fi, or when you connect to your computer. You can choose where to store the backups, even on a network drive if you wish. And it maintains a history of your backups, so you can recover files or data that you may have accidentally deleted. iMazing mini optimizes disk usage so you can keep dozens of backups without using up too much space.
| | iTunes | iCloud | iMazing Mini |
| --- | --- | --- | --- |
| Price | Free | Paid | Free |
| Schedule | No | No | Yes |
| Choose Location | No | No | Yes |
| Backup History | No | No | Yes |
| Encryption | Yes | Yes | Yes |
Here's how to automatically back up your iPhone to your computer:
If you haven't already, download and install iMazing
Launch iMazing and connect your device
Schedule automatic backups
---
---
In-Depth Tutorial
1. Launch iMazing Mini on your computer
Once you have downloaded and installed iMazing, launch it. You can then launch iMazing Mini from the Tools menu.
You'll only need to do this if you haven't configured automatic backups yet. Once you have, iMazing Mini will launch automatically when you start your computer and will be available alongside other menu bar apps.
If you have already connected one or more iOS devices to your computer: iMazing Mini will display your devices and give you the opportunity to configure backup options for each of them.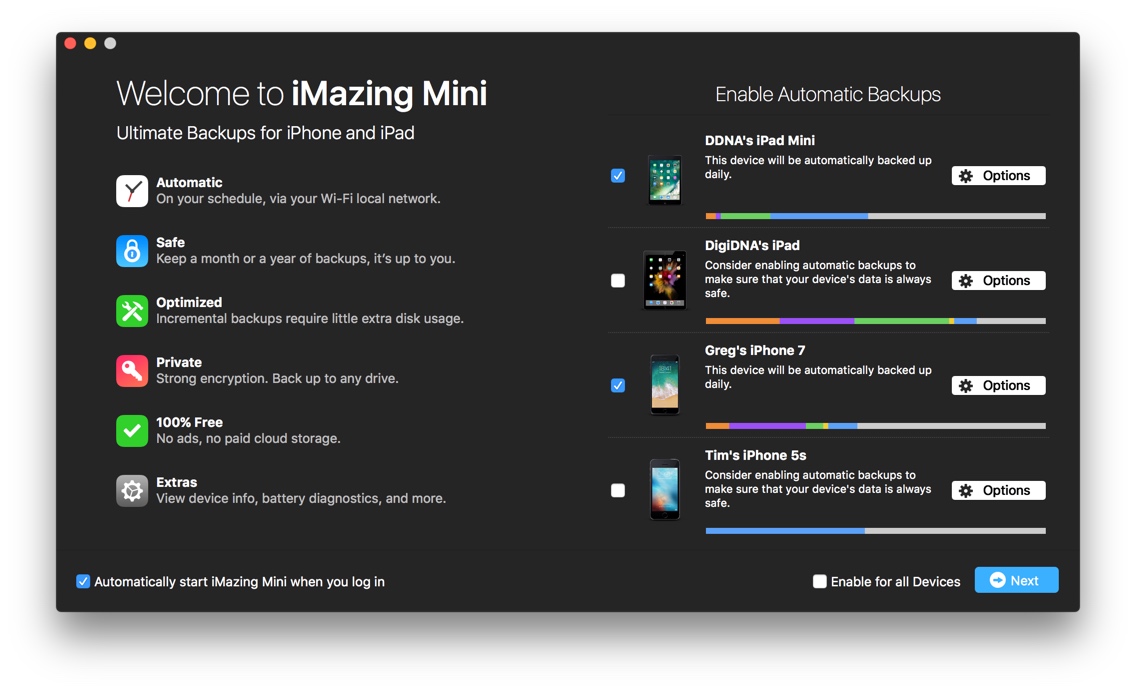 Check the checkbox for devices you wish to backup automatically, and click 'Options' for additional configuration options (Step 3).
If you have never connected your iPhone or iPad to your computer: you will instead be prompted to connect your device via USB.
2. Connect your device
To use iMazing Mini, you'll need to connect your device to your computer with a USB cable. You'll only need to do this once, if you choose to use iMazing Mini's Wi-Fi backup feature.
When you connect your iPhone or iPad, a wizard will guide you through the connection process. Once paired with your computer, your device will automatically connect via Wi-Fi.
For more information on device pairing, see Connect your device to iMazing.
3. Schedule automatic backups
The first time you connect your iPhone or iPad to your computer, you will be prompted to set up your backup options. If you have multiple devices, each device has its own backup options.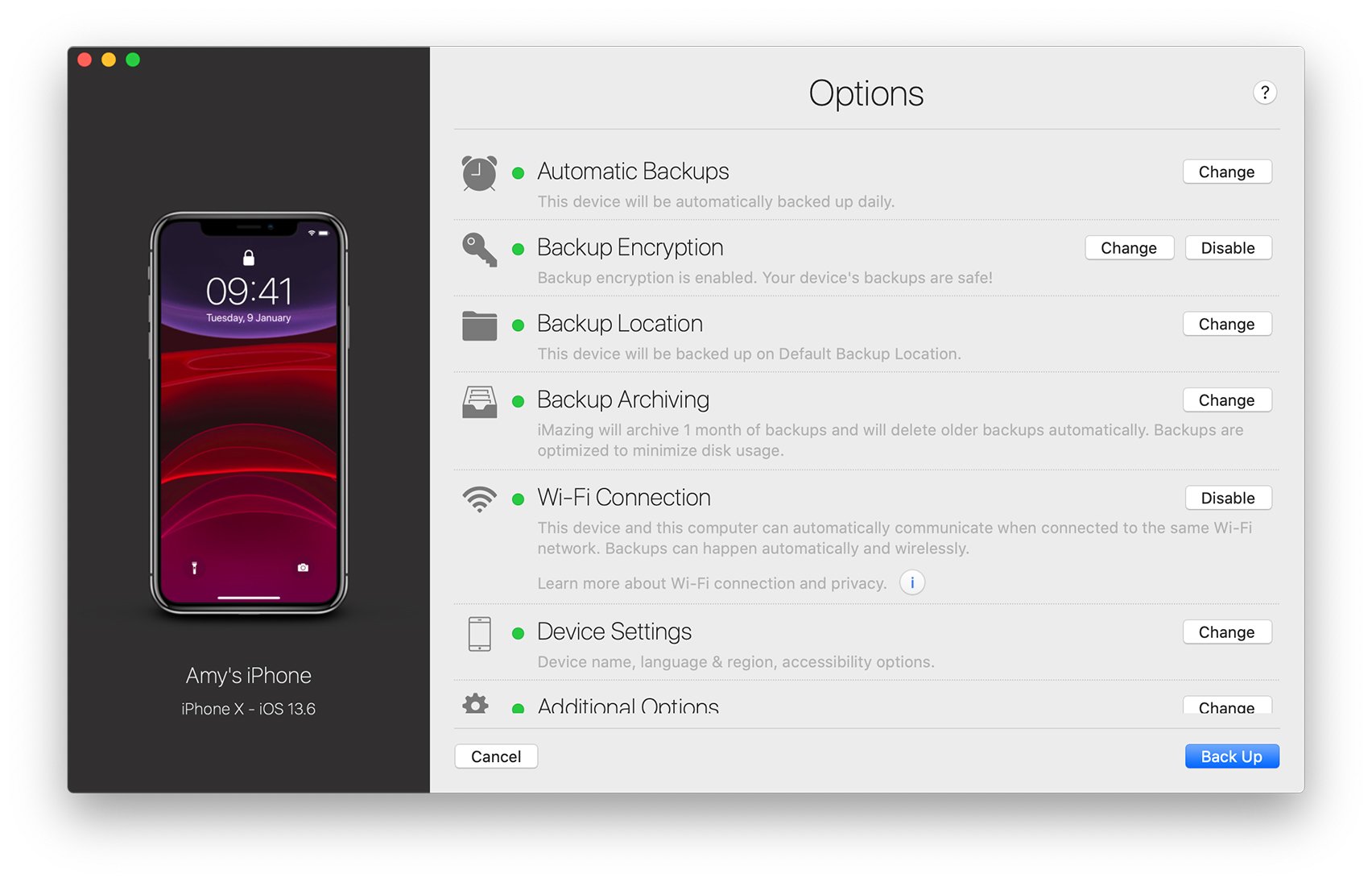 To ensure an optimal backup experience, make sure all available options have green lights next to them.
💡 Tip: To protect your data, and enable backups of sensitive information such as health data and passwords, you must activate backup encryption. We recommend that you do this for all of your devices to ensure that these backups are protected.
Select Automatic Backups to schedule when iMazing Mini backs up your device automatically:
Choose your backup frequency; it's best to set this to Daily.
Set a timeframe for your preferred backup time. You might want to choose a time overnight so your Wi-Fi network won't be affected by the backups.
Prevent backups from running if your battery is running low.
By default, iMazing Mini backs up your devices daily via Wi-Fi, and keeps one month of backups. There are other settings you should look at on the Options screen:
Backup Location lets you choose an external or network hard drive to store your backups.
Backup Archiving lets you choose how long iMazing Mini stores backups.
Additional Options: iMazing Mini can notify you if your device's battery is low, and can launch automatically if you connect your device via USB.
Check all the available options to see how you can customize your own backups.
Going further
Check out our Getting started with iMazing Mini guide, and learn everything about what iMazing Mini has to offer.