How to...
iTunes can back up your mobile devices to a default location on your computer's system drive. But what about backing up your iPhone or iPad to an external drive or NAS? To a specific folder or partition?
iMazing's backup management features are 100% free. With iMazing, you can easily set a backup location, and make safer backups which are not overwritten. iMazing tracks changes in your backups, which lets you keep many backups of a device at a fraction of the disk usage cost. And if needed, you can even set a different backup location for each of your devices.
Before you begin
Download and install iMazing on your Mac or PC computer
Instructions
To change your device's backup location:
In the sidebar, select your device.

In the main window, click the cogwheel icon next to your device's name. This will open the Device Options window.

In the Device Options window, click Change Backup location.
Select a disk, or click Choose a custom location to choose a specific folder.

Click Done. You've set the new backup location for that device.
💡Tip: If you select a disk, iMazing will create an iMazing.Backups folder at the root of your drive.
Accessing the iTunes backup folder on macOS 10.14 Mojave and above
Need help accessing existing iTunes backups in iMazing? Please jump to our dedicated guide here. If you wish to back up your iPhone or iPad to the same location as iTunes, keep reading!
In macOS 10.14 Mojave, Apple introduced new security features to better protect user data against malware and spyware. Users must now explicitly authorise apps to access specific data, including iTunes backups.
If you select the iTunes backup location as backup location for iMazing backups, iMazing will display a screen explaining how to grant access: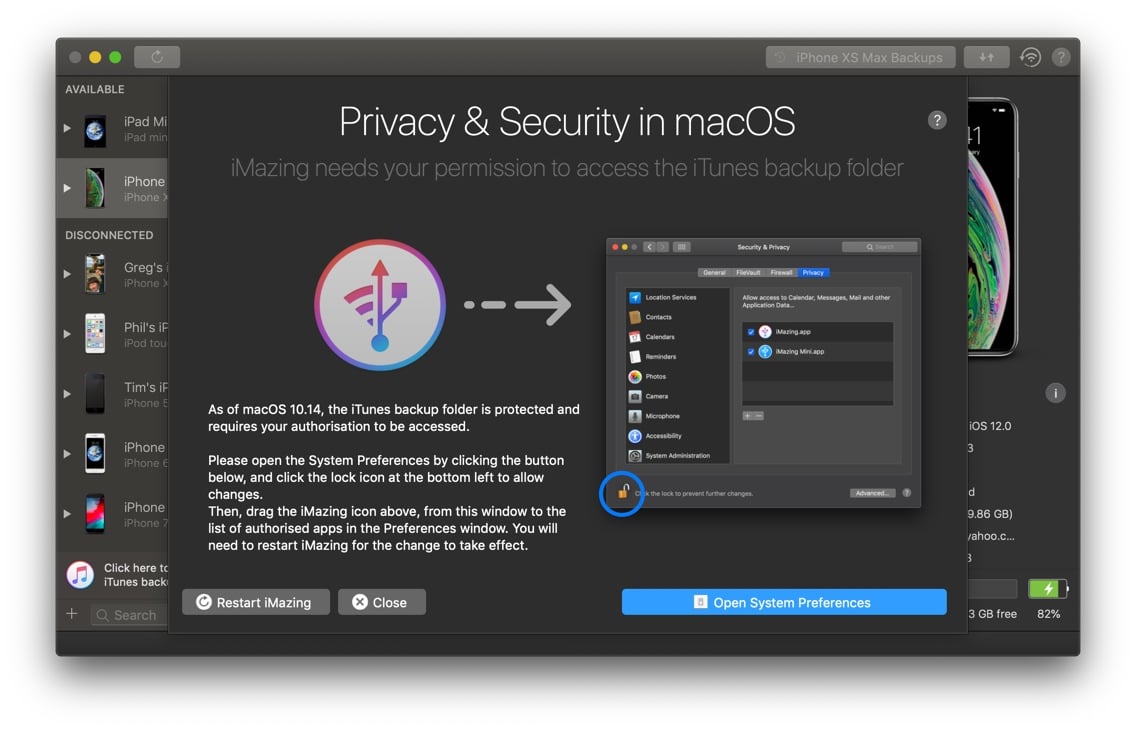 Simply follow the instructions in this window, and you will see iMazing and iMazing Mini both added to the macOS Preferences' Security & Privacy->Privacy Tab->Full Disk Access trusted apps list: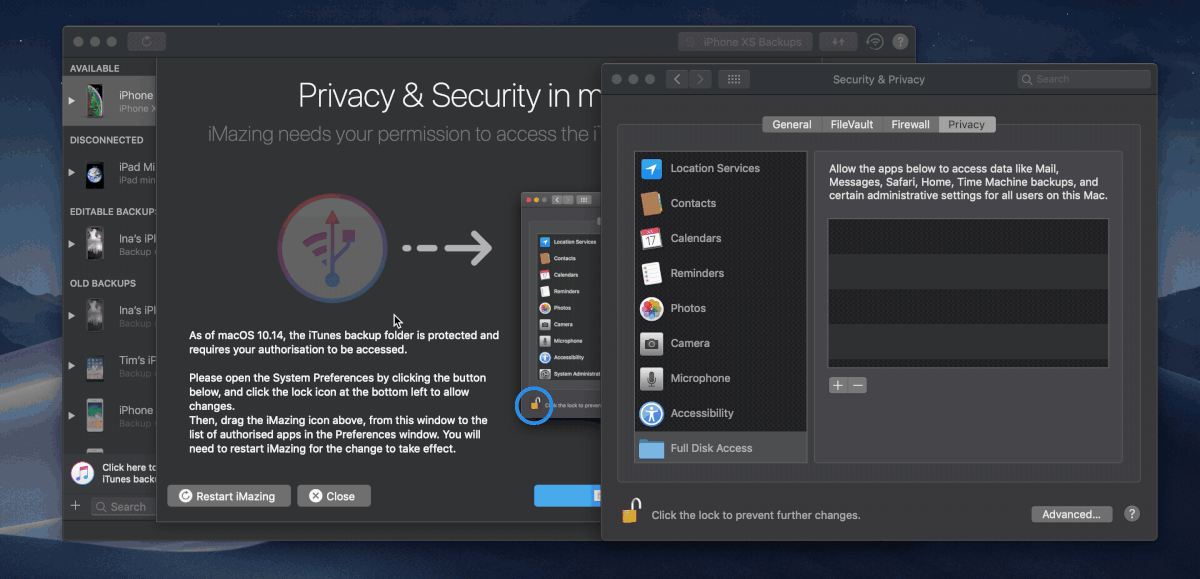 iMazing handles sharing its backups with iTunes very well. iTunes backups will be archived before iMazing backs up so that they are not overwritten - they are simply integrated to iMazing's backup snapshots.
💡 Tip: You can of course rescind permissions at any time: launch the macOS System Preferences app, select Security & Privacy -> Privacy tab -> Full Disk Access, and remove iMazing from the list.
What to keep in mind
The first time you back up a device, iMazing will automatically display backup location options.
Changing your backup location will only affect future backups. It will not move existing backups to the new backup location.
Changing your iMazing backup location will not affect your iTunes backups' location.