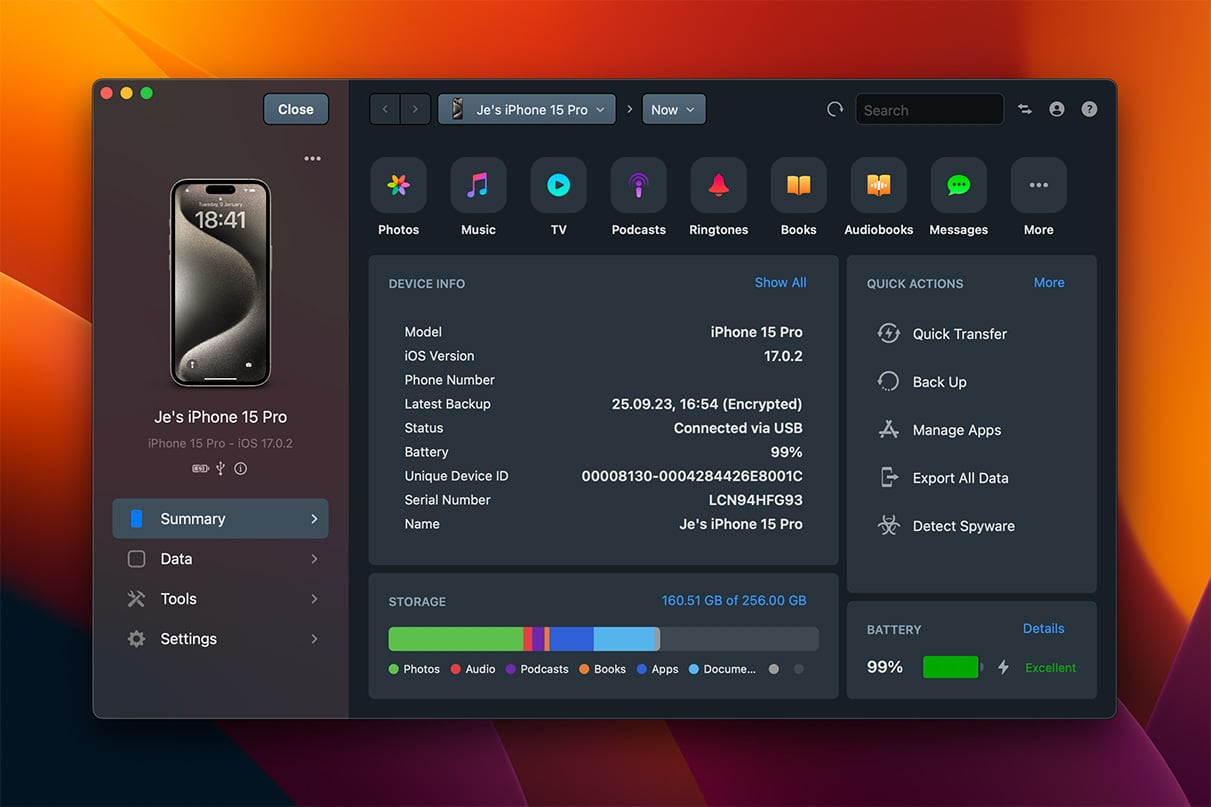 Fresh on the heels of Apple's newest iPhones and iOS/iPadOS releases, we've released iMazing 2.17.10 for optimal compatibility, as well as a new iMazing 3 beta for macOS.
iPhone 15 Pro & USB-C: 3-5x faster for iMazing
We spent the weekend running the iPhone 15 Pro through a series of tests, as this release delivers the biggest jump in cable throughput ever. When connected via a full-speed (10 Gbps) USB-C cable as compared to the previous Lightning cable:
iMazing backups and restores are 3x faster
iMazing file transfers are 5x faster (with large files)
Some observations and notes:
Although Lightning cables are limited to 480 Mbps and USB-C in the iPhone Pro tops out at 10 Gbps, real world performance is no where near the 20x implied by the baseline numbers, especially when working with thousands of small files, as backup and restore operations do.
Disappointingly, the iPhone 15 Pro ships with a USB-C cable that's limited to USB 2 data rates, just like Lightning (480 Mbps). This is the same cable that has been shipping with the USB-C equipped iPad Pro for some time now, and it means you won't see any USB-C performance benefit if you connect your iPhone with that cable.
In order to take advantage of 10 Gbps USB-C transfers, you will need to purchase a third-party cable that supports data higher transfer speeds. We've personally been using Rixmie's short USB-C cable, which costs less than $10 from Amazon in the U.S.
iPhone 15 models (non-Pro) are limited to USB 2 data speeds no matter what kind of cable is used, since the necessary controller that supports 10 Gbps USB-C is part of the A17 Pro chip, exclusive to the iPhone 15 Pro models.
macOS users: To check the speed of your USB connection:
Open the System Information app (/Applications/Utilities)
Then select USB in the sidebar
Then select your iPhone from the USB tree and check what it says under Speed:

iPhone 15 + 15 Pro: Update iOS to 17.0.2 first!
Apple's newest iPhones ship with a bug that out of the box can cause problems when transferring data from an old device, even potentially causing a boot loop that requires the iPhone to be put in Recovery or DFU (Device Firmware Update) mode to recover:
If you find your new phone requires such attention, iMazing can help you out. See our guides:
iMazing can also be used to transfer data from your old device to your new iPhone 15, although we happily acknowledge that Apple's wireless migration assistant has come a long way in recent years, and when it works, it's usually fast and reliable.