iMazing Configurator: Quick Start Guide

iOS device management is a vast and complex subject: MDM, Automated Device Enrollment (ADE, formerly Device Enrollment Program – DEP), Volume Purchasing (formerly Volume Purchasing Program – VPP), supervision and supervising identity, configuration profiles... If you're not already familiar with the subject, the lingo alone can be overwhelming. Likewise, iMazing Configurator's large array of settings and features can seem intimidating at first – it shouldn't be.
We've carefully designed our configurator tools around a single simple workflow, letting you jump in and start configuring devices immediately. Whether you're a seasoned sys admin working for a large company, or a business owner curious about securing an iPad running a point of sales app, read on or watch the video below to get started right away.
💡 New to iOS device management? Give this general overview of Apple's mobile device management technologies a read first.
Launch iMazing and create your first blueprint
If you haven't already, Download and install iMazing for Mac.
Launch iMazing, and open iMazing Configurator's blueprints library from the main menu:
iMazing Configurator's library is your hub. The Blueprints tab will be empty for now:
Click the '+' button to create a new blueprint. This will take you to the blueprint editor:
The majority of configuration tasks are achieved by configuring and applying a blueprint, that's why we start here. The blueprint editor lets you import and configure everything inline, letting you focus on your current configuration without having to go back to the main library.
Configure the blueprint
The blueprint editor divides available options in eight sections listed in the sidebar. The first two sections are of particular importance:
1. General
Here, you'll name your blueprint and enter a brief description to help you remember what it does. You can also choose a Wi-Fi profile to speed up deployment, and thanks to integration with the embedded iMazing Profile Editor, you can even quickly create a Wi-Fi profile without leaving your context.
2. Organization & Supervision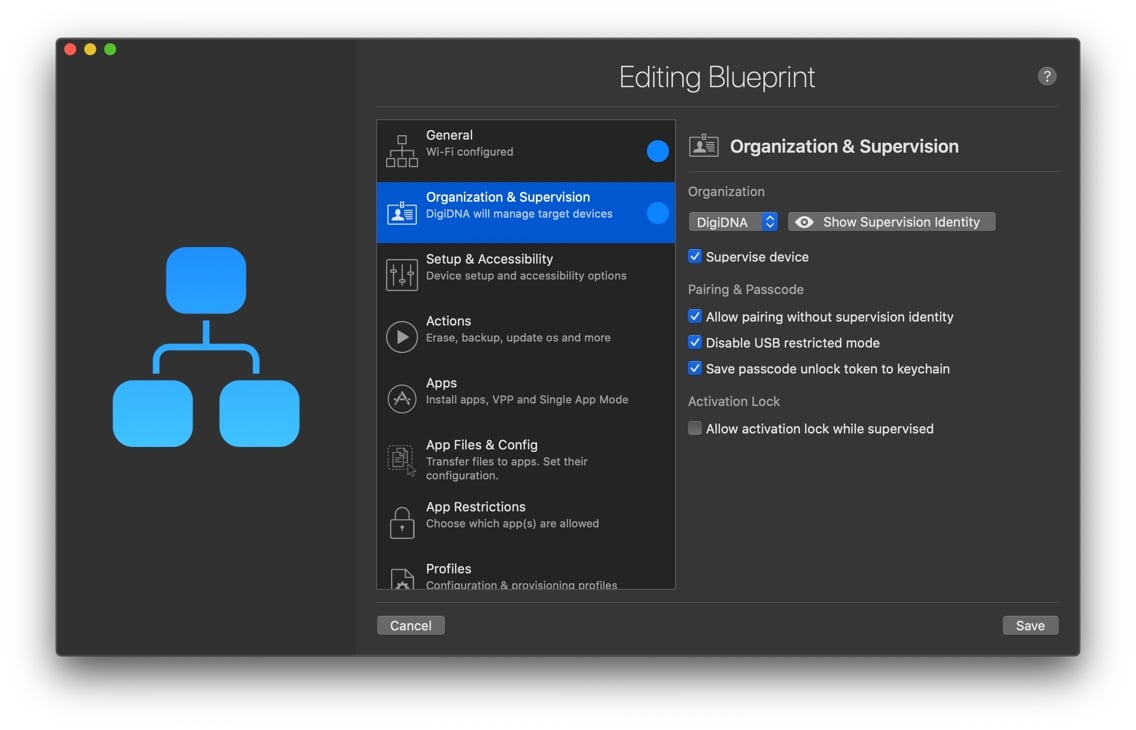 To supervise an iOS device, you will need to choose an organization here. At first, your organization library will be empty, but you can easily create or import an organization inline without having to return to the main library.
Click the Organization drop-down and select Choose... to display the organizations library in a sheet.
Your organizations library will be empty at first. Click the '+' button to create your first organization.
Confirm and select the new organization you just created or imported.
You can now enable supervision in this blueprint.
💡 _If you are managing devices which are already supervised, locally or via ADE (formerly DEP), you can easily import existing organizations or supervision certificates. Learn more about organizations_
3. Other sections
The six remaining sections form the bulk of the actual configuration: apps, restrictions, wallpapers, profiles... Our advice here is to browse all of them, and click the help button at the top right of the window when you want to learn more: help is contextual to whichever section is currently selected, so you'll be taken straight to the relevant part of our online documentation.
Save and apply the blueprint
Once you're satisfied with your blueprint, hit Save at the bottom right of the window. you'll be taken back to the library where your blueprint will be listed along with a summary of configured sections: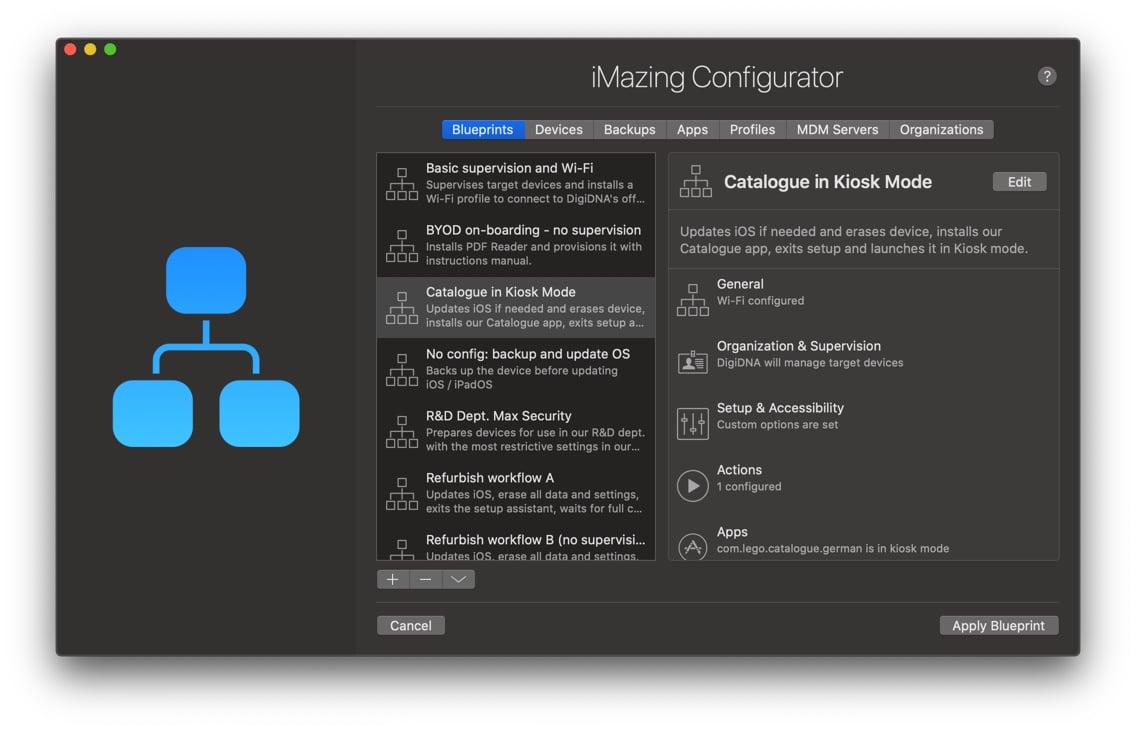 To apply the blueprint, select it and click the Apply Blueprint button at the bottom right of the window. iMazing will display the Operation Dispatcher View, from where you'll launch the current task on connected devices and monitor progress: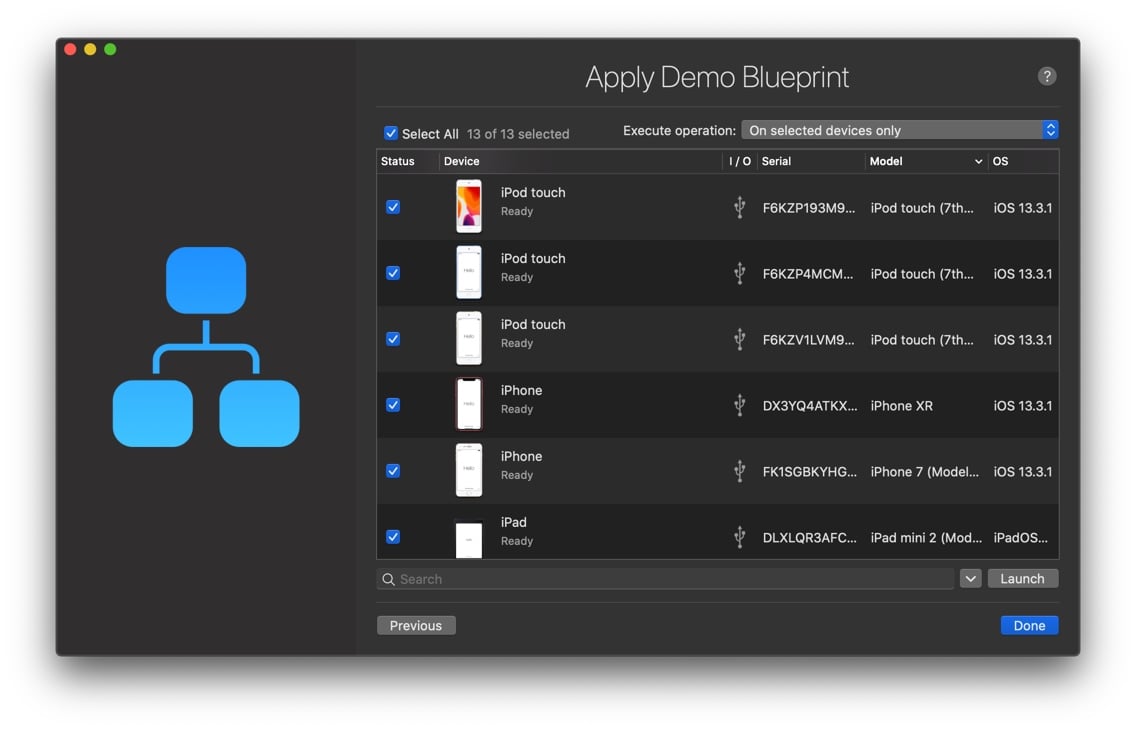 Select the devices you'd like to apply the blueprint to, and click the Launch button. You can then follow detailed progress report for each device.
💡 Orange badge: If any kind of user interaction on the device is required, iMazing will bump up the device in the list and show an orange badge next to it.
Going further
We've only skimmed the surface of what iMazing Configurator can do. To learn more, please refer to the following articles:
And if you have any questions, we're always here to help.