How to...
If you have an iOS device - iPhone, iPad, or iPod touch - or an older iPod, such as a classic, nano, or shuffle, you probably use iTunes or the macOS Music app to listen to and manage your music on your Mac or PC. Those apps are great, but they don't let you retrieve songs from the mobile device, which can be especially problematic if you don't subscribe to Apple Music. You may want to recover songs you manually synced from an old iPod or iPhone, or quickly grab a track you're working on with your band, or even rebuild an entire music library from scratch. iTunes, the Finder and the macOS Music app won't help in those cases. Fortunately, iMazing can help.
With iMazing, you can copy music files from your iPhone, iPad, or iPod to iTunes or the Music app, retaining all their metadata: each track's name, artwork, and even ratings and play counts. And you can also transfer your meticulously curated playlists. And if you're worried about duplicates, well, iMazing makes sure it doesn't copy files already in your iTunes library.
Here is how to transfer music from your iPhone (or iPad, or iPod) to iTunes or the Music app:
Launch iMazing and connect your device to your Mac or PC.
Select your device in the sidebar, then select "Music".
Select the music you want to export then click Export to iTunes".
Customize your export.
Click "Next" for the transfer to initiate.
---
Before you begin
Download and install iMazing on your Mac or PC computer
In-Depth Tutorial
1. Launch iMazing on your computer and connect your device.
Download and install iMazing. Launch the app, and connect your device to your Mac or PC.
2. Select your device in the iMazing's sidebar, then select "Music".
iMazing loads your device's music and playlist(s).
3. Select the music you want to export.
If you want to copy your entire library, just click Music in the Library list. If you want to copy a playlist, select it in the Playlists list. Or if you want to copy an album or song, click the Music library and find it in the list, or use the Search field to narrow down your selection.
In the toolbar at the bottom of the window, click Export to iTunes or Export to Music,
then click Next, and the Music Export Wizard opens.
4. Customize your export.
The Music Export Wizard gives you a number of options. You can export your selection by checking My Selection, or you can click Library to export your entire library. If you choose Library, you can then tell iMazing which types of files to save: music, music videos, movies, TV shows, etc.
The Configuration pane lets you tell iMazing what type of metadata it exports to your music library. By default, all of the following are checked:
Playlists - these are playlists that are on your device
Ratings - these are star ratings that you've applied to your music
Plays - this is the total number of times you've listened to each track
Skips - this is the number of times you've skipped each track, by tapping or clicking the Next button on your iOS device
Last Played - this is the date and time of the last time you listened to each track.
5. Transfer your Music.
Click Next, and iMazing starts transferring the files. Depending on how many files you're copying, this may take a while.
Exporting music to iTunes on macOS 10.14 Mojave and to the Music app on Catalina and above
With macOS 10.14 Mojave, Apple added new security features which guard against malware and spyware accessing your information and controlling your apps via automations. You must now explicitly authorise apps to access specific data and automated actions, and this includes authorising apps such as iMazing to control iTunes or the Music app in order to import music to your music library.
The first time you will use iMazing's Export to Music feature on macOS 10.14 or above, you will be prompted twice by macOS to authorize iMazing to 'control' iTunes.app and System Events.app: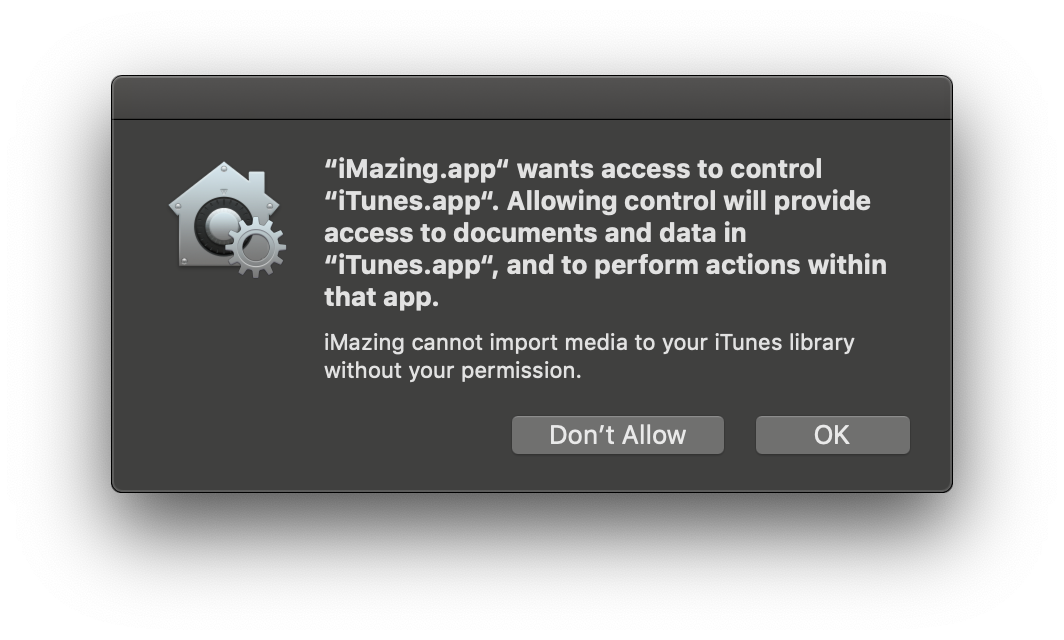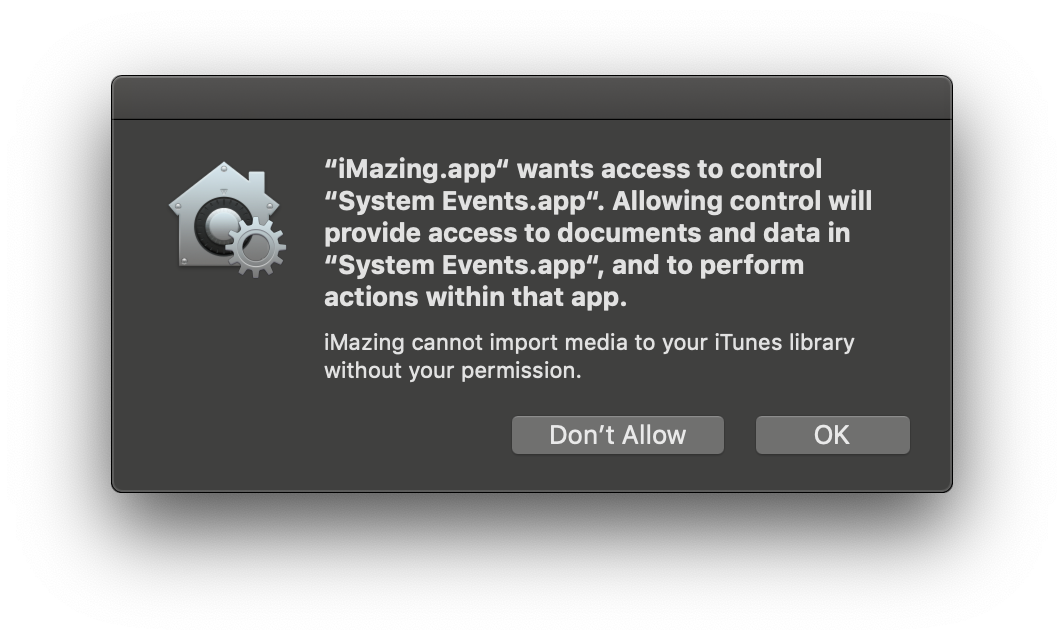 💡 iMazing ONLY uses these permissions to import media to your iTunes Library. Granting access is perfectly safe!
After granting iMazing access through both prompts, you can proceed with the export as usual and will not be prompted again.
If you've ever denied iMazing access, iMazing will display a dedicated screen when you try to export media: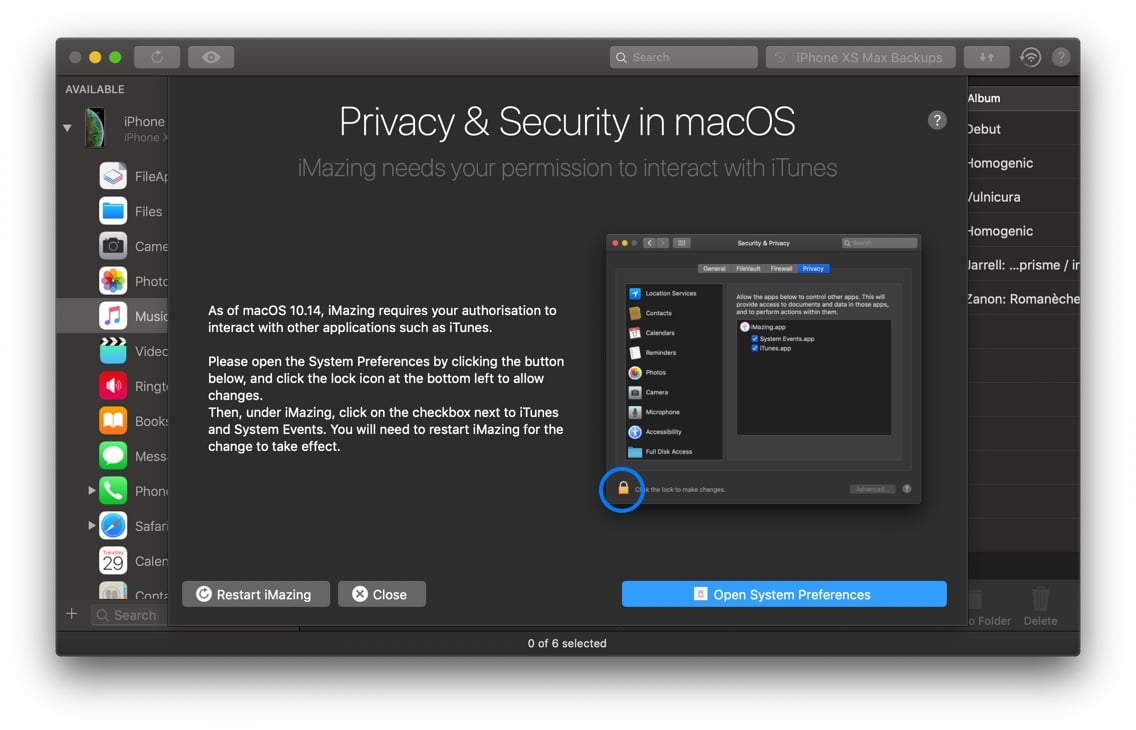 Simply follow the instructions on screen to whitelist iMazing:
Click the Open System Preferences button
In the Preferences window which will have opened, click the lock and enter your macOS user password to allow changes
Check the 2 checkboxes just like in the screenshot below:
💡 You can of course rescind permissions at any time: launch the macOS System Preferences app, select Security & Privacy -> Privacy tab -> Automation and uncheck these boxes to remove iMazing's access to iTunes/Music and System Events.
Going further
If you check Only Show Transferable Media, just above the toolbar, iMazing only shows those files it can copy. If you uncheck this option, any files that iMazing cannot transfer display greyed out.
There are two reasons why iMazing may not be able to copy files:
iCloud Music tracks that aren't downloaded cannot be copied, because they are not on your device. If you do want to export music that's in your iCloud Music Library, download it first to your device.
Apple Music tracks are a special kind of file that cannot be copied to a computer or to another device.