Actions Panel in iMazing
The actions panel is where you'll launch most common operations. Some like Restore trigger a wizard, others have immediate effect. The list of available actions depends on whether your sidebar selection is a device or a backup.
When iMazing's window is at its minimum size, some of the action buttons will not be visible until you scroll down.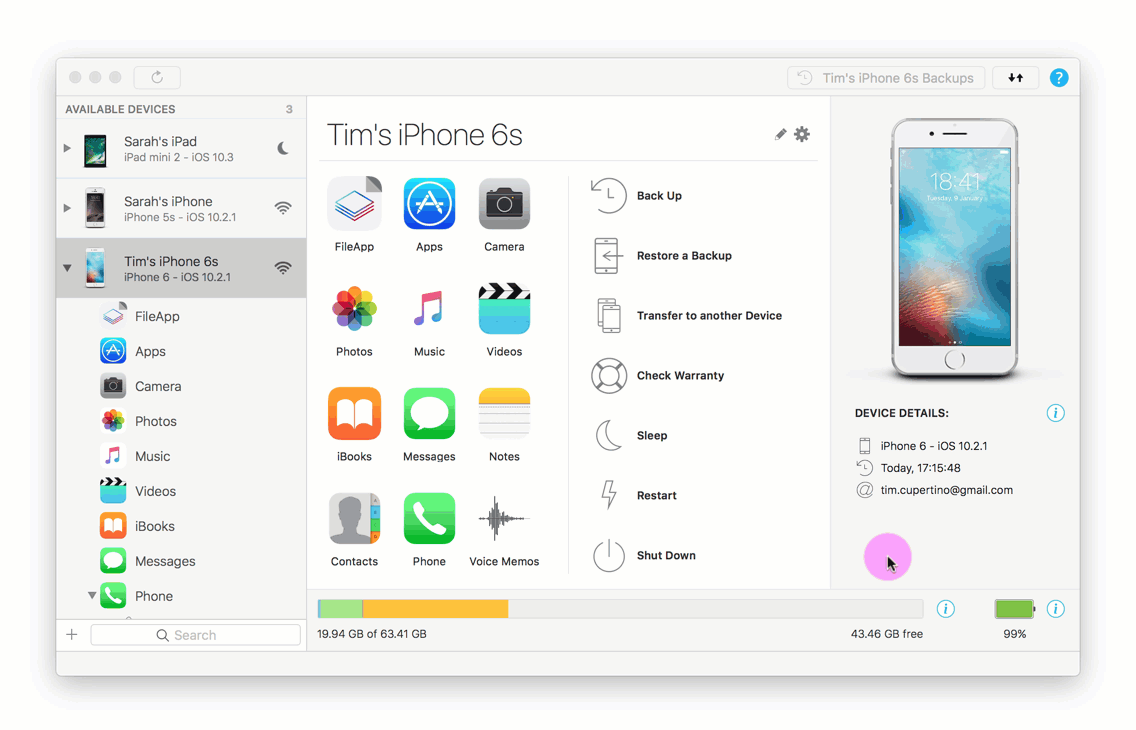 Wizards
Wizards are easy to follow step-by-step assistants for the following operations:
Backup a device
Restore a backup to a device
Transfer data from one device to another
Manage apps on the device or in iMazing's Apps Library
💡Tip: At the end of each wizard, you will have the option to Close Window. Closing the window is perfectly safe: it will take you back to iMazing's main interface, and will not cancel your ongoing operation.
To view the status of ongoing and finished operations, open the Operations window.
Device actions
The following actions are available when a device is selected in the sidebar.
| Label | Action |
| --- | --- |
| Back Up | Open the Backup Wizard. |
| Restore a backup | Open the Restore Wizard. |
| Transfer to another device | Open the Transfer to another device Wizard. |
| Manage Apps | Open the Manage Apps Wizard. |
| Check Warranty | Check the device's Apple support coverage.. |
| Export Raw data | Export backup files of the device in a human readable hierarchy |
| Show Device Console | Open the iMazing Device Console. |
| Sleep | Place the device in sleep mode. |
| Restart | Restart the device |
| Shut Down | Shut down the device |
| Forget | Remove the device from iMazing's sidebar and delete cached files. Optionally remove pairing. |
| Update iOS | Download and update iOS to the latest available version on Apple servers (only displayed if an update is available) |
| Reinstall iOS | Open the Reinstall iOS wizard |
| Erase all content | Erase all content and settings. |
Backup Actions
The following actions are available when a backup is selected in the sidebar.
| Backup Actions | Action |
| --- | --- |
| Restore to Device | Restore the backup to a device |
| Export as Folder | Export the backup to a folder |
| Export as iMazing File | Export the backup as a zipped .imazing file |
| Reveal in Finder/ Windows Explorer | Open the backup's location in Finder (Mac) or Windows Explorer (PC) |
| Repair | Attempt to repair a corrupted backup |
| Delete | Delete the current backup, including all previous versions of it. |